The Farmleigh House, Dublin
Free Admission Tourist Attraction in Ireland #5


Farmleigh House is located in the Phoenix Park in Dublin which is one of the largest city parks in the world. The House is located on a 78 acre site and was purchased from the Guinness family by the Irish Government in 1999. It has been extensively refurbished and serves as Government accommodation for visiting dignitaries as well as being open to the public.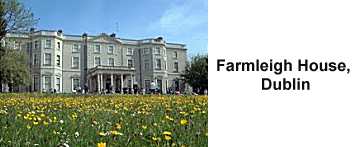 The house was built in the late 1700s and has been expanded over the centuries encompassing a new ballroom, conservatory and library. The grounds have been extensively planted and are well worth a stroll around after taking a tour of the house. There is a nearby boathouse cafe and an active calendar of events held at the House, especially in the Spring and Summer months.

Access to the house is by guided tour only (free) so you should check in advance for a suitable time to visit.

The grounds of Phoenix Park are wonderful to walk through on a bright day but not so much fun in the rain! Dublin Zoo is located nearby and is a fair walk away. A good schedule for a day out might be to visit Dublin Zoo in the morning and then make your way to Farmleigh House in the afternoon.
Video about the Farmleigh House, Dublin