St. Patrick's Cathedral, Dublin
Fee-Paying Admission Tourist Attraction in Ireland #7


Saint Patrick's Cathedral is the National Cathedral of the Church of Ireland (Anglican). It is located on St. Patrick's Close near Kevin Street. It is a straightforward 10 to 15 minute walk from St. Stephens Green. The Cathedral is located beside the Well where legend has it that Saint Patrick used to conduct baptisms during his visits to Dublin.

The buildings date from the twelfth century and the Cathedral is the largest Church in Ireland with a 43 metre spire. It is very unusual for a city to have two Cathedrals with Christ Church Cathedral located nearby.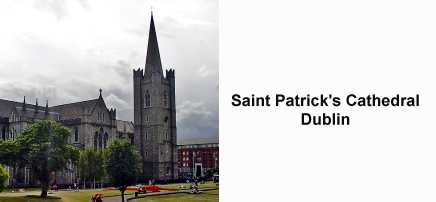 The famous 'Door of Reconciliation' from 1492 which gave rise to the expression 'chancing your arm' and 'chancer' is located in the Cathedral's north transept. The Choir stalls of Saint Patrick's Cathedral once served as a Chapel to 'The Most Illustrious Order of the Knights of Saint Patrick'. This organisation was founded by King George III of England in 1783. It was an order of chivalry and the title of "Knight of the Order" was given to its members. The Organ of St. Patrick's Cathedral is one of the largest in Ireland with over 4,000 pipes.

Free Guided tours are offered at various times during the year - find out more at: http://www.stpatrickscathedral.ie

Nearby Marsh Library is Ireland's first ever public library.
Video about the St. Patrick's Cathedral, Dublin