IN THIS ISSUE
News Snaps from Ireland
Áine: The Celtic Goddess Who Took Revenge on a King
Famous Irish Family Names: Power
The Legend of Knockfierna by Thomas Crofton Croker
Gaelic Phrases of the Month
Monthly Free Competition Result
Popular Articles from Recent Newsletters:

FOREWORD




H

ello again from Ireland where the shockwaves from Brexit - the decision by the UK to leave the European Union, show no signs of abating. It is very interesting also to view the beginning of the attempts to force a second referendum to try to reverse the decision.

In this month's issue we have another great tale from Irish mythology - Áine, who took her revenge on a King who wronged her, another great story - the Legend of Knockfierna, and the origin of the Power Surname.

Until next time,

Michael



P.S. Please Do Forward this Newsletter to a friend or relative. If you have a website or Facebook page or Blog (or whatever!) then you can help us out by putting a link on it to our website: www.ireland-information.com






NEWS FROM IRELAND




DISBELIEF AS THE UK VOTES FOR BREXIT


The incredible and surprising result of the UK Referendum to leave the European Union saw the 'Leave' side triumph by 52% to 48%.

The campaign was often bitterly contested with fear-mongering reaching new heights among the 'Remain' side while those promoting a 'Leave' side were just as guilty of down-playing the consequences of a Brexit.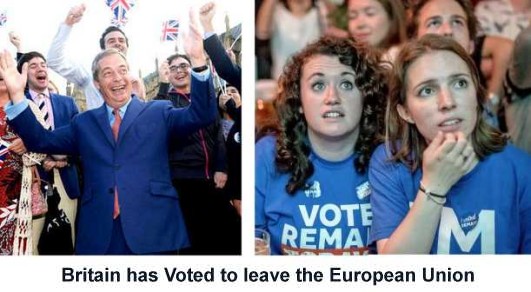 This was an incredible result.

Britain has always had an uneasy relationship with the EU with the often bombastic British sense of national pride sitting uneasily within a political and economic union that is often dominated by the Germans and French.

The Conservative Party in particular has a long history of 'eurosceptics' who have sought to at least curb the power that the Brussels based EU parliament has over English affairs.

They may now get their wish. Maybe.

Because with the dust settling on the result and the implications sinking in the attempts and manoeuvres to instigate a second Referendum to try to reverse the decision have begun. Just as in Ireland when the Nice and Lisbon Referenda were defeated in 2001 and 2008 respectively (only for the Irish Government to cravenly insist on re-runs until they got the decision they wanted) there is a very real possibility that the English elite just wont allow a Brexit to happen.

There is just too much at stake. Financially.

And for Ireland the implications are as yet unknown. This is truly unchartered territory and there is a very real possibility that a Border to physically re-partition the six Counties in Ulster may have to be reintroduced. With Britain being Ireland's largest trading partner the consequences of new trade and tariff deals being introduced is going to be a logistical and administrative nightmare.

But perhaps the short-term doom and gloom will lead to a longer-term clarity.

There is little doubt that Ireland would not have suffered the financial meltdown that it did after the 2008 worldwide property and financial collapse had the Irish Central Bank been able to control Ireland's interest rates. But the option to control interest rates were ceded to the European Central Bank once Ireland opted into the Euro currency.

Dramatically low interest rates were good for the German and French economies during the first decade of the new century but they were a disaster for Ireland as they allowed incredibly cheap and reckless borrowing, the eventual collapse of the Irish banks, the humiliation of the EU/ECB/IMF loans to keep the country going, and finally the 64 Billion Euro in debt that has been heaped upon the next generation of Irish children.

The possible exit of Britain from the EU may present an opportunity for other member states to renegotiate their own relationship with their European partners.



BREXIT REJECTED BY NORTHERN IRELAND AND SCOTLAND


In a further complication of the outcome of the recent Brexit Referendum it has emerged that both Scotland and Northern Ireland voted to reject the opportunity to leave the European Union, meaning that these political entities want to stay within the EU while the alternative political entity that binds them (the United Kingdom) wants them to leave!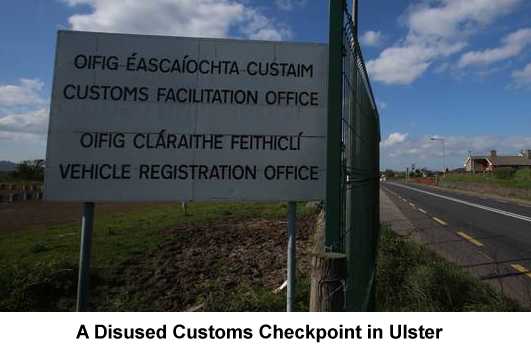 In Scotland it seems that this will present an opportunity for a second vote for Scottish independence. The 2014 vote for independence was rejected by 55% to 45% but, with one of the main reasons for the rejection being the possible decrease in economic funding for Scotland, the possibility of the EU funding taps being turned off may just be enough to swing the vote to the independence movement.

In Ulster the situation is even more uncertain with Sinn Fein calling for a 'Border Poll' (effectively, a vote for a United Ireland) while the Ulster Unionists may seek to dismantle the 'Good Friday Agreement' if there is sufficient political upheaval.

Sinn Fein responded to the Referendum result:
'English votes threaten to drag Northern Ireland out of the EU. It is imperative that this democratic deficit is challenged.'

It is a political and historical irony that the question of a United Ireland has now been revived by the votes cast by the English people themselves.



BATTLING IRISH FOOTBALLERS DEFEATED BUT PROUD


At the European Football Championships the Irish footballers who gave their all against home nation France can hold their heads high.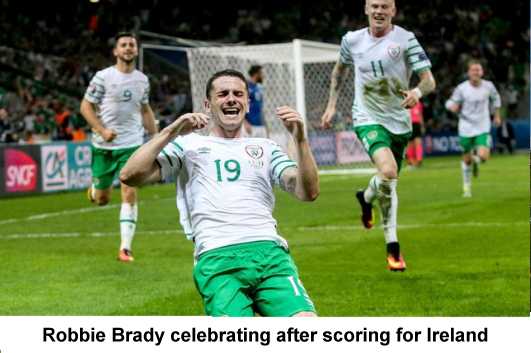 After a tentative 1-1 draw against Sweden, a dreadful 3-0 drubbing at the hands of Belgium the Irish team knew that only a victory over mighty Italy could keep them in the competition. It is true that the Italians rested several of their most influential players as they had already qualified but despite that fact they still represented a stern test for the 'boys in green'.

On a memorable night the Irish pressed and pressed the Italians, displaying all of the qualities that justify their label as 'the fighting Irish'. But this was a performance of more than just blood and guts. And when, with just minutes to go, Wes Hoolhan floated in a perfect cross for the tireless Robbie Brady to nod home the entire Irish nation went into ecstasy, and began to dream.

Alas the fairytale was not to unfold. Despite taking a very early lead against a technically superior French team the hosts regrouped at half-time and over-ran the game Irish defence in the second half. Two quick goals were followed by a red card for Irish defender Shane Duffy who surely prevented a further French goal by his slightly mis-timed tackle.

The game Irish continued to battle with ten men and had a great opportunity to equalize when James McClean got free down the left wing, only to fail to find an Irish forward with his cross. The opportunity was gone. The French saw out the game. And while they look a decent side it was the Irish who took many of the plaudits.



OPINION: PATHETIC IRISH GOLFERS ARE A DISGRACE


The announcement by Golfers Shane Lowry, Rory McIlroy and Graeme McDowell that they will not be participating in the Olympic Games in Brazil in August has been greeted with disdain by many sections of the Irish sporting establishment.

For many the idea that golf is even an Olympic event is utterly ridiculous but, given that it is, there were genuine hopes for glory for those wearing the Irish colors.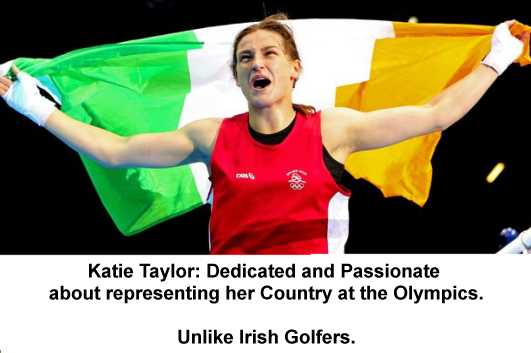 Lamentably, the cosseted and overpaid golfers who pose as competitive sportsmen have decided that representing their country is too much effort when they can better spend their time representing themselves. The Zika virus in Brazil provided them with a useful excuse to bow out of the Olympic Games although it is likely that an alternative excuse would have been found.

Ireland's premier sports-person, the boxer Katie Taylor, labored for hours and hours, day after day, week after week, year after year, training in facilities at her Bray Boxing club that can at best be described as utterly basic. She has travelled the world to the remotest of locations to participate in what are amateur boxing matches. She is the very epitome of what sport is and should be about. She is dedicated, willing, game.

By contrast the Irish country-club 'sportsmen' who hit their little ball around a field for huge sums of cash are the very epitome of all that is wrong with sport: too much money, too easy, too little pride.

An utter disgrace.

KEEP THIS NEWSLETTER ALIVE!
FIND YOUR NAME IN OUR
GALLERY OF IRISH COATS OF ARMS


ÁINE: THE CELTIC GODDESS WHO TOOK REVENGE ON A KING

Áine (pronounced: 'awn-ya'), is the Celtic Goddess of Summer and Wealth. She represents the sun, love and fertility, with the power to ensure plentiful crops and harvests.

Áine has always been associated with County Limerick in the western part of Ireland where the Hill of Knockainey (Cnoc Áine) is named for her. Her name is also remembered at Toberanna (Tobhar Áine) in Tyrone, at Dunsany (Dun Áine) in Louth and Lissan (Lios Áine) in Derry.

Áine is among the most revered and powerful of Irish mythological Goddesses!

She is remembered for overcoming adversity and exacting powerful revenge on the man who wronged her.

Ailill Aulom was the ruling King of Munster but was restless and worried as he had a problem. Every time he would sleep he would awaken to find that the grass in his fields would not grow. This was a potentially devastating problem for the King as the grass provided food for the livestock, ensuring food for the people.

Ferchess the Druid advised him to visit Knockainey at Samhain Eve, to seek out the restorative powers of that place. He set out for Knockainey and arrived with the expectation of his problems being solved.

But fate was to intervene and the fragilities of the human spirit were to collide with the power of the creatures from the Otherworld.

Ailill fell into a drowsy half-sleep and later found himself sleep-walking when he encountered a beautiful vision. It was Áine, the daughter of Eoghabal of the Tuatha Dé Danann.

Human desire overwhelmed him and he shed his royal dignity, driven by lust. He set upon the lone woman and forced himself upon her.

Áine was outraged and exacted immediate revenge. In her fury she bit off his ear, maiming the King, marking him for life.

In Celtic tradition only a perfect unblemished person could attain the role of High King of Ireland. Ailill had been maimed. He was imperfect. Áine had delivered a devastating blow to her attacker.

From that time on the King was known as Aulom meaning 'one-eared', and could never reign over Ireland. Despite this his descendants became known as the Eoghanachta, and were a powerful Irish dynasty centered at Cashel, dominating the southern part of Ireland.

It is in this manner that the legend of Áine grew. She became associated with the ability to grant power and sovereignty.

Áine is also known as the Queen of the Fairies and as Áine Chlair (Áine of the Light). Incredibly, rites in her honour were held as recently as 1879, where the Midsummer rituals were performed by the native Irish, ashes from their fires being spread onto the fields, ensuring fertility and an abundance of crops.

Áine! Among the most powerful and beautiful of the Celtic Goddesses.


FAMOUS IRISH FAMILY NAMES: POWER


The families of Power in Ireland are of Anglo-Norman origin having arrived into Ireland in the wake of the Strongbow invasion of the late twelfth century.

As with so many of the great families who settled in Ireland at this time the Powers 'hibernicized' to such an extent that they became so thoroughly Irish as to be indistinguishable from the native Gaels.



The name Power is derived from the French word 'povre' meaning 'pauper' or 'poor'. This assignation of poverty was one borne out of piousness however and not destitution. Several of these original forms of the name have survived the centuries including Poer, le Poer, de Poher, de la Poer and several others.

Attempts by Victorian descendants of the family to have the name changed to 'de Poher' and trace their origin back to a place in Brittany called Poher were probably based on their desire to remove the association of poverty to the family name. In fact the original Norman Pohers settled in County Devon in England in the year 1066, immediately following the William the Conqueror victory at the Battle of Hastings.

In Ireland the families of Power have always been most associated with Waterford and the surrounding Counties.

Sir Robert de Poher (or Robert Poer), son of Bartholomew de Poher, Lord of Blackborough, served as Governor of Waterford and Wexford under Hugh de Lacy about the year 1177. Vast lands in Waterford were granted to him:

'In custodium, the City of Waterford, with all the circumjacent province - and appointed that the following lands should, for the time to come, belong to the service of Waterford - all the lands which lie between Waterford and the water beyond Lismore (which comprehend the greatest part of the County of Waterford), and also the lands of Ossory.'

The original owners of the lands, the Gaelic O'Flanagans, were summarily dispossessed of the lands at that time. To the victors (of military battle), the spoils!

Sir Robert had been sent to Ireland by Henry II in an attempt to curb the influence of Strongbow and the other Knights who the King viewed as becoming too powerful across the Irish sea. Of course this brought the later arrivals into conflict with the original conquerors, an admirer of whom was Gerald of Wales who compiled the great reference book 'The Conquest of Ireland' about the year 1189. He wrote unflatteringly about some of the later arrivals, including Sir Robert de Poher:

'Whenever Fortune wants to have a joke, she raises men like these from humble circumstances to the lofty heights of power. For they were the sort of soldiers who got more pleasure from 'lying in bed, holding a girl close, and strumming the Thracian lyre with their fingers, than bearing shields on their shoulders, and the sharp-pointed spear and thick-plumed helmet'. It amazes me that a prince who was himself so noble and courageous should have made a practice of appointing to command remote border areas men who were so lacking in courage and nobility.'
(Gerald of Wales, 'The Conquest of Ireland', c. 1189)

It seems that the criticism of the Kings appointed Marshal was not without some merit as Robert Poher was blamed for the loss of the castle at Leighlin through his cowardice and was himself killed in the year 1178 during an expedition against the Ui Tuathail of Ui Muiredaig (the O'Tooles), in modern day Kildare. Although it is also fair to say that some of the historical accounts of the time may have been tainted by the political leanings of the author (a characteristic of authors the world over that has survived the centuries).

By contrast, a separate report by Giraldus Cambrensis (Gerald of Wales,) of the bravery of Roger de Poer (one of the brothers or sons of Robert de Poer), is glowing:

'It might be said, without offence, there was not one man who did more valiant acts than Roger Le Poer, who, although he was a young man and beardless, yet showed himself a lusty, valiant, and courageous gentleman - and who grew into such good credit that he had the government of the country about Leighlin, as also in Ossory where he was traitorously killed.'

The Powers in Ireland soon relinquished their fealty to the English Crown and became greatly involved in the fight against English dominance in Ireland. Two of the name were members of the Supreme Council of the Confederate Catholics in the year 1646. Several also fought in the army of James II in the Williamite War in Ireland (1688–1691).

Sir Eustace fitz Benedict le Poer (died in the year 1311), owned the original house and lands at Powerscourt Estate (the modern name) in Wicklow and also acquired great lands in Kells in Kilkenny. Some of these lands were inherited by his nephew Sir Arnold fitz Robert who died in the year 1328 in Dublin Castle where he had been imprisoned on a charge of heresy through his involvement in the notorious Kilkenny witchcraft case.

Other famous bearers of the name include the novelist Marguerite Power (1789-1849), Father Patrick Power (1862-1951), author of 'History of the Diocese of Waterford' and the comedian Tyrone Power (1797-1841), whose descendant was the film actor Tyrone Power (1914-1958).

Such is the enduring influence of the families of Power in Ireland that the name was ranked 54th most popular in the year 1891 (Matheson, Special Report on Surnames) and remains among the most numerous of Irish surnames.







THE LEGEND OF KNOCKFIERNA

by Thomas Crofton Croker


It is a very good thing not to be any way in dread of the fairies, for without doubt they have then less power over a person - but to make too free with them, or to disbelieve in them altogether, is as foolish a thing as man, woman, or child can do.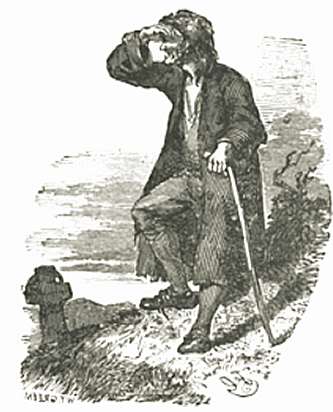 It has been truly said that 'good manners are no burthen,' and that 'civility costs nothing-' but there are some people foolhardy enough to disregard doing a civil thing, which, whatever they may think, can never harm themselves or any one else, and who at the same time will go out of their way for a bit of mischief, which never can serve them- but sooner or later they will come to know better, as you shall hear of Carroll O'Daly, a strapping young fellow up out of Connaught, whom they used to call, in his own country, 'Devil Daly'.

Carroll O'Daly used to go roving about from one place to another, and the fear of nothing stopped him- he would as soon pass an old churchyard or a regular fairy ground, at any hour of the night, as go from one room into another, without ever making the sign of the cross, or saying, 'Good luck attend you, gentlemen.'

It so happened that he was once journeying in the county of Limerick, towards 'the Balbec of Ireland,' the venerable town of Kilmallock- and just at the foot of Knockfierna he overtook a respectable-looking man jogging along upon a white pony. The night was coming on, and they rode side by side or some time, without much conversation passing between them, further than saluting each other very kindly- at last, Carroll O'Daly asked his companion how far he was going.

'Not far your way,' said the farmer, for such his appearance bespoke him: 'I'm only going to the top of this hill here.'

'And what might take you there,' said O'Daly, 'at this time of the night?'

'Why, then,' replied the farmer, 'if you want to know, 'tis the good people!'

'The fairies, you mean,' said O'Daly. 'Whist! whist!' said his fellow-traveller, or 'you may be sorry for it-' and he turned his pony off the road they were going towards a little path which led up the side of the mountain, wishing Carroll O'Daly good-night and a safe journey.

'That fellow,' thought Carroll, 'is about no good this blessed night, and I would have no fear of swearing wrong if I took my Bible oath that it is something else beside the fairies, or the good people, as he calls them, that is taking him up to the mountain at this hour. The fairies!' he repeated- 'is it for a well-shaped man like him to be going after little chaps like the fairies? To be sure, some say there are such things, and some say not- but I know this, that never afraid would I be of a dozen of them, ay, of two dozen, for that matter, if they are no bigger than what I hear tell of.'

Carroll O'Daly, whilst these thoughts were passing in his mind, had fixed his eyes steadfastly on the mountain, behind which the full moon was rising majestically. Upon an elevated point that appeared darkly against the moon's disc, he beheld the figure of a man leading a pony, and he had no doubt it was that of the farmer with whom he had just parted company.

A sudden resolve to follow flashed across the mind of O'Daly with the speed of lightning: both his courage and curiosity had been worked up by his cogitations to a pitch of chivalry- and muttering, 'Here's after you, old boy,' he dismounted from his horse, bound him to an old thorn tree, and then commenced vigorously ascending the mountain.

Following as well as he could the direction taken by the figures of the man and pony, he pursued his way, occasionally guided by their partial appearance: and after toiling nearly three hours over a rugged and sometimes swampy path, came to a green spot on the top of the mountain, where he saw the white pony at full liberty, grazing as quietly as may be. O'Daly looked around for the rider, but he was nowhere to be seen- he however soon discovered close to where the pony stood an opening in the mountain like the mouth of a pit, and he remembered having heard, when a child, many a tale about the 'Poul-duve,' or Black Hole of Knockfierna - how it was the entrance to the fairy castle which was within the mountain- and how a man, whose name was Ahern, a land sur-veyor in that part of the country, had once attempted to fathom it with a line, and had been drawn down into it, and was never again heard of- with many other tales of the like nature.

'But,' thought O'Daly, 'these are old women's stories- and since I've come up so far I'll just knock at the castle door, and see if the fairies are at home.'

No sooner said than done- for seizing a large stone as big, ay, bigger than his two hands, he flung it with all his strength down into the Poul-duve of Knockfierna. He heard it bounding and tumbling about from one rock to another with a terrible noise, and he leant his head over to try and hear if it would reach the bottom—when what should the very stone he had thrown in do but come up again with as much force as it had gone down, and gave him such a blow full in the face that it sent him rolling down the side of Knockfierna head over heels, tumbling from one crag to another, much faster than he came up- and in the morning Carroll O'Daly was found lying beside his horse, the bridge of his nose broken, which disfigured him for life, his head all cut and bruised, and both his eyes closed up, and as black as if Sir Daniel Donnelly had painted them for him.

Carroll O'Daly was never bold again in riding alone near the haunts of the fairies after dusk- but small blame to him for that- and if ever he happened to be benighted in a lonesome place he would make the best of his way to his journey's end, without asking questions or turning to the right or to the left, to seek after the good people, or any who kept company with them.



GAELIC PHRASES OF THE MONTH
| | |
| --- | --- |
| PHRASE: | An bhfuil Gaelige/Bearla agat? |
| PRONOUNCED: | On will gale-geh/bear-lah ah-gut? |
| MEANING: | Do you speak Irish/English? |
| PHRASE: | An dtuigeann tú? |
| PRONOUNCED: | On digg/inn two |
| MEANING: | Do you understand? |
| PHRASE: | Fear/Bean ar do mhian agat! |
| PRONOUNCED: | far/ban air duh vian ah/gut |
| MEANING: | A husband/wife of your choice to you |

View the Archive of Irish Phrases here:
http://www.ireland-information.com/irishphrases.htm


COMPETITION RESULT


The winner was: Psullivan616@virginmedia.com
who will receive the following:
A Single Family Crest Print (US$24.99 value)

Send us an email to claim your print, and well done!
Remember that all subscribers to this newsletter are automatically entered into the competition every time.

I hope that you have enjoyed this issue.





by Michael Green,
Editor,
The Information about Ireland Site.
http://www.ireland-information.com
Contact us

Google+




(C) Copyright - The Information about Ireland Site, 2016
P.O. Box 9142, Blackrock, County Dublin, Ireland Tel: 353 1 2893860
---
MADE IN IRELAND!
MARVELOUS GIFTS FOR GATHERINGS, WEDDINGS & BIRTHDAYS
FREE DELIVERY TO YOUR DOOR
---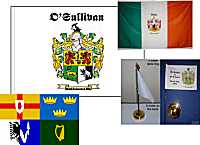 Family Crest Flags, Ireland Flags, Wedding Flags, Four-Province Flags, Erin Go n Flags. Great Selection.
From US$19 Delivered


---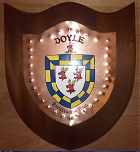 Incredible Family Crest Plaques Made in Ireland

---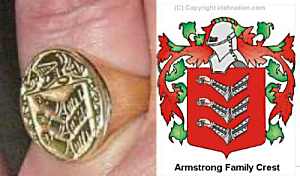 BIG REDUCTIONS!
Stunning Family Crest
Signet and Seal Rings

---

DISCOUNTED FOR A LIMITED TIME
Elegant Cufflinks

---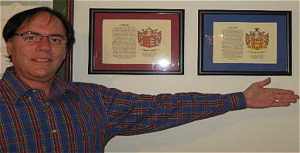 Superior Framed
Family Crest Parchments

---
Ireland Family Crest Flags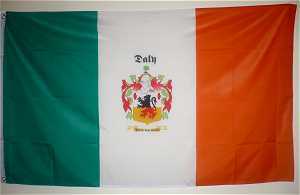 More Info
US$49.99 - Free Delivery



OUR VERY BEST-SELLER!
Get Your-Name on a Heavy-Grade Polyester Flag. Marvelous for Outdoor Display and Indoor Occasions.

---
White-Background
Family Crest Flags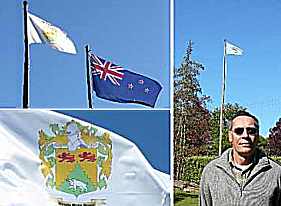 More Info
From US$19.99 - Free Delivery

---
'Your-Name' Old Irish Sign
NEW DESIGNS!
From US$34.99 - Free Delivery

---
Incredible Irish Coin Jewellery
Wonderful Thoughtful Gifts. Hand-made, polished and plated designs cut from genuine Irish coins.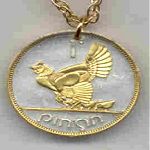 ---
New Designs available
on our Coffee Mugs

---

Personalized Licence Plate

---

Erin Go Bragh Flag


St. Patrick's Day Flag


Connaught Province Flag


Leinster Province Flag


Fields of Athenry Flag


Soldiers Song Flag

---


Personalized First Name Plaque. Great for Kids!


---
New Designs available
on our Coffee Mugs

---

'Your-Name'
Polo & Tee Shirts

---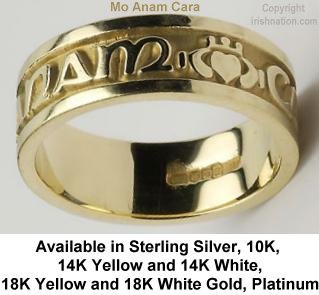 From US$69 Delivered

BIG REDUCTIONS!
Stunning Engraved Rings from Ireland with Irish Language Phrases.
Mo Anam Cara:
My Soul Mate
Gra Dilseacht Cairdeas:
Love, Loyalty, Friendship
Gra Go Deo:
Love Forever
Gra Geal Mo Chroi:
Bright Love of my Heart

---
MADE IN THE WEST OF IRELAND!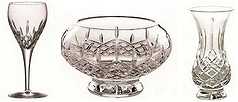 BIG REDUCTIONS!
Gorgeous Glistening Galway Crystal delivered to your door from the historic West of Ireland.

---
SEE MORE GREAT OFFERS AND DISCOUNTS AT:

IRISHNATION.COM

FREE DELIVERY FOR A LIMITED TIME!