IN THIS ISSUE
News Snaps from Ireland
Cesair - The First Woman in Ireland
A Strange Visit to Connemara's Kylemore Abbey
Gaelic Phrases of the Month
Monthly Free Competition Result
Popular Articles from Recent Newsletters:

FOREWORD




H

ello again from Ireland where we finally have a new Government although just how long it will last is unclear. The signs are not good!

In this month's issue we have another great tale from Irish mythology - Cesair - the first woman in Ireland who arrived with a boatful of 50 women and only 3 men! We also have our final reminisce of old Ireland from Brian DeVon - thanks Brian!

Until next time,

Michael



P.S. Please Do Forward this Newsletter to a friend or relative. If you have a website or Facebook page or Blog (or whatever!) then you can help us out by putting a link on it to our website: www.ireland-information.com






NEWS FROM IRELAND




GERMAN WW2 BOMBING OF DUBLIN REMEMBERED


May 31st 1941 will always be remembered as the evening that the realities of war rained down on Dublin.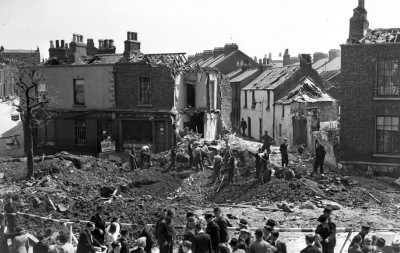 Ireland was neutral in World War Two, the fledgling State unwilling to risk its own existence in the conflict despite approaches from Churchill promising a 'United Ireland' should the country join the Allied forces against the Nazis. Eamon deValera declined the offer and while the country stayed out of the war it did not escape its consequences.

Two German bombers toured the city seventy five years ago unleashing their deadly cargo despite flares being raised by the alarmed Dublin authorities.

The North Circular Road, the Phoenix Park and the North Strand near Fairview were all hit, with the latter suffering the brunt of the damage, with 28 people killed and dozens more injured. A thousand yard stretch of road and buildings were obliterated.

The British 'Pathe News' seized on the opportunity to stoke anti-German sentiment, reporting:

'The Eire Government has protested to Berlin against the wanton attack on their professed neutrality — but unfortunately protests will not bring back the dead or heal the wounds of the injured! Maybe this is the price that Eire has to pay for sitting on the fence.'

The propaganda did not work however, despite US and British cajoling.

David Gray was the US representative in Dublin who wrote to US President Franklin D Roosevelt shortly after the bombings:

'He (deValera) has deliberately passed up the chance to excite anti-German feeling over the recent bombing. He has in fact clamped down on expression of anti-German feeling. He either has an understanding with the Germans on which he relies or, what is more likely, he is blindly taking the thousand-to-one chance that he can escape involvement.'

The reality of the situation was that deValera had secretly been providing as much assistance to the Allied forces as he could get away with, while still maintaining a stance of neutrality. He allowed British air-flights over Irish air-space and even allowed the British Navy to dock and station vessels in Donegal, offering a similar arrangement at Cobh in Cork. Southern fire brigades had assisted the Belfast fire-fighters after that city had been bombed by the Germans. Hardly acts of a truly neutral country.

And it must be remembered that the Irish State was a mere 19 years old at the time of the bombings, its own existence precarious both economically and politically.

Theories abounded as to the reasons for the bombings. Dublin was fully lit up, unlike those cities across the Irish channel, so could hardly have been mistaken for a British city by experienced German pilots.

Had the Germans bombed Dublin in the hope that the Irish people would blame the British, expecting that the Irish would see it as a ruse to get them to enter the war?

Had the British actually caused the bombing hoping to turn sentiment in Ireland against the Nazis and bring Ireland into the conflict?

It seems more likely that the bombings were in fact a tragic accident, despite the conspiracy theories.

It was 1958 before Germany accepted responsibility for the bombing, paying £327,000 in compensation to the new Irish Republic that had survived its infancy and somehow emerged from the war intact.



OPINION: SORRY STATE OF AFFAIRS AS NEW GOVERNMENT CLINGS TO LIFE


When Fine Gael was catapulted to power in 2011 in a landslide victory they were presented with the greatest opportunity any Irish Government has had since the foundation of the Irish State.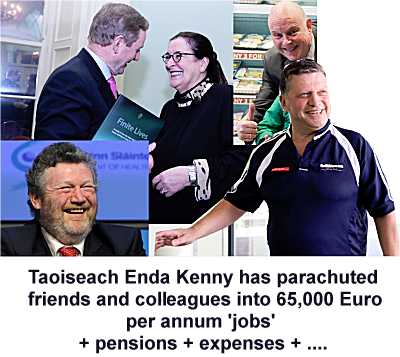 True, the economy was in disarray and there were several years ahead of implementing the policies of the party that they had just removed from office, Fianna Fail. But the opportunity they had was to completely rewrite how Irish politics was conducted by implementing genuine political reform across all aspects of Government.

Five years later and having managed to cobble together a rag-tag coalition Enda Kenny and his colleagues have shown that they are no different from the Fianna Fail politicians they replaced.

News that several new T.D.'s (members of the Irish Parliament) are to receive payments ranging from 22,000 to 59,000 Euro barely registers with the Irish electorate who are clearly brow-neaten by their newly appointed masters. At least 8 of these T.D's are to receive huge legacy payments from their time as County Councillors, despite having just been elected to Dail Eireann where they will receive a salary of 87,000 Euro annually!

Fine Gael Minister Michael Creed is among those who will receive tens of thousands of Euro on top of his T.D. salary, while 3 Fianna Fail T.D's, 1 Independent, 1 from Sinn Fein and 2 from the Anti-Austerity Alliance (AAA) are the others. Mr. Creed will receive over 150,000 Euro annually as Minister for Agriculture.

Brid Smith of the AAA remarked that she will use 'the lions share of it' to fund her office and medical costs adding:'Its not a huge amount of money', which is a surprising comment from a person representing the very poorest of Irish society.

While the gravy train continues for the elite of the Irish body politic it is clear that the opportunity to address the gender-gap has been missed too.

Some 22% of T.D's are now female which is the best ever proportion and yet at the Government Cabinet there are just 4 women at a table of 15, with Taoiseach Enda Kenny reneging on his pre-election promise to redress the gender balance in Government should he be re-elected.

And what of the massive cull of unnecessary State and Semi-State bodies and quangos, and reform of the Seanad (the lower house of Parliament)?

It is jobs for the boys (mostly) in the Ireland of 2016. Business as usual.

No less than 6 Fine Gael former T.D.'s who did not get re-elected have been parachuted into the Seanad by Enda Kenny (the same man who promised Ireland a new way of conducting politics).

'The reality is the Seanad is very undemocratic: just 1% of the population elected the current Seanad, and only 3% of the population is entitled to vote in Seanad elections in the first place. 90% of Senators are elected by existing politicians. Furthermore, the Seanad has very little power.'

The above quote is not from some anti-Government politico or commentator but from James O'Reilly (speaking in 2013), one of the gang of 6 ex-T.D.'s just appointed by our Taoiseach Enda Kenny to the Seanad House.

The political elite lining their pockets while the masses prop up the bar and complain.



BREXIT BEING ATTACKED FROM ALL SIDES


In a further demonstration of democracy inconveniently getting in the way of the wishes of the ruling classes it should come as no surprise that virtually every Government in the EU is urging the UK to remain within the European Union.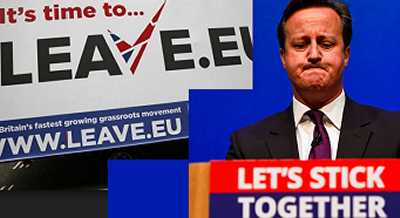 The Brexit (British exit from the EU), would have far reaching consequences for all EU members, but perhaps more so for Ireland than any of the others.

One of the consequences of a Brexit would be the likely re-introduction of a Border along the Six Counties that make up the political entity known as Northern Ireland. This would be necessary for a number of reasons, primarily economic but also to prevent the Republic being used as a route for migrants seeking access to the UK.

Regardless of your view on whether the UK should leave or stay in the EU it must at very least be acknowledged that the sheer weight of the campaigning, fear-mongering and propaganda war-mongering being engaged in by those who want the UK to remain in the EU is utterly staggering.

No less than US President Obama has even had his say on the subject, suggesting to UK voters that it could take up to a decade for the UK to strike a trade deal with the United States, should the UK leave the EU. In Ireland a majority of economists and politicians have all weighed in with Armageddon-like predictions should the UK opt out.

The likelihood is that Brexit will be defeated but, just as in the recent Scottish Independence Referendum (defeated), the recent Seanad Abolition Referendum (defeated) and the recent Gay Marriage Referendum in Ireland (passed), it is the extreme weight of the establishment leaning on the electorate that ensures that the day is carried the way that they want, right or wrong.



IRELAND RANKED IN 7TH PLACE IN WORLD COMPETITIVENESS


The index of 61 countries that is compiled by the IMD business school in Lausanne, Switzerland, has listed Ireland in 7th place in the world for competitiveness, a jump 9 places since 2015.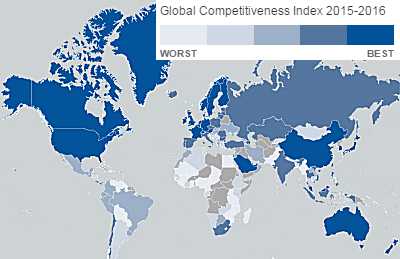 Hong Kong, Switzerland, the US, Singapore, Sweden and Denmark placed above Ireland which is only now recovering from a brutal recession and a banking collapse that saw wages cut, taxes massively increased and public services decimated. The result has been a workforce that is more like a 'precariat' (a proletariat working class existing without security), given the volatile nature of employment, if available, with the spectre of emigration hanging over them as their only viable escape route.

The survey also found that while Ireland scored well in respect of business efficiency, productivity and labor market flexibility, the country fared poorly in terms of infrastructure, ranking 23rd overall.

Prof Arturo Bris is director of the IMD World Competitiveness Center:

'The USA still boasts the best economic performance in the world, but there are many other factors that we take into account when assessing competitiveness. The common pattern among all of the countries in the top 20 is their focus on business-friendly regulation, physical and intangible infrastructure and inclusive institutions.'

Those countries propping up the bottom of the competitiveness league table include Venezuela, Mongolia, the Ukraine, Croatia, Brazil and Greece.



EU INSURANCE RULING COULD SPELL THE END OF MOTORSPORT IN IRELAND


The Vnuk Judgement is the unlikely name of a 2014 EU law that could have far reaching consequences for anyone engaged in motorsports in Europe.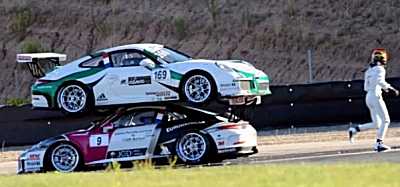 On foot of this judgment all European Union Member States must make unlimited third-party motor insurance compulsory for all vehicles, including those used on private land and do so by October of this year.

Irish MEP Brian Hayes is unimpressed:

'It potentially requires that compulsory motor insurance covers all private places, including private farmland, racetracks and private car parks. Many Irish racetrack representatives have said that this ruling will effectively shut down motorsport here.'

Ireland currently runs over 300 motorsport events annually with over 4500 people holding motor-sport licenses.



JACK AND EMILY TOP IRISH BABY NAMES.... AGAIN


It is 2007 since the name Jack topped the listing of baby names registered in Ireland and it is top that he has remained ever since. Not to be outdone Emily has maintained her status as top-girl since 2011.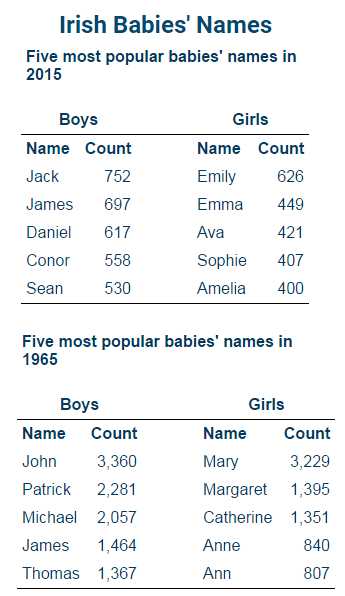 Only James has retained his status as being in the top 10 Irish baby names in 2015 that was also in the top ten in 1965!

The full listing of Irish baby names is available at the Central Statistics Office website at:
http://www.cso.ie/en/releasesandpublications
/er/ibn/irishbabiesnames2015/

KEEP THIS NEWSLETTER ALIVE!
FIND YOUR NAME IN OUR
GALLERY OF IRISH COATS OF ARMS


CESAIR: THE FIRST WOMAN IN IRELAND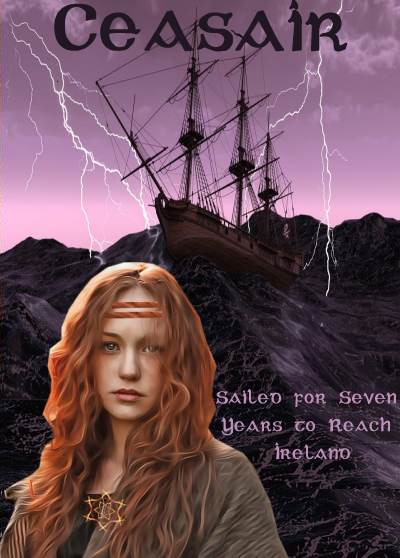 Cesair was the leader of the earliest inhabitants of Ireland, the people who settled in Ireland before even the time of the Biblical flood.

Her exploits are recorded in the ancient manuscript 'Lebor Gabala Erenn', also known as the 'Book of Invasions' as it chronicled the arrival of the earliest peoples who inhabited Ireland. First were the people of Cesair, then the people of Partholon, the people of Nemed, the mysterious Fir Bolg, the supernatural Tuatha De Danann, and finally the Milesians who are the Gaels from which the modern people of Ireland are descended.

Cesair (pronounced 'sesser'), was the granddaughter of Noah, who was refused entry onto the Ark by her grandfather and so decided to create three Arks of her own.

When Cesair was but ten years old her foster father, a priest in Egypt, told her to gather together a group and set out in order to escape the flood that was to soon follow. She built a fleet of three ships which she populated with as many capable women as she could find, each possessing a different skill. When her own father Bith was refused entry onto the Ark, along with Fintan Mac Bochra and Ladra, Cesair offered to bring these three men to safety as long as they acknowledged her leadership.

They set sail for Inis Fail (the land of destiny, Ireland), reasoning that as Ireland was as yet unpopulated by man that no sin could have ever been committed there, and so would be safe from the flood sent to cleanse the world of evil.

The journey was perilous and took seven years but finally the people of Cesair arrived in Ireland. It was the year 2361 BC according to 'The Annals of the Four Masters', but only one ship had survived the journey, this containing fifty women and three men.

They decided to divide the women into three groups, each group to take one of the men to populate the land. They also divided up the sheep they had brought with them (the first sheep to come to Ireland). Cesair allocated herself to Fintan's group. Banba, a great warrior woman, was the leader of Ladra's group.

Now this was a huge responsibility for the three male warriors who remained with these women. And for Bith it was too much and he soon succumbed to illness, having been overwhelmed by the responsibility of impregnating sixteen women. He became the first man to be buried in Ireland.

Cesair and Alba divided his women and brought them into their own groups. Ladra, incapable of surviving the now increased greater demands, also died, which left Fintan as the only man on an island of fifty women!

Feeling inadequate in the face of this mammoth task, his reaction was perhaps unsurprising: Fintan fled.

He hid out in a mountain cave and when the flood struck he took the form of a salmon fish, and then a hawk, surviving for over five thousand years.

Cesair was broken-hearted at having been abandoned by her great love and died shortly afterwards. As for the remaining women they were all washed away in the flood, all apart from Banba. It is remembered that Banba and Fintan, the only two to survive, later gave existence to the mysterious and supernatural Formorians.

Cesair was the first inhabitant of Ireland, a fantastic leader able to exert her authority and power over all who followed here. She was unwilling to wait patiently while a wrathful God planned her extermination! She is thought to have been the earliest Irish Goddess, displaying power and sexuality, common traits in Irish Goddesses that were to follow her.







A STRANGE VISIT TO CONNEMARA'S KYLEMORE ABBEY

by Brian DeVon


Many years ago I was travelling through Connemara, in the west of Ireland, in a horrendous downpour when I came upon a monk walking along the side of the road.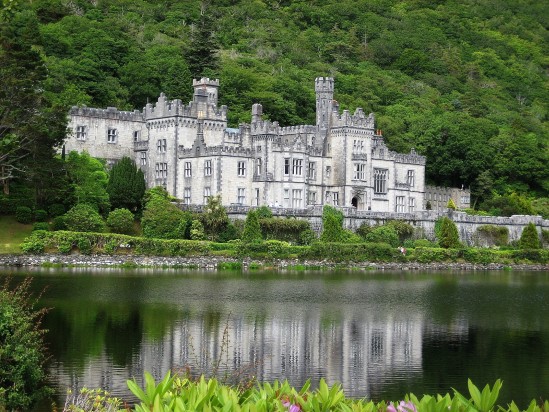 He was wearing the traditional monks brown habit with white (ish) rope belt. The poor man was absolutely soaked to the skin. He was heading for Kylemore Abbey, home of the Benedictine nuns, where he was the resident priest. I can't imagine how wet he would have been had I not happened by.

When we pulled up to the Abbey I was astonished at it's size and beauty and it's magnificent setting.

The monk, who had introduced himself as Dom Paul, very kindly invited me in to the Abbey. It was a true privilege to be allowed into this wonderful historic place.

Dom Paul arranged for me to stay for dinner in a magnificent old dining hall with food prepared from the farm that was part of the grounds. My first true farm to table experience as an adult.

Lamb stew was the order of the day served with warm crusty brown soda bread and no shortage of whisky. What a treat.

The stew was consumed with gusto as was the whisky, resulting in my spending the night in guest quarters and having the very strange and spiritual experience of being woken to the sound of nuns singing hymns drifting across the abbey grounds in the soft Irish mist. A night to remember, a meal not to be forgotten.
~~~

Brian DeVon is author of the 'Flavour of Ireland' website at: http://www.flavorofireland.com



GAELIC PHRASES OF THE MONTH
| | |
| --- | --- |
| PHRASE: | Eist moran agus can beagan! |
| PRONOUNCED: | aisht more-on og-us con byug-on |
| MEANING: | Hear much and say little! |
| PHRASE: | Is minic a gheibhean beal oscailt diog dunta! |
| PRONOUNCED: | iss minick ah gav-awnn bail os-kuly dee-ug doon-ta |
| MEANING: | An open mouth often catches a closed fist! |
| PHRASE: | De reir a cheile a thogtar na caisleain! |
| PRONOUNCED: | deh rare ah kay-lee a hug-tar nah cosh-lawn |
| MEANING: | It takes time to build castles! |

View the Archive of Irish Phrases here:
http://www.ireland-information.com/irishphrases.htm


COMPETITION RESULT


The winner was:
who will receive the following:
A Single Family Crest Print (US$24.99 value)

Send us an email to claim your print, and well done!
Remember that all subscribers to this newsletter are automatically entered into the competition every time.

I hope that you have enjoyed this issue.





by Michael Green,
Editor,
The Information about Ireland Site.
http://www.ireland-information.com
Contact us

Google+




(C) Copyright - The Information about Ireland Site, 2016
P.O. Box 9142, Blackrock, County Dublin, Ireland Tel: 353 1 2893860
---
FATHER'S DAY APPROACHES!
MARVELOUS GIFTS FOR GATHERINGS, WEDDINGS & BIRTHDAYS
FREE DELIVERY TO YOUR DOOR
---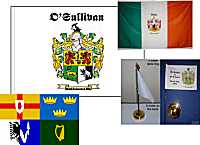 Family Crest Flags, Ireland Flags, Wedding Flags, Four-Province Flags, Erin Go n Flags. Great Selection.
From US$19 Delivered


---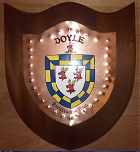 Incredible Family Crest Plaques Made in Ireland

---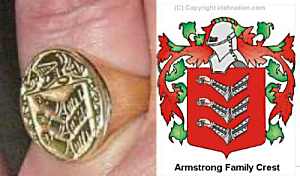 BIG REDUCTIONS!
Stunning Family Crest
Signet and Seal Rings

---

DISCOUNTED FOR A LIMITED TIME
Elegant Cufflinks

---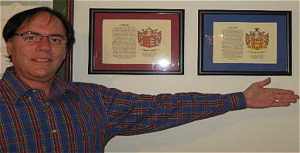 Superior Framed
Family Crest Parchments

---
Ireland Family Crest Flags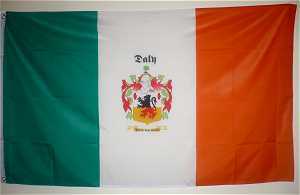 More Info
US$49.99 - Free Delivery



OUR VERY BEST-SELLER!
Get Your-Name on a Heavy-Grade Polyester Flag. Marvelous for Outdoor Display and Indoor Occasions.

---
White-Background
Family Crest Flags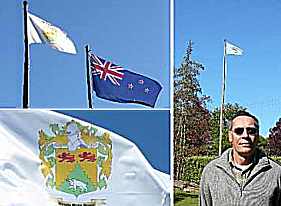 More Info
From US$19.99 - Free Delivery

---
'Your-Name' Old Irish Sign
NEW DESIGNS!
From US$34.99 - Free Delivery

---
Incredible Irish Coin Jewellery
Wonderful Thoughtful Gifts. Hand-made, polished and plated designs cut from genuine Irish coins.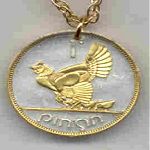 ---
New Designs available
on our Coffee Mugs

---

Personalized Licence Plate

---

Erin Go Bragh Flag


St. Patrick's Day Flag


Connaught Province Flag


Leinster Province Flag


Fields of Athenry Flag


Soldiers Song Flag

---


Personalized First Name Plaque. Great for Kids!


---
New Designs available
on our Coffee Mugs

---

'Your-Name'
Polo & Tee Shirts

---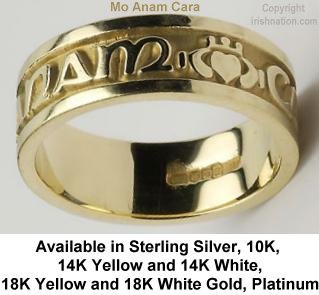 From US$69 Delivered

BIG REDUCTIONS!
Stunning Engraved Rings from Ireland with Irish Language Phrases.
Mo Anam Cara:
My Soul Mate
Gra Dilseacht Cairdeas:
Love, Loyalty, Friendship
Gra Go Deo:
Love Forever
Gra Geal Mo Chroi:
Bright Love of my Heart

---
MADE IN THE WEST OF IRELAND!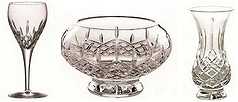 BIG REDUCTIONS!
Gorgeous Glistening Galway Crystal delivered to your door from the historic West of Ireland.

---
SEE MORE GREAT OFFERS AND DISCOUNTS AT:

IRISHNATION.COM

FREE DELIVERY FOR A LIMITED TIME!