MESS BUACHALLA - ABANDONED BY HER FATHER, HER FATE WOULD BE INCREDIBLE


Mess Buachalla was the daughter of King Cormac Mac Airt, the great High King of Ireland. She was disowned by her father who had been fooled into an incestuous affair with his own daughter, believing that his daughter was in fact his wife, Etain.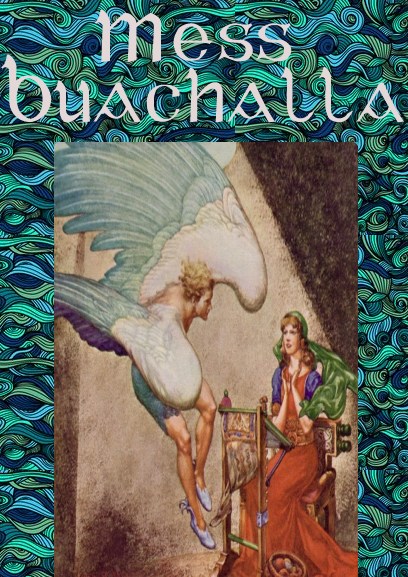 The King ordered his servants to cast the girl-child into a pit, but the baby smiled up at them with such love and trust that they could not bear to harm her. Against the King's orders, they took her to the cow-herders at Tara, who fostered her and loved her dearly. From this she acquired her name: Mess Buachalla means 'the cowherds' fosterchild'.

Mess Buachalla's life was still in danger though. If her father ever found out that she was still alive, he might complete his task of destroying her. Her foster family built a house for her to keep her safe and hidden. The walls were of high wicker, and there were no doors, only a window and a skylight. Despite these precautions she was discovered!

One day, one of King Eterscel's people happened by and looked in the window, expecting to see some food or stores that the cow-herders kept. Instead he saw the most beautiful maiden he had ever laid eyes on!

When the King heard of her, he was determined to make Mess Buachalla his wife. He sent his men to break down her house and carry her off without even notice to the cow-herders. It had been previously been prophesized to King Eterscel that a woman of unknown race would bear him a son, and he was certain that the woman in the prophecy was this beautiful and mysterious maiden.

Mess Buachalla knew nothing of the forces that were being set against her. Before the King ever arrived, a magical bird flew through her skylight, and when he landed on the floor, he cast off his birdskin. This beautiful otherworldly man lay the night with Mess Buachalla. In the morning he told her that King Eterscel's people were coming for her, but that the son she would bear would be his, and she was to call him Conaire and instruct him to never ever kill birds.

Mess Buachalla kept her word and when she was brought to the King, he gave her every kind of luxury and signs of respect.

Even her fosterers, the cow-herders, were raised up and made Chieftains. When eventually her son was born, she named him Conaire, son of Mess Buachalla, and sent him to be fostered among three households so that he could be loved and cared for three times over, and learn all that he could. This was an incredible act of kindness and wisdom.

And so it was that Conaire, the son of Mess Buachalla and the mysterious bird-man from the Otherworld, would eventually fulfil his destiny and become the High King of all Ireland.



Fantastic Mother's Day Gifts from Ireland
find out more