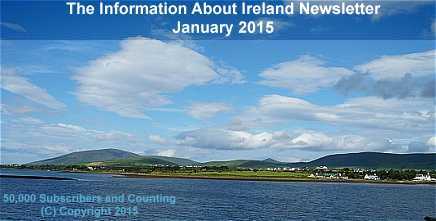 IRELAND NEWSLETTER DECEMBER 2015
IN THIS ISSUE
The State of the Irish Nation 2016
Etain: The Beautiful Maiden of the Tuatha de Danann
'The Entertainer' by Brian DeVon
Gaelic Phrases of the Month
Monthly Free Competition Result

Popular Articles from Recent Newsletters:





FOREWORD


Belated Happy New Year from Ireland where the talk is all about the 1916 Anniversary. Irish newspapers and television are awash with articles and programs about the famous Easter Rising that was to prove such an important turning point in Irish history. The commemorations will culminate on O'Connell Street in Dublin on March 27th.

This month we are delighted to continue our exploration of Irish mythology with a story about Etain, the beautiful fly-creature of the Tuatha de Danann!

Until next time,

Michael



P.S. Please DO FORWARD this Newsletter to a friend or relative. If you have a website or Facebook page or Blog (or whatever!) then you can help us out by putting a link on it to our website: www.ireland-information.com






NEWS FROM IRELAND


STATE OF THE IRISH NATION 2016

1916 Anniversary

When the rebels had been defeated in the GPO on Dublin's O'Connell Street and the damage to the already shambles of a city was surveyed the soon-to-be martyrs were pilloried as traitors and criminals.

It was only after the leaders of 1916 were executed that public opinion began to turn against the ruling British regime. As has happened so often in British colonial history a military over-reaction led to a chain of events that ultimately caused that regimes downfall. The Amritsar massacre in India in 1919 turned public opinion against the British on the sub-continent and was one of the pivotal events along the road to Indian independence.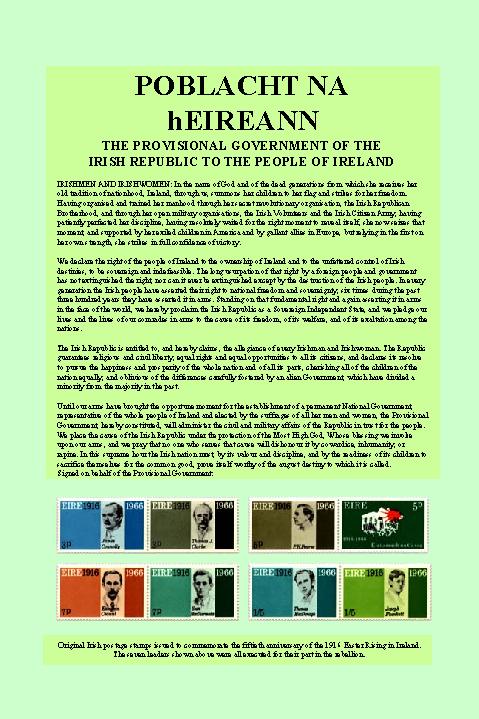 Events played out very similarly in Ireland.

The execution of Pearse and Connolly who were chief among the sixteen of the executed marked the moment when the sleeping Irish populace roused from its slumber.

The Easter Rising led directly to the war of independence championed by Michael Collins while Eamon deValera formed the first Government. A bitter civil war followed before the fledgling Irish State eventually stood on its own two feet. An Irish Republic was formally established in 1948.

What would the consequences have been for Ireland had the sixteen executed been simply imprisoned? Would the Irish have simply rebuilt Dublin and got on with the business of being under British rule? How long would it have taken for a new rebellion to occur? Would the entire island of Ireland still be under British rule today?

Of course it is impossible to know. History is written by the victors and those who even today proclaim the rebellion as an illegal and immoral act of madness are drowned out, their opinions trumped by the eventual results of the Rising.

The sacrifice made by the men and women of 1916 did indeed have profound consequences for every inhabitant of this island, and for every person who claims Irish heritage.

1916 will see a full series of events to commemorate the Rising, with plenty of comparisons between the motivations of those brave leaders and the leaders that we elect today.

The Economy

Perhaps you may have heard already? Ireland is back! Well, sort of........

Continue reading this Article at the Ireland News Blog

KEEP THIS NEWSLETTER ALIVE!
FIND YOUR NAME IN OUR GALLERY OF IRISH COATS OF ARMS


ETAIN: THE BEAUTIFUL MAIDEN OF THE TUATHA DE DANNAN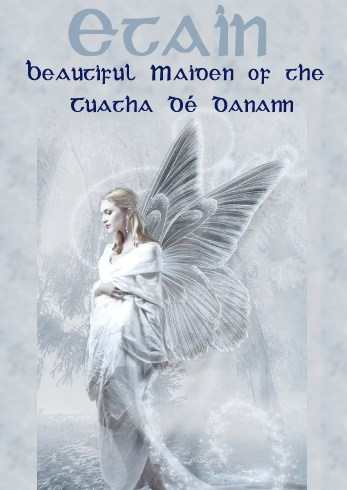 Etain was a maiden of the Tuatha de Dannan, renowned for her incredible beauty, who fell in love with Midir of the seven-pointed spear. Unfortunately for Etain, Midir's wife took exception to this, and Etain had to endure terrible hardship as a consequence.

Etain had met Midir while he was staying with his foster-son, Aengus Óg, the God of love. Midir had been wounded, losing an eye while under Aengus' protection, and this was such a blow to his status that even after his eye was restored, he demanded that Aengus make restoration to him. Now, being the God of love, Aengus was able to placate Midir by introducing him to the beautiful Etain.

The two began a passionate love affair, and all was well until the time came for Midir to return to his home. Midir was already married, to Fuamnach, a powerful woman and his equal in every way. She had raised children and foster-children with him and, unsurprisingly, was deeply insulted when he brought this strange woman home with him.

She vented her rage on Etain, turning her into a shower of rain, which fell in a pool before condensing into a jewelled fly. However, to Fuamnach's surprise Etain, now as a fly, did not leave Midir, and his love for her did not diminish. The sound of her wings was sweet music to him, and the magical fly perched on his shoulder wherever he went.

Fuamnach was furious and sent a storm to blow Etain away forever. Aengus managed to rescue her for a short time, but the storm found her again, and Etain was blown and battered about for a long time. At last, she was blown in through the window of a mortal King's hall and fell into the goblet of the king's wife, who swallowed the fly Etain whole, becoming pregnant at that instant.

Born again as a mortal woman, Etain grew up with no memory of her past life, though her beautiful appearance was the same. When the High King of Ireland, Eochaid Airem, asked for her hand in marriage, she agreed, and was a loyal and good wife to him.

But Midir had never finished searching for her and to his joy finally found her again. He had been searching for her for thousands of years and begged her to run away with him.

Etain refused. She honored the bond she had with her mortal husband, demanding that Midir get Eochaid's permission before she so much as kissed him. Midir managed to trick King Eochaid into giving him permission to kiss and embrace his wife but, realizing his error, Eochaid then spent a whole month training and equipping his army to prevent Midir from claiming his prize.

This was no obstacle to a man of the Tuatha de Dannan! Midir simply appeared in the King's hall next to Etain on the appointed day and kissed her. When he had done so Etain's memories of him returned, and the two lovers vanished from the King's hall to live their immortal life together.

Although Etain was faced with terrible hardship she held onto her essential self, and for her love for Midir through her transformation into a fly and then into mortal form. Her integrity and strong sense of values come through in this story when she refuses the beguilement of her faery lover, and insists on keeping faith with her mortal husband.

Love won out in the end though, when the beguiling and beautiful Etain followed her heart and returned again to the immortal realm.


---
WHICH IRISH MYTHOLOGICAL CHARACTER ARE YOU??
---

Do you dare to take our Irish Mythology Archetype Test to find out?

Are you like the Shaman Fintan or the Goddess Danu?

Or perhaps you are like the beautiful Emer, wife to the mighty Cuchulainn.


Take The Test!


THE ENTERTAINER
by Brian DeVon

I'm not sure what age I was when I became aware of the importance of banking and bankers in family life but when the bank manager visited I knew it must be supremely important because it involved everyone dressing in their Sunday best, access being granted to the front room, lots of dusting and sweeping and me being required to tumble through the room in my shorts. I've never understood exactly why I was chosen. My brothers were definitely more sporty and I was definitely built for comfort not speed. I was the chosen one for this particular entertainment.

Looking back it seems a bizarre entertainment to perform for the visiting dignitary but there it was. Mr. Bauman, the bank manager, would arrive in his conservative bankers attire, sporting a morning coat over pinstripe trousers. Tea would be offered and of course politely refused as being "too much trouble", then offered again as "no trouble at all, the kettle's on anyway" and then accepted graciously with a 'well if you insist'.

The children would be brought to help with the tea trolley leaving my Dad and Mr. Bauman to complete some mysterious discussions about our future.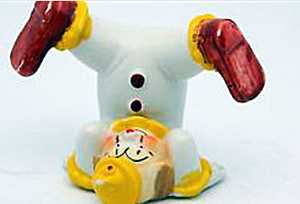 Then with great ceremony the tea trolley would be wheeled in and set up for service. My mother would prepare me with great encouragement and then without further ado I would be summoned by my Dad to tumble head over heels up and down the carpet attired in my shorts. I was a great hit apparently because spontaneous clapping and cheering broke out and after my entertainment tea was served with that treat of treats sponge cake with raspberry and cream filling.

I must have been good to be so handsomely rewarded, and this reward encouraged my interest in food and entertainment.

I see cooking at the core of celebrations and events where the meal and the gathering are the entertainments that create fond memories and images that grace the history of our families. I can't think of a family that doesn't have links to their history that involve meals shared together at special times both sad and happy down through the generations. Many of those meals and memories are carried in the pages of recipes books passed down through the years. I have many notes and random pages from Jane's family that I read from time to time because they represent efforts spent after these gatherings when aunts, parents or grandparents would sit down and bother to write out a recipe that was requested based on a meal served that special day. This is history to be enjoyed and cherished. As you reproduce a dish or cake handed down to you it's a moment to revisit the special days, the birthdays, anniversaries where that cake, that crumble was served by those who loved you and were loved and who live on through their cooking heritage.

I also feel that we have some kind of responsibility to move our heritage forward. Fish are never going to grow in the garden or carrots swim in the sea, so we are to be supplied with the same ingredients our forebears were. So do we continue to cook exactly the same dishes as they did? After all if they never evolved the use of the ingredients we'd still be cooking meat on the end of a stick over an open fire…..Australia is exempt from this thought..... really!

So cooking has an evolution, as we do, but it must tip its hat at the past as a gesture of thanks and move forward. Lets hope we can be smart enough to create or re-create something special, carry something forward, something worth tipping the future hat to...... and lucky us to have the chance!

~~~

Brian DeVon is author of the 'Flavour of Ireland' website at: http://www.flavorofireland.com



GAELIC PHRASES OF THE MONTH
| | |
| --- | --- |
| PHRASE: | Cén tam e? |
| PRONOUNCED: | cane thom a? |
| MEANING: | What time is it? |
| PHRASE: | Tá se deich noimead tar eis a naoi |
| PRONOUNCED: | Taw shay deh no/made tar aish a knee |
| MEANING: | It is ten minutes after nine |
| PHRASE: | Tá se a tri a chlog ar maidin |
| PRONOUNCED: | Taw shay ah tree ah clug air mod/gin |
| MEANING: | It is three o'clock in the morning |

View the archive of Irish Phrases here:
https://www.ireland-information.com/irishphrases.htm


COMPETITION RESULT

The winner was: david.reed3@cox.net
who will receive the following:
A Single Family Crest Print (US$24.99 value)


Send us an email to claim your print, and well done!
Remember that all subscribers to this newsletter are automatically entered into the competition every time.