The Botanic Gardens, Dublin
Free Admission Tourist Attraction in Ireland #2


The Botanic Gardens are located in Glasnevin in Dublin, about 3.5 miles from the city centre. The gardens are a little bit off the beaten track but are well worth the effort to visit. From the city centre the best way to get there is by bus or taxi. The gardens have a large car park for those brave souls willing to face driving in Dublin traffic. We don't recommend visitors to the city drive anywhere!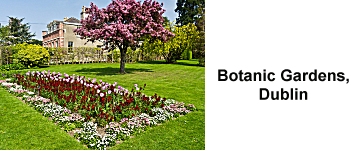 Open to the public since 1800, the gardens serve as both a great visitor destination as well as a scientific research and conservation facility. Consequently this is not a typical public park and thus no dogs are allowed nor picnics, bicycles, fishing, ball games, jogging or running, nor the playing of musical instruments or recorded music.

The gardens are one of the hidden gems of Dublin city with marvellous walks, flower-beds, a walled vegetable garden, beautifully kept greenhouses as well as a newly built visitor centre with a fine cafe and exhibit hall. Musical, photographic and garden events are staged throughout the year so it is well worth checking the gardens website at www.botanicgardens.ie to see if you can plan your visit while an event is taking place. Remember - admission is free! The gardens close earlier during the winter months but stay open until 6pm in Spring and Summer. The Botanic Gardens have a limited number of wheelchairs available at the visitor centre near the main entrance. There are free Guided Tours every Sunday at 12 noon and 2.30 pm. A series of audio tours are also available.

The main problem with a tour of the garden is always going to be the weather. If rain can be avoided then you are guaranteed a lovely few hours in beautiful surroundings. Afternoons will always be busier than mornings. If you are interested in Irish history then you might want to take advantage of nearby Glasnevin Cemetery which offers a one-hour walking tour for a small fee. The cemetery is the final resting place of some giants of Irish history including O'Connell, deValera, Countess Markievicz and Parnell. The cemetery backs onto the botanic gardens and is a short walk away. See here for more: www.glasnevintrust.ie/glasnevin/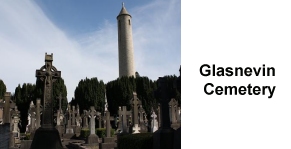 So, a fine day-out might consist of a morning visit to the gardens, lunch at the visitor cafe and then a short walk to the cemetery to take the tour. Plenty of walking to be done for sure but well worth the effort! It is suggested that either bus or car be used to get to and from the location - don't try to walk it as you will be doing enough walking when you get there!
Video about The Botanic Gardens, Dublin