IN THIS ISSUE
News Snaps from Ireland
'Picking The Potatoes' by Marie O'Byrne
'The Great Escape' by Brian DeVon
Gaelic Phrases of the Month
Monthly Free Competition Result

Popular Articles from Recent Newsletters:





FOREWORD


Hello again from Ireland where the vibe is beginning to resemble that of Christmases past!

This month we are delighted to have two tales from 'old Ireland' - do take your time to read and enjoy them.

If you have a story, poem or anecdote you would like to share please do send it in to us.

Until next time,

Michael



P.S. Please DO FORWARD this Newsletter to a friend or relative. If you have a website or Facebook page or Bldg (or whatever!) then you can help us out by putting a link on it to our website: www.ireland-information.com






NEWS FROM IRELAND


ABORTION RULING IN BELFAST WILL HAVE IMPLICATIONS FOR DUBLIN

A landmark ruling in the Belfast High Court that the existing abortion laws in Ulster breach European Human Rights is likely to have consequences in the Irish Republic and possibly for Fine Gael's re-election chances.





The Northern Ireland Human Rights Commission (NIHRC) has called for abortion to be made available to citizens in the event of serious foetal malformation, rape or incest. The current situation in Northern Ireland substantially mirrors that of the Republic where countless thousands of women have travelled to the UK for an abortion. As a consequence the issue has effectively been 'exported' to the UK, a fact not lost on the ruling judge in the Belfast case, Justice Horner:

'If it is morally wrong to abort a foetus in Northern Ireland, it is just as wrong morally to abort the same foetus in England. It does not protect morals to export the problem to another jurisdiction and then turn a blind eye.

There is no evidence before this court, and the court has in no way attempted to restrict the evidence adduced by any party, that the law in Northern Ireland has resulted in any reduction in the number of abortions obtained by Northern Irish women.

There can be no doubt that the law has made it much more difficult for those with limited means to travel to England..... The protection of morals should not contemplate a restriction that bites on the impoverished but not the wealthy. That smacks of one law for the rich and one law for the poor.'

Successive Irish Governments have for decades struggled with the abortion issue that is just as divisive an issue in Ireland as it is in many other countries. The current Taoiseach has announced his intention to instigate a Constitutional Convention on the subject that will inevitably result in a national Referendum. But given that the Court in Belfast has decided that the situation in Ulster is in breach of European Human Rights laws, and that the situation in the Republic is substantially the same as that currently employed in Northern Ireland, it follows logically that the regime in Ireland is also in breach of EU law.

A situation that may be tested in the courts here sooner rather than later.

ABORTION ISSUE REVEALS TAOISEACH WEAKNESS

The abortion issue in Ireland has the means to severely damage the political aspirations of current Taoiseach Enda Kenny. The current leader of the country was effectively bullied into announcing a Constitutional Convention on the abortion issue when faced down by senior members of his own Party, several of whom are clearly eyeing his leadership position.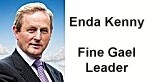 Abortion has always been a divisive issue for the Fine Gael leadership who are torn between placating their conservative base while also trying to impose their vision of modernity on the wider Party faithful. This split could wreak havoc on Fine Gael plans for the upcoming General Election in the Spring of 2016 and could even instigate a potential heave against the Party leader Enda Kenny.

Incredibly, Enda Kenny has already scored a massive own-goal by revealing that he would not seek out a third term as Taoiseach should he be re-elected to a second term next year. By denying the possibility of a third term it becomes clear that he will step down during his second term. The question then becomes 'when?'. Historically, in any similar political scenario such as this, once the clock starts ticking on an impending resignation it is absolutely inevitable that the time-scale is accelerated while the successors scramble for position.

Political Suicide. This was naivety at its worst and does little to dispell the attitude among many commentators that Enda Kenny is the ultimate 'accidental Taoiseach', just lucky to be in the right place at the right time.

The Irish media have largely under-played this major mistake however, and are currently more focussed on the upcoming General Election. But once the votes are tallied the great countdown to Enda's self-inflicted departure will begin in earnest.

OPT-OUT ORGAN DONATION POPULAR IN IRELAND

A poll by Irish newspaper 'The Journal' suggests that there is massive support for the system of opt-out rather than opt-in, in respect of organ donation. 85% to 11% is the huge margin by which Irish people who were polled agree that organ donation should be automatic, rather than the current system of opting-in.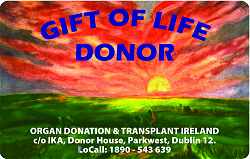 Wales has recently implemented just such an 'opt-out' system that puts the onus on individuals to disqualify themselves from organ donation rather than having to volunteer.

RISE IN HOUSE PRICES IN IRELAND CONTINUES

Despite measures to curb house price inflation introduced by the Central Bank of Ireland the value of property in Ireland continues to rise. The recent measures to cool the market include a cap on the majority of bank loans at 80% of the property value, thus forcing prospective purchasers to raise 20% themselves. Such prudence is to be expected especially given what happened in 2008 with the banks collapsing under the weight of property-related debt.

Despite these curbs, or perhaps because of them, prices continue to rise. Figures from the Central Statistics Office (CSO), show that prices rose by 1.6% in October alone and are up 7.6% annually!

Dublin prices rose by 1% in October and are up 4.5% annually. Property values are still down by 33.5% from the very height of the property boom in 2007, however the recent clawbacks are sure to alarm economists who fear another property bubble may be developing. This is against a backdrop of a severe shortage of rental properties available in Dublin especially, and with the construction industry just starting to get back on its feet after the pummeling it took in the wake of the 2008 financial crash.

OVER ONE FIFTH OF IRISH DENY MAN-MADE CLIMATE CHANGE

A report by Amarach Research has revealed that 64% of Irish people agree that climate change is man-made while 22% disagree.





With over one fifth of the population failing to acknowledge the research carried out by the World Meteorological Organization (who found that 2011-15 was the warmest five-year period on record, due to climate change) the challenge to regulators and politicians is great.

UNEMPLOYMENT RATE CONTINUES TO FALL

The decline in the rate of unemployment has continued with the rate now standing at 8.9%, down from a peak of over 15% in 2012 and from 10.4% a year ago. These numbers supports the other evidence that the Irish economy is in recovery, with a significant increase in construction activity a further indicator that the graphs are all now pointing in the right direction.

VICTORIOUS IRISH FOOTBALLERS REACH FRANCE

Ireland's defeat of Bosnia-Herzegovina over a two-match playoff series has ensured that 'the boys in green' will take their place among Europe's elite at the European Championships in France next year.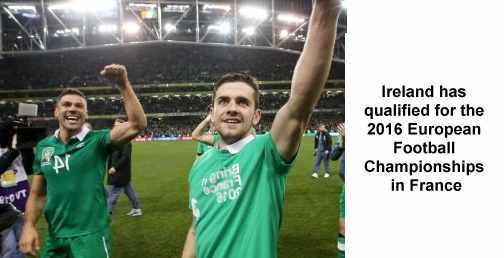 It has been a long journey! The ecstasy of beating world champions Germany was followed by the disappointment of defeat in Poland where a win or even a score draw would have been enough for the Irish to qualify. It was not to be as the depleted Irish team was soundly beaten on the night. But the matches against Bosnia-Herzegovina were characterized by the kind of fighting spirit and grit that the Irish teams have for a long time now been famous for. And there were also some excellent individual performances, some moments of real skill and fine game management by Irish manager Martin O'Neill.

On to France then, where the Irish team are likely to be one of the lower seeded teams. For certain though the Irish will be eyed with a considerable degree of trepidation by the big guns of European football, all eager to avoid the fighting Irish that have arisen from the ashes.


KEEP THIS NEWSLETTER ALIVE!
FIND YOUR NAME IN OUR GALLERY OF IRISH COATS OF ARMS


Picking The Potatoes
by Marie O'Byrne
Every year in late October we picked potatoes at the Massey farm in Greystones Co. Wicklow, across the road from our home. My four older brothers were of course a very big help in this strenuous and difficult job but my sisters and I rolled up our sleeves and went along too. None of us had to go but I remember the fun and the anticipation of looking forward to this yearly ritual. It was the first job I ever had and I think I started gathering potatoes at the age of about seven. It was without doubt the most repetitive, back breaking work I ever did in my entire life but I loved every minute of it.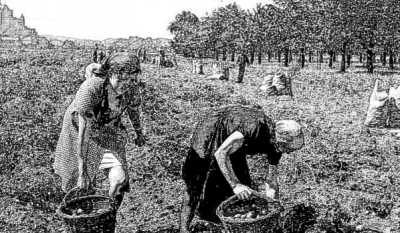 We left our small cozy cottage early in the morning after having a big bowl of porridge with hot tea and toast; our mother stayed behind to care for baby John and Deirdre and to prepare the daily meals as usual. We needed gloves to protect our hands while we rummaged in the cold, damp soil to search for the potatoes but we never had any spare gloves in our house. Instead, our mother made sure we all had a pair of old, well worn socks to keep our hands warm. Even though some of the socks had lots of holes in them it was still far better than having no protection at all. If the socks were full of hole's we would just double up by placing another pair on top of the first ones and hope that the holes did not line up and that our fingers were mostly covered.

Before the morning sun came up we closed the back door behind us and walked across the dew covered fields, a few pairs of old socks stuffed in our pockets. We chatted together along the way; our warm breaths left misty patterns in the cold morning air while underfoot the ground felt tough and hard. The brave little wrens and robins on their morning flight chirped away happily as they hungrily scanned the cold ground for breakfast. We arrived in the busy farm-yard and waited for our instructions from old Mr. Massey and his son David.

David usually drove the big blue tractor out to the potato fields and we all sat in the empty wagon at the back on top of a pile of big brown sacks. The fields with their long, evenly tilled rows always had that strong smell of freshly up-turned soil. We were instructed to walk and space ourselves out, two by two, in the rows along the edge of the field with baskets in our hands. Then the day's work began. Bending, crouching and searching in the soil with our hands, shaking off the excess dirt before placing the potatoes into the baskets, no chopped up ones or soft rotten ones were allowed in. At the end of the rows were the big sacks where we all had to empty our pickings.

One day, I remember my brother Paddy who was working the row behind me, could not resist the target that my bottom had presented and he hurled a large, soft rotting potato right in the middle of my rear end making a big squishy sound. The force of this unexpected explosion knocked me over, head first into the dirt and I began to cry as my pants were now all wet and dripping with mushy, rotting potato and my hair was covered with dirt. I couldn't go home to change as it would have taken too much time and I became quite upset. David reprimanded my brother in a loud, serious tone but he had a sneaky grin on his face as he did so. I'm sure it did look quite funny from the back to see me falling over so fast and so ungracefully head first into the dirt. Sorting, stooping, and picking, sorting, stooping and picking. Hour after hour, row after row, we continued for the rest of the day. Up one row and down the other. Thankfully, we had two breaks, one in the morning and one in the afternoon.

It was such a pleasure to see Mrs. Massey's head move along by the top of the hedge as she arrived in the field with a large jug of lemonade and a wicker-basket full of her delicious coconut chocolate bars. She always had a flask of hot tea for Mr. Massey in the basket too. She put a cloth down by the edge of the field under the shade of a tall oak tree and began to pour out cups of lemonade for each of us; sweet, chilled homemade lemonade. Combined with her homemade coconut chocolate bars this was a very welcomed, scrumptious treat for us. To this day I still remember the lovely rich taste of the chocolate in those homemade bars. It immediately lifted our spirits and our energy levels; we now felt like we could keep on going. We did go home for a quick lunch. Mom had soup and bread ready for us out on the table and after a short rest we walked back to the fields, usually by two o'clock. It was a lot warmer during the afternoon shift and the nice cool sea breeze that blew in from the ocean was very welcomed. We were beginning to feel weary and it was getting more difficult but we all managed to make it through until darkness neared.

It was such a good feeling to look out by the edge of the rows and see all the big, brown sacks full to the brim of freshly picked potatoes. The boys lifted the heavy sacks down the field and lined them all up, like short fat soldiers waiting to go to battle. David started up the tractor and they began to lift the full, heavy sacks up onto the wagon and he drove them down to the farm yard for storing. Once we saw the tractor going back and forth we knew our job was almost done. There was a light at the end of the tunnel, or dare I say field! As we were all leaving the fields for the day, old Mr. Massey would bend down and pick up one last potato. He would turn to us and with a loud voice say "Ah, that's the one I was looking for!" as he held it up in the air and waved it.

Just before it got too dark we all headed back to the farmyard on the back of the tractor to wait for Mr. Massey to come out of the farmhouse with our pay. While we waited for him, I loved to go around and feed the hens and look for eggs hidden in unusual places that might have been missed by Mrs. Massey. Many times I found a stash of cold eggs hidden under a bush or behind a rock and it was so exciting to be able to run in and tell her that I needed the egg basket. The cows were in for milking and my brothers had lifted all the sacks of potatoes up into the loft. Our job was done and the best part of the day was now upon us. Our pay was carefully counted out and placed into our eager little hands, an honest day's pay for an honest day's work. As the sun was setting behind the Sugar Loaf Mountain, we walked slowly down the back road to our house, feeling completely jaded and covered in dust and dirt from head to toe. Every bone in our young bodies ached. The welcoming lights from the cottage and the smell of the cooked dinner greeted us as we approached the gate. Our dirt covered shoes and socks had to be left outside the back door on the steps as my mother ushered us in and instructed us to wash our hands first in the basin, using the nail brush and the big bar of Carbolic soap. Then we happily changed out of our dirty clothes and sat at the dinner table by the blazing fire.

The part that I remember most though, was what happened next. Each of us, without a second thought, happily gave up all the money we had toiled long and hard all day for, to our mother. She never asked us for the money but with gratitude she accepted it and thanked us and said it would be put away for good use later. Usually she gave us back a penny or two to buy a Flash Bar or a comic book at the local shop but the feeling of accomplishment was immeasurable. We had been able to help her out and that thrilling, good feeling far outweighed the pain and stiffness we felt in our bones and our backs.

As I grew older and wiser I found out that some of that money was put away towards the purchase of Christmas toys for us as buying presents for eleven children was no easy task back then.

We also got to appreciate first hand the back breaking work that our local farmers do each and every day of the year out on their farms providing food for us all.

~~~
By: Marie O' Byrne
Chapter from 'The Cottage Full of Memories' (to be published 2016)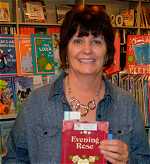 Marie O'Byrne, Author of Irish love stories, Lavender Fields, The Cart Full of Holly and Evening Rose.
Visit at marieobyrne.com


THE GREAT ESCAPE
by Brian DeVon

I'm hard pressed to know where to begin the story of the Great Escape, a tragic tale of commitment, love, bad luck and joy.

The tragedy begins with the early death of my father, a wonderful caring humorous man who was cheated of life at an early age, dying when I was about 12 years old. I can say for sure that late January is not a good time to drop off the twig in Ireland. Your loved ones, relatives (loved or not) are forced to attend your funeral and burial in less than clement conditions.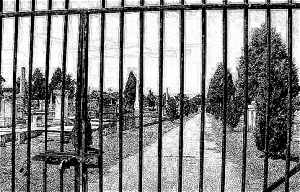 Such was the case for Dad. He left us unexpectedly on January 28th the peak of misery in Irish weather. After nonexistent money was spent trying to convince a few relatives and neighbors that we were doing fine and could afford a decent spread at the funeral lunch off we went to the church and cemetery. The funeral procession diverted past our house on the way from the church to give the late departed a last look at his unpaid mortgage before heading for Deans Grange cemetery, his only resting place. for he never got a days rest in life.

As the solemn procession pulled into the cemetery the heavens opened and we were subjected to a downpour of biblical proportions. The wind flew at us, the rain lashed us in horizontal waves, misery befell us on all sides. My dad's remains were lowered into the flooding grave with full ceremony as we stood heartbroken miserable and soaked through by his side. We walked distraught away in squelching shoes, bought new, especially for the occasion, back to the waiting cars where the drivers had spread towels on the seats lest our sodden misery leak into their luxury limousines before the next miserable journey, no doubt waiting at another church.

It was quite a while before the sun shone again for us. It was there in the sky but couldn't penetrate the cloud of gloom and uncertainty that cast a shadow on our daily life. They say time heals all ills, 50 years on I'm not feeling it. A piece of magic was gone and never lit our lives again.

My mother was a very traditional person and believed in following rules, traditions and promises. In light on her traditional and moral obligations and a deep respect for the dear departed she started visiting Dad's grave as soon as she could do so without falling apart. I often accompanied her and enjoyed our time at the graveside reminiscing and fiddling with little flowers and picking weeds out. It seemed like these little tidyings were a loving and thoughtful task on a Sunday evening in a lonely life.

As time went by and I grew to an age where it became necessary to cast off on my own journey, the Ma's graveside visits continued and became an integral part of life.

On one visit, during a pleasant summer evening, she attended after coming home from work. This was no small task, as she had to get two buses to get there, followed by a serious walk. Somehow she misjudged the time and when the visit was over found herself locked inside the cemetery.

Let me digress a moment and say that in a house hold where money was indeed too tight to mention, my frugal, by necessity, mother had few clothes. Those she had consisted of couple of old fashioned dresses. I'm sure you've seen the grannies with the one piece dress that have a hundred yard long zip up the back, this is the very attire she wore this evening, I remember it to this day, a grey paisley pattern.

Anyway back to the dreaded evening. Here she is locked into the cemetery and lost for a way out. She starts walking the perimeter wall in the vain hope something was left open, no such luck. Now let me enlighten you on Irish cemeteries of the day. I'm not sure if the intent was to keep the dead in or the living out but a serious spike topped wrought iron fence mounted on a granite wall surrounded the place. Invading armies would be repelled.

As she paced the perimeter she saw a man standing at a bus stop. Excuse me! She called..... I can imagine her strained politeness. The man, no, a gentleman came over. She explained the unfortunate predicament she was in. He walked the fence, in so far as he could, and also found no way out.

After some serious thought he said, 'I'm afraid the only way is to climb the fence... I'll give you a hand, if you're on for it'.

Remember now the sainted mother is in her late sixties and not normally an athlete, but game to try it.

So with as much help as he could provide she scaled to the top of the fence and somehow managed to get astride it. Now came the problem, how's she going to get down from astride the beast. 'I'll tell you what' he says, 'jump and I'll catch you'.... 'it's not that far'.

Given no real choice she went for the jump. Unfortunately the back of the dress was caught on a spike of the fence. She launched into his arms, off came the dress, the landing was made beautifully in Olympic style to the cry of.... 'Jaysus Missus you're in your knickers' from our winded man of the hour! Most of the well-worn one piece dress remained flapping on the rails a witness to the events. Her rescuer averted his eyes as he took off his coat and handed it over to rescue the lady in distress from her misfortune. She made it home on the bus in one piece, shaken and in her own way highly amused at events. The gentleman's coat was returned, dry cleaned of course, when they met for coffee in Bewley's coffee shop. I'm not sure if they met again but they both had a tale to tell and lived fondly in each other's memories

~~~

Brian DeVon is author of the 'Flavour of Ireland' website at: http://www.flavorofireland.com



GAELIC PHRASES OF THE MONTH
| | |
| --- | --- |
| PHRASE: | Sláinte chuig na fir, agus go mairfidh na mná go deo! |
| PRONOUNCED: | slawn-che kwig nah fir, oggus guh marrig nah min-aw guh djo |
| MEANING: | Health to the men and may the women live forever |
| PHRASE: | Fad saol agat, gob fliuch, agus bás in Éirinn! |
| PRONOUNCED: | fod sale ah-gut, gob fluck, oggus boss inn air-inn |
| MEANING: | Long life to you, a wet mouth, and death in Ireland |
| PHRASE: | Sláinte agus táinte! |
| PRONOUNCED: | slawn-che oggus tin-che |
| MEANING: | Health and wealth |

View the archive of Irish Phrases here:
https://www.ireland-information.com/irishphrases.htm


COMPETITION RESULT

The winner was: ellisame23@gmail.com
who will receive the following:
A Single Family Crest Print (US$24.99 value)


Send us an email to claim your print, and well done!
Remember that all subscribers to this newsletter are automatically entered into the competition every time.