TAKE THE SOUP

A Story By Mattie Lennon


Up to today no senior Wicklow football team has ever graced the hallowed sod of Croke Park on the penultimate Sunday of September. Even Mick O Dwyer couldn't do anything for us. Imagine letting soccer and rugby into Croke Park before Wicklow got a crack at an All-Ireland final, and then the Queen... and we almost had Obama.

But Wicklow men and sons of Wicklow men have played for many another county's winning team.

Such was the case in 1928. It was the first year of the Sam Maguire Cup and Kildare met Cavan in the final.

One of the Kildare forwards was of Valleymount parentage and, of course, the locality claimed him as its own. Now, money wasn't plentiful in the West Wicklow of 1928. The Wall Street crash was in 1929 but we were well ahead of them. The people in our area couldn't afford to travel to Dublin for a match. But they were a resourceful people. And they did a very clever thing. They took up a collection and appointed one man, a sort of an emissary, to go to the match and bring back the information. The man selected as representative was a farm-labourer, Matt Colley, who had a phenomenal memory, a good eye and ear for detail and was a good storyteller (sometimes with a little bit of embellishment).

Though times were hard subscriptions surpassed expectation. With the proceeds Matt boarded the steam Tram, in Blessington, and set out on his journey to Terenure or Roundtown as it was called at the time (where the tram terminated). He walked, at a leisurely pace into the city centre and in the unfamiliar surroundings of the main thoroughfare of the Metropolis he spotted an impressive building; The Gresham Hotel.

When he entered the posh foyer of the Gresham, of course the head porter and others were amused by his mountainy walk.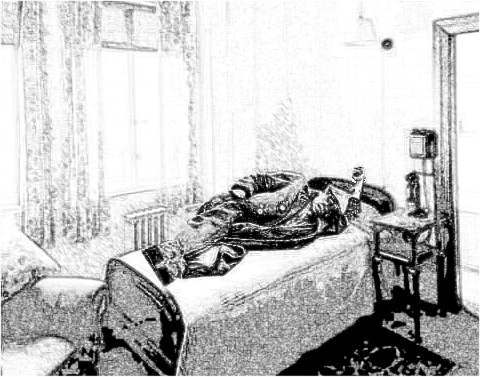 He took his seat in the dining room but didn't consult the Menu. With all due respect to the man, he had a near photographic memory, was a gifted raconteur but the written word meant very little to him.

A liveried waiter with notebook, and pencil poised, materialised at his elbow.
'Soup Sir?'

'I don't want any soup', says Matt.
'But the soup of the day, Sir is the Chef's...'

'Amn't I after telling ye I don't want soup.'

'All right Sir, the main course...'
The waiter goes on the list the many choices, only to be told:
'I don't want any o' that, I want a feed o' bacon an' cabbage an' a few good floury spuds. Have ye any bacon an' cabbage?'

Taken aback and getting annoyed the waiter says:
'I'll see what we have in the kitchen.'

'I don't want to know what ye have in the kitchen, I want bacon, cabbage and potatoes.'

The waiter now decides to teach this Russ-in-Urbe a lesson. He brings out a large serving dish (like the big Willow-pattern dishes that Matt's mother kept on the top shelf of the dresser). It was heaped to capacity.

Matt ate and he ate and he ate - and then he ate more.

He ambled upstairs and spotted, through an open door, a double bed. It wasn't near match time so he stretched out on the bed - face down. Of course he was asleep in seconds.

Now - as luck would have it, sometime later, the male guest in the adjoining bedroom 'took a bit of a turn.'

The Doctor was called and promptly arrived accompanied by a nurse. Seeing the prostrate figure of Matt, with a belly like a poisoned pup, he made a rapid diagnosis.

'I know what's wrong with this man' says he.

Without any further instruction the nurse left and reappeared quickly with a red rubber hose, tapered on one end and a funnel on the other. The necessary garments were removed, a large white enamel jug of warm, soapy, water was produced and a certain medical procedure got under way.

Halfway through the irrigation process Matt woke up. And would you blame him?

The match was over. He had no information for his financiers. He hadn't done what he was sent to do.

He headed for Terenure and the tram but he wasn't walking too well.

On the tram he met a few fellows from Brittas and Manor Kilbride who filled him in on the main points of the game.

By Tallaght he knew that Kildare been awarded ten frees in the first half and that the score at half time was one two to three points in favour of Kildare.

Jobstown saw him rehearsing his 'report.' Cavan won the toss and played with the wind, from the Railway end, for the first half.

Smith of Cavan got the ball at the throw-in and passed it to Higgins who was fouled.

Devlin of Cavan scored the first point after twenty minutes of play.

Fitzpatrick of Kildare was injured and spent a long time on the ground.

Joe Loughlin of Kildare was injured and replaced by Dan Ryan.

As the tram passed the brick-works in Tinode, Kildare was playing with the wind in the second half.


When Matt alighted at the tram-sheds in Blessington, in his head the match was over. Cavan was two goals and five points and Kildare was two six and the final whistle blew.

There were men there to meet him from Kylebeg, Lacken, Blackrock, Lugnagun and Ballinastockan.

It was like a press conference. They were shooting questions at him from all sides.

'Who won Matt?'
'Was it a good game Matt?'
'What was the score Matt?'
'How did our man fare Matt?'

During a lull in the interrogation he put up his hand:

'I'll tell yez all about the match in a minute, But first I want to tell yez this, If any o' yez ever goes to Dublin and yer in a place called the Gresham Hotel, if they ask ye d' ye want soup, for Christ sake take it. For if you don't they'll put it in a big enamel jug an' they'll get a length o' hose an' a tundish. They'll take down your trousers an' savin' yer presence they'll administer it in the most undignified manner!'