============================================
BRAM STOKER - THE IRISH CREATOR OF DRACULA
============================================

It is only quite recently that the little know fact that the creator of perhaps the worlds most famous villain was an Irishman from Clontarf in Dublin.

In 1847 Bram Stoker was born to Dubliner Abraham Stoker and Donegal native Charlotte Mathilda Blake Thornley. He was the third of seven children and was bed-ridden for much of his first seven years, a period that certainly gave him much opportunity for reflection and creative thought:

'I was naturally thoughtful, and the leisure of long illness gave opportunity for many thoughts which were fruitful according to their kind in later years.'

Having recovered from his ill-health he went on to excel as an athlete at Trinity College from where he graduated with honours in the field of Mathematics in the year 1870. As president of the University Philosophical Society his first paper was on 'Sensationalism in Fiction and Society'. He became the Theatre critic for the Dublin newspaper 'The Evening Mail', which was co-owned by the famed author of many Gothic tales, Joseph Sheridan Le Fanu, and who was the leading ghost-story writer of the nineteenth century.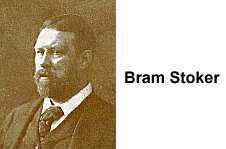 Bram Stoker married Dubliner Florence Balcombe in 1878, the lady having previously been courted by Oscar Wilde. Stoker knew Oscar Wilde from his College days and even visited the exiled author on the continent after his release from prison. The family moved to London where Stoker became manager of the Lyceum Theatre, a position he held for 27 years. The Theatre was most associated with Henry Irving who was a very famous actor of the classical variety. Stoker was very active in the literary and artistic community in London at the time, meeting with the likes of Sir Arthur Conan Doyle, to whom he was distantly related. But it was to Irving that Stoker was devoted and it is thought that it is upon this man that he based his most famous literary creation, and perhaps the greatest villain the world has ever known: Count Dracula.

Stoker travelled the world with the now internationally famous acting company and even attended the White House with Irving, meeting Presidents William McKinley and Theodore Roosevelt, such was his employers fame.

His experience as a newspaper writer stood him in good stead when he began his work on Dracula. Stoker was already a published writer when he began researching ancient stories about Vampires. The style of the book is very much in keeping with his previous experience as a news reporter with diary entries, newspaper clippings and telegrams all adding to a sense of realism. The fact that there were so many contributors within the story added to the sense of reality. Stoker is also said to have been inspired in part by a visit to St. Michan's Church in Dublin, the vaults of which contain many mummified remains.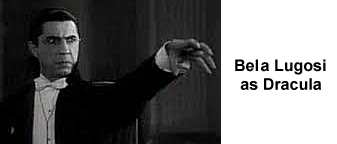 The original 541 page Dracula manuscript from the year 1897 had been thought to be lost forever but, like the subject of the novel it too had to make an epic journey. From Transylvania to Pennsylvania, the US State that is home to many a desperado in hideaways like Allenport, Seneca and Doylestown, the manuscript remained hidden for decades before being amazingly uncovered in a barn there in the early 1980's. The original title of the novel 'The Un-Dead' was clearly marked on it. It was later bought by the co-founder of Microsoft, Paul Allen.

It was in London in the year 1912 that Bram Stoker died. While well regarded as a ghost-writer in the Victorian age it was not until the first cinematic production of a vampire in 1922 that his legacy was set forever. Stoker's widow actually sued the German film-makers who produced Nosferatu, the first vampire movie with 'Count Orlock' being substituted for 'Count Dracula' in an attempt to breach the copyright. She won the case in 1925.

The first authorized version of the story was released in 1931 with Bela Lugosi as Count Dracula and caused a sensation. Newspapers reported that members of the audiences fainted in shock at the horror on screen! The film became a box office smash and is regarded as the first full length horror movie. It is estimated that there have been at least 200 movies featuring Dracula while a vampire subculture has blossomed among young people in particular, fuelled by countless television and silver screen productions.

In the last decade a fuller appreciation of the work and impact of Bram Stoker has occurred in Ireland and beyond with Stoker set to take his place among the lauded pantheon of great Irish writers.

Dracula Full Text:
https://www.ireland-information.com/irishliterature.htm

Dracula Audio-Book:
http://www.gutenberg.org/ebooks/6534

Mercury Theatre 1938 Radio Recording of Dracula with Orson Welles:
http://sounds.mercurytheatre.info/mercury/380711.mp3

Read why Buffy the Vampire Slayer is not to Blame... https://www.ireland-information.com/blog/?p=7



KEEP THIS NEWSLETTER ALIVE!

Get Great Family Crest Gifts at:



=================================
HALLOWEEN TRADITIONS IN IRELAND
=================================

The ancient Celts celebrated Halloween as Samhain, 'All Hallowtide' - meaning 'The Feast of the Dead', when the dead revisited the mortal world. The celebration of this event marked the end of Summer and the start of the Winter months.

During the eighth century the Catholic Church designated the first day of November as 'All Saints Day' ('All Hallows') - a day of commemoration for all of those Saints that did not have a specific day of remembrance. The night before was known as 'All Hallows Eve' which, over time, became known as Halloween.

There are many Irish Halloween Traditions:

The Barnbrack Cake:
The traditional Halloween cake in Ireland is the barnbrack which is a kind of fruit bread and will certainly evoke great memories among those who grew up in Irish households in the 60's, 70's and even the 80's. Each member of the family was given a slice of the cake. Great interest is taken in the outcome as there is a piece of rag, a coin and a ring to be found - watch your teeth! If you get the rag then your financial future is doubtful. If you get the coin then you can look forward to a prosperous year. Getting the ring is a sure sign of impending romance or continued happiness.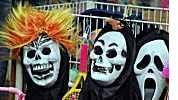 Colcannon for Dinner:
Boiled Potato, Curly Kale (a cabbage) and raw Onions are provided as the traditional Irish Halloween dinner. Clean coins are wrapped in baking paper and placed in the potato for children to find and keep.

The Pumpkin:
The tradition of Carving Pumpkins dates back to the eighteenth century and to an Irish blacksmith named Jack who colluded with the Devil and was denied entry to Heaven. He was condemned to wander the earth but asked the Devil for some light. He was given a burning coal ember which he placed inside a turnip that he had hollowed out.



Thus, the tradition of Jack O'Lanterns were born - the bearer being the wandering blacksmith - a damned soul. Villagers in Ireland hoped that the lantern in their window would keep the wanderer away. When the Irish emigrated in their millions to America there were not many turnips to be had so pumpkins were used instead.

Halloween Costumes:
On Halloween night children dress up in scary costumes and go house to house. 'Help the Halloween Party' and 'Trick or Treat' were the cries to be heard at each door. This tradition of wearing costumes also dates back to ancient Celtic times. On the special night when the living and the dead were at their closest the Celtic Druids would dress up in elaborate costumes to disguise themselves as spirits and devils in case they encountered other devils and spirits during the night. By using a disguise they hoped that they would be able to avoid being carried away at the end of the night. This explains why witches, goblins and ghosts still remain the most popular choices for the costumes.

The Ivy Leaf:
Each member of the family places a perfect ivy leaf into a cup of water and it is then left undisturbed overnight. If, in the morning, a leaf is still perfect and has not developed any spots then the person who placed the leaf in the cup can be sure of 12 months health until the following Halloween. If not.....

Snap Apple:
After the visits to the neighbours the Halloween games begin, the most popular of which is Snap Apple. An apple is suspended from a string and the children are blindfolded. The first child to get a decent bite of the apple gets to keep their prize. The same game can be played by placing apples in a basin of water and trying to get a grip on the apple without too much mess! Good luck with that.

Blind Date:
Blindfolds are placed on the eyer of local girls would go out into the fields and pull up the first cabbage they could find. If their cabbage had a substantial amount of earth attached to the roots then their future loved one would have money (land!). Eating the cabbage would reveal the nature of their future husband - bitter or sweet!

Another way of finding your future spouse is to peel an apple in one go. If done successfully the single apple peel could be dropped on the floor to reveal the initials of the future-intended.

Anti-Fairy Precautions:
Fairies and goblins try to collect as many souls as they can at Halloween but if they met a person who threw the dust from under their feet at the Fairy then they would be obliged to release any souls that they held captive.

Holy water was sometimes anointed on farm animals to keep them safe during the night. If the animals were showing signs of ill health on All Hallows Eve then they would be spat on to try to ward off any evil spirits.



The Bonfire:
The Halloween bonfire is a tradition to encourage dreams of who your future husband or wife is going to be. The idea was to drop a cutting of your hair into the burning embers and then dream of you future loved one. Halloween was one of the Celt 'fire' celebrations. Of course in modern times the bonfire is often the focal point of the Halloween celebration.

Happy Halloween!

=========================
'I'M GRAND. I'M GRAND.'
by John J.O'Callaghan
=========================

Years ago, when I owned a small farm in Ireland, I was taking one of my cows to the Limerick Meat Market when me and the cow were hit by a truck and tossed three feet up in the air and into a deep ditch by the side of the road.

When I recovered I sued the truck driver. However, the truck driver employed a hotshot lawyer who gave me a very hard time in court.

'But, Mr.O'Callaghan', the lawyer said, 'The Patrol Officer's statement clearly says that when he asked you how you were at the time of the accident, you said, 'I'm grand. I'm grand.' 'You surely can't deny that, now, can you?'

'Well, it was like this you see,' I responded, 'I had decided to take my brown and white speckled cow to the market. I was walking down the Limerick road in broad daylight, under a clear blue sky when...'

'I didn't ask you for all the details,' the lawyer interrupted. 'Just answer my question. Did you or did you not say to the police officer at the scene of the accident, 'I'm grand.'?'

'Well, as I was trying to tell you,' I said, 'I was taking my brown and white speckled cow to the market, and minding my own business, when all of a sudden...'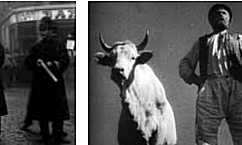 The lawyer interrupted again and said 'Judge, I am only trying to establish the fact that the plaintiff told the Highway Patrolman he was feeling grand. Now several weeks later he claims he was badly injured in the accident. Your honor, I suggest this is a fraudulent attempt to extract unwarranted damages from my client. Since the plaintiff can't deny that he said what he said, I ask the court to dismiss the personal damages claim.'

'I'd like to hear the full text of what Mr.O'Callaghan has to say,' the judge said.

'Thank you, your honor,' I replied. 'As I was saying, I was walking down the Limerick road in broad daylight and as sober as a judge, when Mick Murphy's truck came around the corner and drove right into me and my cow. Both of us were tossed upside down into the ditch. My neck, my leg and my arm were hurting real bad and I was afraid to move.

'But poor Molly was worse than me. In fact, she was moaning and groaning worse than a wild banshee. I must have blacked out from the pain because when I awoke I saw the Patrol Officer take one look at Molly, pull out his gun and shoot her in the head!

'Then he looked down at me. The smoking gun was still in his hand. I thought he had a strange look in his eyes as he said, 'Are you hurt very bad, son?''

'Now Judge.....
.....what would you say?'

Copyright John J.O'Calaghan, 2003.
johnoc29@aol.com



KEEP THIS NEWSLETTER ALIVE!
Solve your gift problem at: https://www.irishnation.com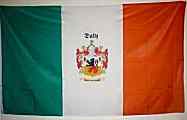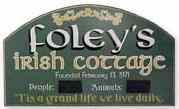 ========================
IRISH HALLOWEEN QUOTES
========================



'Loneliness will sit over our roofs with brooding wings.'
Bram Stoker, from 'Dracula'

But dreams come through stone walls, light up dark rooms, or darken light ones, and their persons make their exits and their entrances as they please, and laugh at locksmiths.
Famed Irish horror writer Joseph Sheridan Le Fanu, from 'Carmilla'

'Nothing on Earth so beautiful as the final haul on Halloween night!'
US writer Steve Almond

'Death leaves a heartache no one can heal,
Love leaves a memory no one can steal.'
From a headstone in Ireland

'This Halloween I'm going as the ghost of our federal government.'
Unknown

'I have friends who wear Star Wars costumes and act like the characters all day. I may not be that deep into it, but there's something great about loving what you love and not caring if it's unpopular.'
US Actress Kristen Bell

'If a man harbors any sort of fear, it makes him landlord to a ghost.'
US Writer Lloyd Douglas

Horror films are where women can shine and have a chance to lead. They always save the day in these films.
Actress Sarah Michelle Gellar

'My daughter said she's gonna be a hoe for Halloween. I think it's cute that she likes gardening.'
Anonymous

'True love is like ghosts, which everyone talks about but few have seen'
Author Unknown

'May your Halloween be scarier than what's actually going on with our country.'
Unknown

'Remember my friend, that knowledge is stronger than memory, and we should not trust the weaker'
Irish author Bram Stoker, from 'Dracula'





The farther we've gotten from the magic and mystery of our past, the more we've come to need Halloween.
Writer Paula Curran, from 'October Dreams: A celebration of Halloween'

'One need not be a chamber to be haunted,
One need not be a house,
The brain has corridors surpassing,
Material place.'
US Poet Emily Dickinson

'To suffering there is a limit - to fearing, none.'
English Writer Sir Francis Bacon, Essays, from 'Of Seditions and Troubles'

'The oldest and strongest emotion of mankind is fear, and the oldest and strongest kind of fear is fear of the unknown.'
US Writer, H. P. Lovecraft
==============================
GAELIC PHRASES OF THE MONTH
==============================
PHRASE:
Oiche Shamhna
PRONOUNCED:
ee-ha how-nah
MEANING:
Halloween (the night before Samhain)
PHRASE:
Tabhair feirin dom no buailfidh me bob ort!
PRONOUNCED:
tour ferr-een dum no booligg may bob urt
MEANING:
Trick or Treat
(give me a treat or I will play a trick on you!)
PHRASE:
Tine cramha/Cailleach/Taibhse
PRONOUNCED:
tinneh cravh-sheh/coll-yuk/tavh-sheh
MEANING:
Bonfire/Witch/Ghost


View the archive of phrases here:
https://www.ireland-information.com/irishphrases.htm





====================
COMPETITION RESULT
====================

The winner was: adougherty@westran.k12.mo.us
who will receive the following:
A Single Family Crest Print
(US$19.99 value)





Send us an email to claim your print, and well done!
Remember that all subscribers to this
newsletter are automatically entered into the
competition every time.





I hope that you have enjoyed this issue.





by Michael Green,
Editor,
The Information about Ireland Site.
https://www.ireland-information.com
Click here to contact us

Google+
PLEASE 'LIKE US' ON FACEBOOK!




KEEP THIS NEWSLETTER ALIVE! Visit https://www.irishnation.com



(C) Copyright - The Information about Ireland Site, 2014
P.O. Box 9142, Blackrock, County Dublin, Ireland Tel: 353 1 2893860