The Flight of the Earls in 1607, when Hugh
O'Neill, earl of Tyrone and Rory O'Donnell, earl
of Tyrconnell boarded a ship on Lough Swilly
bound for the continent never to return, is often
considered a pivotal moment in Irish history,
witnessing the demise of Gaelic Ireland, the onset
of Protestant ascendancy and penal days for Irish
Catholics. An event shrouded in controversy, the
Flight is typically characterised as mysterious,
and enigmatic to the point of defying explanation.
Even the term 'the Flight of the Earls', conjuring
up notions of a precipitate, tragic, perilous
escapade tinged with romance and despair, has been
the subject of dispute, with some commentators
questioning the historical accuracy of terming the
departure of the northern earls from Ireland as a
'flight' at all. Hostile commentators allege that
far from being driven from their lands the earls
voluntarily departed their native shores, indeed
'abandoned' their people.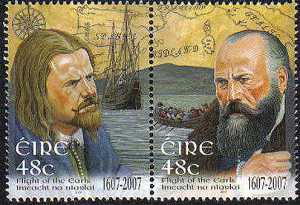 The reality is that the departure of the northern
chieftains was indeed known at the time as the
'Flight of the Earls', that the earls fled in fear
of their lives, so much so indeed that the Earl of
Tyrone's young son, Con, aged about seven, could
not be located before the ship departed from
Rathmullan on Lough Swilly. Just as painfully for
the earl of Tyrconnell, his pregnant young wife
had to remain behind as well. Not only did the
exiled earls seek to secure the safe passage of
Con O'Neill and the countess of Tyrconnell, but
the fugitive party on the continent endeavoured to
persuade the Spanish authorities to support an
invasion of Ireland spearheaded by the Irish
regiment in Flanders commanded by the earl of
Tyrone's son, Henry.

As it happened a series of tragedies soon engulfed
the families of O'Neill and O'Donnell. Within a
short period of time, the earl of Tyrone's sons,
Hugh and Henry, passed away, while the O'Donnells
lost Rory, earl of Tyrconnell and Cathbarr, his
brother. As for the earl of Tyrone, he became a
victim of circumstance, his ambition to return to
his homeland being frustrated by the fragile peace
that persisted between England and Spain. Indeed,
the international dimension to the Flight of the
Earls is little appreciated. This resulted in part
from the contemporary reputation of the earl of
Tyrone in particular.




Following his spectacular victory at the battle
of the Yellow Ford in 1598 his fame spread
throughout Europe, earning him the accolade as
'the third soldier of his age'. Thus, when the
earls arrived on the continent they were treated
as international celebrities by allies and
admirers but became targets for assassination by
their enemies. Throughout his years in exile,
1607-16, the earl of Tyrone was reputed to have
slept every night with a sword under his pillow.

Overall, when the Flight of the Earls is
contextualised against a longer view stretching
back to the days of the Nine Years War, 1594-1603,
it is a tale comprising a series of dramatic,
sometimes comic, but more often poignant and
tragic events. An episode in Irish History steeped
in tales of war, passion, betrayal and derring-do,
with heroes and villains of every hue, the Flight
of the Earls constitutes a fascinating story
spiced with references to spies, assassins and
outlaws, kidnapping and hostage-taking, even
references to contemporaneous Robin Hoods as well
as a curious incident involving witchcraft.

Such was the degree to which war reduced people
to desperation that there were horrific scenes of
cannibalism during the Nine Years War (1594-1603),
a conflict which witnessed increasingly desperate
crown forces resorting in some areas to mass
murder tantamount to genocide. That Ireland was
once a refuge for pirate fleets as powerful as
any that plied the Barbary coast is little
appreciated. To a considerable extent too, the
Irish 'diaspora' originated in this period. The
early seventeenth century witnessed Irishmen
dispersed as far afield as the Netherlands, Spain,
Italy, Newfoundland and even the Amazon. As a
direct result of the Flight of the Earls, Irish
soldiers, the original 'wild geese', saw service
in Sweden, Denmark, Poland and Russia, many of
them having been transported by the English
government.

So many themes that have resonated throughout
much of modern Irish history had distant echoes
in events culminating from the Flight. Thus the
issue of extradition arose directly from the
Flight when the English government sought to
force continental powers to repatriate the
fugitive earls. The English government attempted
to disarm (decommission) potentially disloyal
elements in Ireland. Catholic absentionism from
political institutions also occurred, and the
collection of a Catholic rent was organised.
Protestant settlers in Ulster, fearing for their
future in the event of the oft touted return of
the earls to reclaim their lands by force, soon
developed a siege mentality, surrounded as they
were by a hostile indigenous population. The
in-built 'apartheid' complexion of the Ulster
colonization project, inspired by biblical
teaching that it was fundamentally important to
separate the weeds from the good corn, instituted
a form of religious segregation in Ulster that
far from dissipating with the passage of time is,
it seems, becoming ever more prevalent.

Overall, the story of the Flight of the Earls is
a tale of epic proportions, an enthralling and
seminal episode in the history of Ireland that has
lost none of its drama and appeal in the passage
of time. Arguably, indeed, it is only now, after
the 400th anniversary of the Flight of the Earls
in 2007, that Ireland has finally come to
terms with the consequences of that momentous day
in 1607 when the earls departed Rathmullan's
shores, never to return.

~~~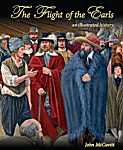 The book 'The Flight of the Earls' by
Dr John McCavitt is available from here:
http://www.theflightoftheearls.net