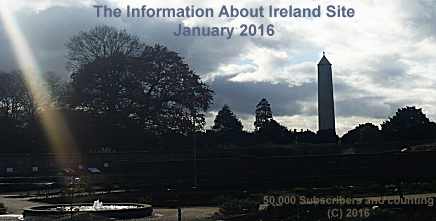 IRELAND NEWSLETTER JANUARY 2016
IN THIS ISSUE
News Snaps from Ireland
Deirdre of the Sorrows: Beauty, Bloodshed and Murder!
'Seeing the World Through a Spiders-Web' by Brian DeVon
Gaelic Phrases of the Month
Monthly Free Competition Result

Popular Articles from Recent Newsletters:





FOREWORD


Murder and bloodshed are not usually themes we explore in this newsletter but this months story from Irish mythology tells of Deirdre, who was so beautiful that Kings would wage war for her!

Until next time,

Michael



P.S. Please DO FORWARD this Newsletter to a friend or relative. If you have a website or Facebook page or Blog (or whatever!) then you can help us out by putting a link on it to our website: www.ireland-information.com


NEWS FROM IRELAND
IRELAND RECOVERING FROM ITS ALCOHOL HANGOVER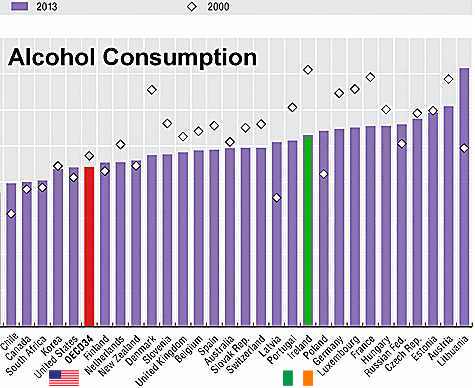 The interest of the Irish public in all things healthy and health-related has rarely been greater. Hugely popular TV programs such as 'Operation Transformation' hammer home the anti-obesity message. Hardly a week goes by without some new diet fad capturing the headlines with the message about excessive drinking and smoking finally getting through. Ireland is cutting down on the booze. And there is hard data to back this up.

A new report from the OECD has shed light on worldwide alcohol consumption from 2000 to the year 2013.

Measuring alcohol use since the turn of the Millennium the report reveals that Lithuania has the dubious distinction of currently topping the list as the nation that consumes the most alcohol. Since the last OECD study in 2000 alcohol consumption in Ireland has reduced significantly from 14 liters per capita (aged 15+) to 11.5 liters per capita. That is a big, big reduction (18%), for a nation that has a very poor reputation regarding its relationship with drink.

But measuring national levels of consumption perhaps give a false indication of the true problems of alcohol abuse, at the micro level. The report advises:

'OECD analysis based on individual-level data show that hazardous drinking and heavy episodic drinking are on the rise in young people and women especially. Men of low socioeconomic status are more likely to drink heavily than those of a higher socioeconomic status, while the opposite is observed in women'.

Topping the OECD list after Lithuania was Austria, then Estonia, Czech Republic, Russia, Hungary, France, Luxembourg, Germany and Poland with Ireland in 11th place. The UK was placed 19th with the USA in 26th place, equalling the OECD average.

Several countries showed big increase in consumption since 2000 (Lituanaia, Poland, Russia, Latvia) while those countries who have suffered most in the wake of the financial crisis since 2008 (Portugal, Italy, Ireland, Greece, Spain) have all shown big drops in consumption, which suggests that a combination of increased prices via taxation and a lower amount of disposable income certainly have a part to play in the reductions that were revealed.

ELECTION FEVER INCREASES IN IRELAND

Despite an actual voting date not having being announced by Taoiseach Enda Kenny every Political Party in Ireland has been actively canvassing for votes for months now. Fine Gael are currently in a coalition Government with the Labour Party, with both Parties keen to stick together.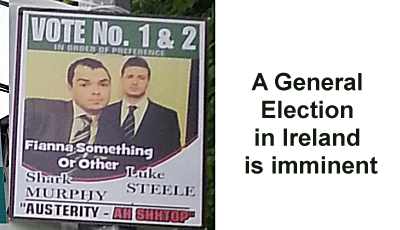 It had been widely expected that a General Election may have been called at the end of 1915, after the good-news budget announcements. But reports that the Labour Party insisted that the vote be held in the Spring may yet come back to haunt Fine Gael.

Fine Gael are very much back in 'everything bad is Fianna Fail's fault and we saved the country!' mode.

The Labour Party will regenerate their 'vote us in to keep an eye on Fine Gael' message.

While Fianna Fail and Sinn Fein will desperately hope that their recent history (Fianna Fail as part of the recent ruinous administration and Sinn Fein with their paramilitary connections) does not continue to hold them back.

Opinion polls suggest that Fine Gael will form the next Government. But that Party would do well to recall what happened in the UK in 2015 when the Conservatives romped to victory despite being unfancied by the pollsters.

Could an unlikley victor emerge here?

FACEBOOK BOOST FOR IRELAND

The announcement that Internet Giant Facebook is to build a massive data center in County Meath has come as a huge employment boost for the country. The 200 acres site near Dublin will provide hundreds of temporary construction jobs and hundreds of full time Computing jobs once it is up and running.

Mark Zuckerberg posted the news on his own Facebook page:
'Clonee Data Center will be one of the most advanced and energy efficient data centers in the world. It will feature the latest server, storage and network designs developed through the Open Compute Project, and will be powered by 100% renewable energy. One interesting engineering detail is that we're cooling the facility with outdoor air, but because this is near the Irish Sea we'll be using an indirect air cooling process to filter the salt from the air.'

1916 EVENTS DETAILS RELEASED

The Irish Government is sparing no expense in its preparations to commemorate the Easter 1916 Rising. Over 22M Euro is being lavished on a worldwide series of exhibitions, parades and commemorations that will culminate outside the GPO in Dublin on March 27th, the 100th anniversary of the Rising.




DUBLIN FIRM CLAIM EVERLASTING BATTERY

'Powered by Blarney' and 'Perpetual Nonsense' are how 'Forbes Magazine' and 'The Economist' described claims by Irish company Steorn that they have created an everlasting battery. Despite being regularly pilloried as being delusional, or a fraud, or a marketing campaign, the company has raised over 23 Million Euro in funding and is about to launch its first product onto an unsuspecting public.

With the first batch of devices about to be sent to customers the company has continued to defy both the scientific community and business logic.

Founder Shaun McCarthy:
'Technically it isn't a battery at all - you'd call it a battery substitute technology. It's something that replaces the function of the battery. It is really a generator rather than a storage device. As to whether it is really contravening any laws of physics, there are bigger questions there. All that we can say is it's not degrading or drawing on any known energy source but then there are vast swathes of energy that we call dark energy in scientific terms. This could just be capturing that and then it really wouldn't be the heresy that it appears on face value.'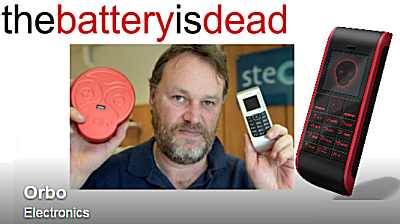 The company has a colorful history. In 2006 the Steorn engineers advertised in 'The Economist' inviting scientists to join an independent body to test their technology. By 2009 the results were announced and they were not good:

'The unanimous verdict... is that Steorn's attempts to demonstrate the claim have not shown the production of energy. The jury is therefore ceasing work.'

McCarthy is adamant though that their failure to convince the scientists was not a failure of the technology but of their approach.

'At the end of the day the failure of the jury process wasn't a failure of the jury it was a failure of Steorn. We set this up, we went: 'Come on, prove us wrong' and they said, 'Well, you can't prove yourself right'.'

All is about to be revealed in what will be either one of the greatest scientific discoveries of our age or another epic (and expensive) failure.



KEEP THIS NEWSLETTER ALIVE!
FIND YOUR NAME IN OUR GALLERY OF IRISH COATS OF ARMS


DEIRDRE OF THE SORROWS: HER BEAUTY CAUSED BLOODSHED AND MURDER!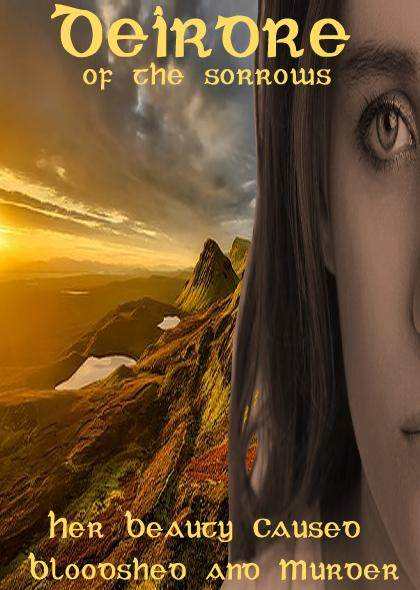 Deirdre was the daughter of Fedlimid, the storyteller to King Conor MacNeasa. Before she was born, she gave a terrible shriek from her mother's womb that terrified all that heard it. Cathbad the Druid foretold that the unborn child would turn out to be the most beautiful woman in Ireland, that men would fight over her causing terrible destruction, and that she should be killed at birth to forestall disaster.

But King Conor MacNeasa refused to give the order for the infant's death. Instead he decreed that she should be brought up in seclusion, having nothing to do with any man, until she came of an age when he himself would marry her. She was given into the care of Leabharcham, a wise and satiric woman, to be raised as a fitting bride for a King.

Deirdre grew up in the charge of her nurse, never seeing a man, and becoming accomplished in skills befitting a noble woman. One day she saw from her window the slaughter of a calf, and declared she would only love a man who had the three colors she saw there before her: skin as white as the snow on the ground, cheeks as red as the blood which flowed from the slain calf, and hair as black as the raven that had swooped down to feed on the carcass.

Leabharcham declared that such a man already existed! His name was Naoise, and he was the son of Ushna. Deirdre went into a decline from that moment, ailing until such time as she should meet this man, so Leabharcham arranged for him to go hunting near to where she and Deirdre lived. Deirdre ran out to meet him, and begged him to elope with her. He tried to refuse since he knew the orders of King Conor MacNeasa. But Deirdre refused to release him, leaving Naoise with no choice but to summon his two brothers before they all left Ulster together.

Naoise and Deirdre were happily married, and loved each other dearly. But King Conor MacNeasa would never allow them any peace, and sent many men after them to retrieve Deirdre. Naoise and his brothers were almost invincible when they fought together, killing many of Ulster's best men, and so King Conor had to resort to trickery.

He sent a message via Fergus MacRoigh, his chief advisor, who stood guarantor for the King's good behavior. Deirdre and the sons of Ushna were told that they could return in safety to Ulster, that the King no longer bore them malice. But Deirdre warned the brothers that the King's intentions were not honorable. Not heeding her advice, Naoise and his brothers returned to Ulster where they were set upon by mercenary allies of the King who finally overpowered and killed them all.

After that it is said that Deirdre was taken into captivity by King Conor, and made to live with him for a year, during which time she never laughed nor slept. One year after the death of Naoise, King Conor brought her to meet Eogan MacDurthacht, the killer of her husband. She was thus caught between the two men she hated most on earth, and in a rage and despair she dashed her brains out on a standing stone that was before her, rather than suffer any further torment.

Another legend has it that Deirdre was so overwhelmed with grief at the sight of Naoise's dead body that she cast herself on to it, mourning loudly, dying instantly of a broken heart.

Deirdre! The most magnificent beauty of Ireland, denied her true love by a jealous King, finding peace only in death.


---
WHICH IRISH MYTHOLOGICAL CHARACTER ARE YOU??
---

Do you dare to take our Irish Mythology Archetype Test to find out?

Are you like the Shaman Fintan or the Goddess Danu?

Or perhaps you are like the beautiful Emer, wife to the mighty Cuchulainn.


Take The Test!


SEEING THE WORLD THROUGH A SPIDER WEB
by Brian DeVon

I don't have vivid memories of early childhood, with a few exceptions and those exceptions I think are memories made vivid by the impact of the situation on my innocent wandering little life. I meandered along as a child from butterfly to bumble bee in a sort of fascinated dreamy way. I think I was more Labrador retriever that child, sniffing my way through the world and wagging my tail excitedly at anyone who'd pay attention to me. Developing into a human later on was maybe not my best transition.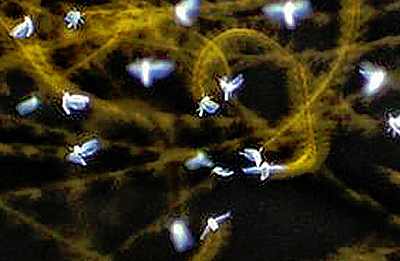 There was one peculiar incident of my childhood that had some memorable impact however. I'm told I was about two years old at the time though I'm sure I was not aware of that meaningless fact, when you're two clouds mean more than time. My parents and much older brothers and sister had the occasional party. I was an unexpected child, I think, my mother being in her mid-forties when I made my surprise appearance. My brothers and sister were teenagers and they had arrived at the age to celebrate their teenage sophistication.

I'm told, these were quite the parties. The carpets were taken up to reveal the wide plank flooring below which had just the right bounce to jive to the prized Dansette record player. My Dad was fond of raising a glass or too of precious nectar, so I'm sure the liquid entertainment rivaled that of the Dansette.

As the party moved into full swing I was placed in my hooded pram, carefully attached with my blue, genuine imitation leather, harness and left safely outside in the garden on a lovely summer's night. I'm sure moths and nocturnal flutterbys of all kinds entertained me as I sat there listening to the merry laughter of the party and the twang of rock and roll in it's infancy. Moths are like angels in the light of the moon.

Eventually I probably slept and the party goers drifted happily home or in the case of 'my lot', off to the bed.

When they rose late the next morning I was discovered by my horrified sister still sitting in my pram forlorn and looking at the world through a finely woven spider web, they had forgotten about me in the excitement of the evening's events.

I've always enjoyed being alone since then. I figure I'll make do with my friends the moths and other fluttering creatures who went out of their way to entertain me. I never felt lonely among those lovely creatures, no Labrador would!

Ah.... the joys of youth.

~~~

Brian DeVon is author of the 'Flavour of Ireland' website at: http://www.flavorofireland.com



GAELIC PHRASES OF THE MONTH
| | |
| --- | --- |
| PHRASE: | Níl saoi gan locht. |
| PRONOUNCED: | kneel see gone luckt |
| MEANING: | There is no-one without a flaw (everyone has their faults) |
| PHRASE: | An rud is annamh is iontach. |
| PRONOUNCED: | on rudd iss ann-ivh iss een-tock |
| MEANING: | What is seldom is wonderful |
| PHRASE: | Is fearr Gaeilge briste, ná Béarla clíste! |
| PRONOUNCED: | iss far gale-geh bhrish-teh, naw bear-lah klish-teh |
| MEANING: | Broken Irish is better than clever English! |

View the archive of Irish Phrases here:
https://www.ireland-information.com/irishphrases.htm


COMPETITION RESULT

The winner was: 17576@student.mcc.act.edu.au
who will receive the following:
A Single Family Crest Print (US$24.99 value)


Send us an email to claim your print, and well done!
Remember that all subscribers to this newsletter are automatically entered into the competition every time.