=============
WHISPERS
by Pat Watson
=============
Having just qualified as a national teacher, Jimmy applied for a number of jobs, permanent and temporary. In the nineteen thirties jobs were scarce and all he got was a temporary post in a two-teacher country school. The Master, who was also the principle, had got a heart attack. The aging female assistant taught the infant classes so he took third, fourth, fifth and sixth classes, six to thirteen-year-olds. The mixed school worried him a bit as he had only ever attended all boys schools.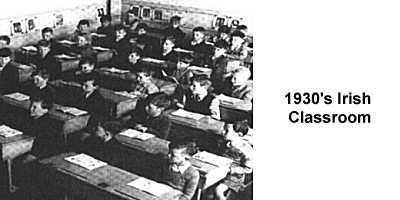 The management board, which consisted of the Old Parish Priest, assured him that good digs had been booked for him adjacent to the school. On the Sunday evening, having taken himself, his luggage and his bicycle off the Dublin train at Athlone, he cycled the ten miles to Coolmore parochial house that was beside the school.

'Just a mile up the byroad there,' the Parish Priest said after he showed him the school. The Widow Malone's house is the one with the slated room. The poor woman's husband died last year and she needs the money and of course she has the slated room. At that time whenever a legacy came from America people who lived in thatched houses would build a two-story-slated room on to the end of the house.

Having cycled for a few miles he arrived for the evening meal. The widow, a buxom woman in her forties introduced him to her seven daughters, all striking redheads ranging in ages from nine to nineteen. Starting with the youngest she gave their names as, Mary, Third Class, Meabh, Fourth Class, Mina, Fifth Class, Maureen, Sixth Class, Nance, Delia and Lorna who worked in the local pub. She had auburn hair, huge brown eyes and the most dazzling smile he had ever seen.

Where were they all going to sleep? Not to worry, Upstairs in the slated room was his. It was en suite, that is, it had a wooden washstand, complete with basin, ewer full of water and waste bucket. The privy was out behind the cowshed. As well as underwear she would wash three shirts and seven collars weekly for him. Shirt collars were held on with studs in those days. Jimmy had grown up in Dublin with all modern conveniences, electricity, running water and proper bathroom. He and his younger brother had their own rooms. He had been thrown in at the deep end a week before his twenty-first birthday.

School went grand even though he had four children with whom he lived. As they sat down for the evening meal, Mary announced that the turkey was lying. From the glances that ran round the table he felt he should say something.

'Is she sick?' Peels of laughter followed. He felt his face redden.
'Stud' said Delia from under the laughter.
'Did she swallow a stud'?
This time the laughter went totally out of control.
'Is that how they do it in Dublin?' followed by more laughter.
'Leave the poor man alone,' said the widow.
'He's from Dublin and doesn't understand those things'
At this time every rural village had a strong farmers wife who held a turkey cock at stud.

Noticing his extreme embarrassment, Lorna tried to smother the laughter. For five years now she had been ogled by beer swilling, bar stool boors, none of whom enhanced her view of men. Now she had her very own tall, tame, tanned, teetotal teacher living in her house, she was not about to let him escape. She was sure she would have the support of her mother and sisters, except perhaps, Nance and Delia who might fancy their own chances. She would ask her mothers advice.

'Take him to the whispering arch at Seven Churches' her mother said but 'Don't tell him anything about it, just start a little whispering and take it from there.' Seven Churches was the local name for Clonmacnoise.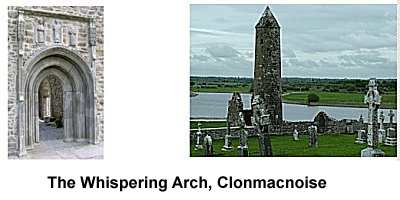 In the fifteenth century Dean Odo Malone of Clonmacnoise commissioned a great sculptor to carve and fit a new stone door surround on the north side of the cathedral. Into this surround he cut several half pipes going right over the top and down both sides. If words are whispered into one of those half pipes on one side, a listener with an ear to the other side can pick up the whisper clearly. However a voice will not carry in the pipes. The speaker has to face the wall but the listener has a rear view of the whisperer. A conversation between a young couple is much more romantic when whispered through ancient stone pipes even if one party didn't realise that the chat was meant to be romantic in the first place.

They would cycle there after school. He always wanted to visit Saint Kieran's holy city.

The ruins of the cathedral that was burned down by the British hundreds of years ago stand in the middle of a walled graveyard. There are the various superstitions that have grown since. That's why the mother advised the special visit.

When he had climbed to the four steps to the top of the stile he turned and took her outstretched hand to help her up. As there was very little space on the top step and she was afraid of heights he had to hold on to her as he helped her down. She giggled and he blushed. As the ground was uneven across the graves they had to hold hands for balance. There was nobody about only old Mary Martin down in the new graveyard tending her husband's grave. By the time they reached the doorway Lorna thought she had a midge in her eye. While bending over her upturned face he thought he removed it with his handkerchief. Again she giggled and again he blushed.

Jimmy was enthralled by the complete round tower and even more so by the incomplete round tower.
'Why is it incomplete' he asked.
'Put your ear to the wall and you'll hear what happened.'
When he did he heard her whispered reply,
'A lovers tiff, when his lover jilted him for the builder he climbed up and started knocking the tower. All efforts to stop him failed until the lover promised to come back to him but then the builder refused to repair the damage and so it remains to this day.'
'Is this true?'
'Many people round Seven Churches think so.'
'Do you believe it?'
'It's a good romantic story and I love romance.'
'Have you much experience?'
'Very little, where would it come from in a place like this, but sure we live in hope, what about you?
'Totally lacking experience but now that I'm working I might make up for lost time.'
Every time he turned his head to listen and watch, she became more desirable. Little did he know that her mind was made up since Sunday evening when first she set eyes on him? Then again, hadn't he been completely bowled over by her beauty from the start?

That was how their conversation continued over the next half hour, each whispering their piece to the wall then watching the back of the others head while listening to the reply.

They didn't notice old Mary approaching from behind.
'It's grand to see young lovers using the arch', she said,
'Fifty seven years ago my Paddy whispered his proposal and I whispered my yes. Fifty seven years of love and contentment we've had, thank you Dean Odo' she said looking up at the arch.
'How long is he dead now?'
'He went with the daffodils, he's making a straw sugan chair for me in heaven, he'll have it ready for me for Christmas.'
She then turned to Jimmy, placed a bony hand on his arm and with the slanting September sun from Connaught shining on her face, she looked him straight in the eye and said,
'This is the most important day in your life, don't let it slip away.'
This time they both blushed. After she left Jimmy found himself saying to the stone 'Give me a kiss!' as he turned to seek reaction instead of answering she was smiling up at him in gorgeous, glowing, glorious anticipation.

Before she rounded the corner of the cathedral old Mary looked back at the embracing couple, smiled a wrinkly smile, turned and shuffled off toward heaven.

~~~

'Whispers' is one of sixty lyrical yarns from 'Original Irish Stories' by Pat Watson, Creagh, Bealnamulla, Athlone, Ireland. First published in March 2006.
Order your copy by email from here: pjwatson@utvinternet.com





KEEP THIS NEWSLETTER ALIVE!
Solve your gift problem at: https://www.irishnation.com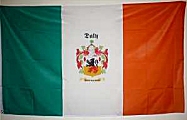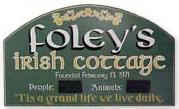 ==============================
YOUTUBE VIDEOS OF IRISH INTEREST
==============================

You can view our archive of Videos of Irish interest here:
https://www.ireland-information.com/irishvideos.htm




Country Life Museum, Mayo




Old Jameson Distillery, Dublin




Clonmacnoise





KEEP THIS NEWSLETTER ALIVE!

Get Great Family Crest Gifts at:



===========================
GAELIC PHRASES OF THE MONTH
===========================
| | |
| --- | --- |
| PHRASE: | Maidin mhaith |
| PRONOUNCED: | modjin mot |
| MEANING: | Good morning |
| PHRASE: | Ar chodail tú go maith? |
| PRONOUNCED: | air cuddle two guh mot |
| MEANING: | DId you sleep well? |
| PHRASE: | Tá sé in am éirí |
| PRONOUNCED: | taw shay in amm eye-ree |
| MEANING: | It is time to get up |


View the archive of phrases here:
https://www.ireland-information.com/irishphrases.htm





==================
COMPETITION RESULT
==================

The winner was: oconnorkillackey@mac.com
who will receive the following:
A Single Family Crest Print
(US$19.99 value)





Send us an email to claim your print, and well done!
Remember that all subscribers to this
newsletter are automatically entered into the
competition every time.





I hope that you have enjoyed this issue.





by Michael Green,
Editor,
The Information about Ireland Site.
https://www.ireland-information.com
Click here to contact us

Google+
&nbsp &nbsp PLEASE 'LIKE US' ON FACEBOOK!




KEEP THIS NEWSLETTER ALIVE! Visit https://www.irishnation.com



(C) Copyright - The Information about Ireland Site, 2013
P.O. Box 9142, Blackrock, County Dublin, Ireland Tel: 353 1 2893860