CONAN PAYS HIS DEBTS
From 'The Adventures of Conan From Tirdevlin'


Smack!

The crack of a fist on skin and bone.

Conan felt the pain travel from his face through his neck and upper body in an instant.

His eyes watered immediately, blurring his vision.

He tasted the blood that oozed gently from his cut lip and as it mixed with sweat his adrenalin level soared.

Fight or flight. Stand or run.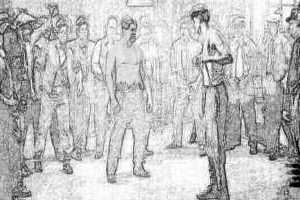 The shorter man in front of him looked like he was made of tempered iron. But flexible, weather-beaten, his sallow skin in stark contrast to Conan's paler complexion.

His eyes had the ancient menace of a street-fighter as he held Conan in his gaze, waiting for the next opening to inflict more pain on his prey.

Conan swivelled to his right, barely avoiding the lunge from his attacker.

'Nice escape Paddy!'

The thick English accent was greeted with silence by the crowd of Irish men gathered in the warehouse.

'But I'm not finished with you yet!'

Only twenty-five seconds gone. Conan wondered how it had come to this.

~~~

It is almost an exclusively male occupation to assign nicknames.

Friends, relatives, enemies. Not a mutually exclusive grouping. All can be labelled with a name of affection or derision at any moment and in the world that Conan frequently walked nicknames often fully replaced a given name to such an extent that the entry on a Baptismal Certificate might never have been written.

So it was with the local loan-shark in Tirdevlin, Peter the Greek. Peter was actually Christened Peadar and his heritage stretched to Ennistymon in County Clare with his mother's people hailing from Ulster. How he became known as a Greek was a local mystery that he was unwilling to share with the very few who made enquiries.

Loan-sharking is a delicate business and requires the practitioner to straddle the legal world and the not-so-legal world. A lender must be politic and calm while also suggesting a degree of menace and consequence. Peter the Greek generally relied on his brain though and regularly employed the services of a Dublin debt-collecting agency to issue threatening letters to defaulters, letting it known that their name would be published in the local papers, ruining their reputation. To many such a course of action would mean little and for those the lender would resort to alternative means of collection. 'Acquiring Assets' was how he put it. Stealing of private property was how others viewed it. Still legal. Barely.

Of course there was another class of defaulter that had no assets and no fear. For those Peter the Greek sold the debt on to another local enterprise whose methods were somewhat less civil. He did so at a fifty per cent loss. But half of something is better than all of nothing.

Money-lenders are usually hardened to the plight of the human condition that they are confronted with. So it was with some surprise that Peter the Greek found himself hesitant, reluctant even, to approach Conan as he made his way across the wide metal bridge that spanned the River Tirdevlin.

'You got time for a word Conan?'

The century-old iron bridge rattle and vibrated under the weight of the passing cars.

'How goes it Peter, how's the Credit-Union these days?'
Conan usually got a smile when he referred to the Greek's business as the Credit Union. It was as far removed from a Credit Union as could be. But no smile today.

'Has its ups and downs Conan, like all businesses I guess....'

'Tell me about it! I am still trying to shift that lot of phone-cases I got the few quid from you for.'

Peter stared at Conan sternly.

'Two thousand Euro is hardly a few quid.'

'No bother Peter, the loan is not due for months yet. It may take a while but I'll shift those cases.'

Conan had badly misjudged his market. He had invested in a thousand snap-on cases for a new make of Smart-Phone, only for sales of that Phone to plummet in the wake of a rival's Phone release.

Bloody Apple. Now he was stuck, hoping against all hopes that he could offload the cases in the UK before the market there got swamped. He knew he would make a loss. Just how much of a loss remained to be seen.

'That's what I wanted to talk to you about Conan. I am going to need the loan repaid today.'

Conan stopped dead in his tracks.

Signing a paper with a lot of small print on it was always fraught with danger. Conan had signed a similar paper several times before and without any consequence. And yet he knew he could not argue the technicality of his position. He would try a different approach.

'What gives Peter? Plenty of times I have borrowed from you and you alway have been paid back with interest. Why the sudden rush? You cant possibly be stuck for cash judging by the look of that Merc you are driving over there.'

Conan nodded to the silvery-blue Mercedes that dwarfed some of the smaller boats moored along the small pier adjacent to the River. The sunshine had just broken through the clouds and reflected shafts of silver from the edges of the pristine vehicle.

'No Conan, that's not it. This puts me in a bit of an awkward position you know. Very awkward.'

'Sorry to hear that Peter, but are you passing that awkwardness on to me now, is that it?'

Time to get to the heart of the matter.

'Yes Conan, that is exactly it. A gentleman in the town has taken an interest in your debt and in you. I have no option but to sell it on to him. He has offered the full price. Actually, 'offered' is the wrong word. I have been instructed to sell the debt to him immediately.'

'Sounds ominous Peter, who is this 'gentleman' then.'

'Oh, I think you know him from way back.'

~~~

Conan knew there was no way he would last three rounds with this little Anglo Terrier unless he presented some sort of threat. Two rounds of two minutes followed by a closing round of four minutes may not sound like very much to a person observing a scrap. But to the participants those eight minutes could seem like an eternity.

With forty-five seconds of round one gone Conan was in danger of hitting the concrete floor of the warehouse and not getting back up. Hard grey dusty concrete. Conan could imagine what it tasted like.

Except he had to get back up. Every time.

He rallied his energy. With his heart pounding and his lungs heaving he positioned himself within range of his opponent. He took a half-hearted swipe with his right hand, exposing his right side to a fierce whack from the smaller man.

No hay-makers from this guy, no Hollywood or hero shots. The body, the body, the body!

Conan took the pain deliberately but made it worth something. With an almighty heave he whipped his left hand from its lowered position and caught the Terrier square on the ear. The blow bent the man's head sideways and he stumbled to his left as Conan's arm followed through.

He stepped back instinctively and grimaced. Quickly he regained his poise.

'Good hit Paddy, but you are going to pay for that!'

Conan was disappointed but not terribly surprised that his best left swinger had had only a minimal impact. Nevertheless, he had proved that he could hurt if given the chance. That would pay dividends during the remaining torture.

One minute and twenty seconds gone.

Here he comes again.

~~~

Conan could not concentrate on his book. The day's events had left him uneasy and he eventually gave up, tossing the heavy volume onto the large table in front of him. He thought about the nature of debt and about how owing someone something, anything, small or large, could impose a veneer of anxiety across a person's entire existence.

How could Peter the Greek sell his debt like that? And to him of all people.

Conan could not believe it. Twelve years had passed since he had crossed paths with Dominic Lonergan. He did not have a nickname. No-one would dare. Their dispute ended badly all those years ago with Lonergan leaving for London, vowing to get his own back one day.

The subject of their dispute walked in the door.

Katya commanded attention wherever she went, but is a rarity of such a class in that she neither courted nor took advantage. Tall and elegant, dark-haired and fierce. And generous.

She patted her husband gently on the head as she passed him. He observed that she was wearing her dance gear and playfully asked if she going out to tend the garden.

Ha-ha, very humorous. Yawn.

Conan chuckled deeply. Katya could cut him to the quick if she wanted but also had the power to brighten his life with her smile. A typical Irishman's wife.

'Off out dancing eh. What is it tonight? Salsa? Rumba? Zumba?'

His wife turned on him in an instant reminding him that in the past he had promised to go dancing with her. She had never held him to the promise of course but it did no harm to poke him with his lie now.

Conan thought hard for a few moments.

'Zumba eh? That's not a bad idea you know. Give me a minute and I'll get changed. Be with you in a sec.'

~~~

It was with a mixture of despair and stunned admiration that Katya and the other women in the Zumba class observed the lanky specimen before them.

Conan held little stock with the latest fashions and his sad leggings and drab tee-shirt stood out a mile among the lycra and neon that was all about him. Women are much more forgiving than men in these situations however and since Conan was with Katya the assembly of twenty or so females tolerated his presence with a kind of benign indifference.

The class began.

'Right then Ladies. Lets get moving! Yes, Yes! Move! Yes!'

Luciana, the instructor from Barcelona, looked like she had been dipped in spandex. With her hair in a bob at the back swinging with every move she did not stand still long enough for anyone to admire her.

'Yes, Yes! Move! Yes! Salsa first. Yes lets do it!
Now Merengue Mambo. Lets move ladies!!!!'

She spied Conan doubtfully as he lumbered from side to side. He could handle the Salsa surprisingly well but the Merengue was too much of a challenge. He shifted sideways as quickly as he could before nearly clashing hips with a ridiculously tall lady that was trying her best to ignore him. She smiled uneasily which only added to Conan's discomfort. He would have preferred a slap.

'Right Ladies lets do the Merengue Beto Shuffel. Move those arms. Yes! Yes! YES! Move!'

The Meren gay what now? Conan waved his arms around in a futile attempt to mimic the instructor. His wife seemed to be edging ever further away from him.

The music stopped.

Great warm-up Ladies. Now lets get really moving. Yes! Yes! Move! Yes!

Oh God.

~~~~~

Peter the Greek made his way up the mountain slowly. Country roads dont usually mix well with a statement of a car which was what he was driving now. His Mercedes stood him in very good stead out on the open roads and certainly made a point to anyone who saw it. But it was a liability in a situation like this. He passed by Moriarty's farm on his way to deliver a loan to a client. He slammed on the brakes.

Was that Conan?

The figure in the distance was running down the steep field that fell away from Moriarty's farmhouse towards the road.

It was Conan.

He dodged a couple of cows before grabbing two concrete blocks, one in each hand and running back up the field. The first twenty yards were fine but after that he had to walk and then nearly crawl before eventually reaching the top of the hill. He dropped the blocks whose weight had trebled with the climb. He swung his arms around to get the blood circulating again. Took a few deep breaths and set off like a wild-man back down the hill.

The Greek stared in amazement. Better get on. But no, his curiosity would be nagging him all day. He parked his car at the top of the hill and waved at Conan as he arrived back with two more blocks.

Conan was glad of the interruption.

'How's the Credit Union Peter?'

The Greek was pleased to see that no grudge was being held.

'What's going on here Conan. Are you working for Moriarty now?'

'You must be joking. But I did agree to move these three hundred blocks up the hill. Moriarty is having a new Outhouse built but would not pay the delivery guy to deposit the blocks at the top of his property.

Peter threw his eyes to heaven. Moriarty was well known for, lets be generous, his frugality.

'I cant imagine he is paying you much Conan.'

'Not a penny Peter. I owe him from a while back. Better get on.'

Conan suddenly sprinted back down the hill at a fierce pace. Peter was taken aback to see the tall figure travel at such a speed. He anticipated disaster but Conan managed to apply the brakes just before a particularly stubborn cow made its way across his path.

With two more blocks in hand he started back up the hill. Only another hundred or so more trips to go.

~~~

Conan felt a sharp pain at the side of his rib-cage. He squealed in agony. The Terrier before him stepped back, enjoying the victory of a perfectly aimed shot, beautifully delivered. No escape from that.

He smiled as he observed his victim in pain.

'Caught you good that time Paddy! Why dont you just lie down there and not get back up then eh!'

He pointed at the concrete floor before turning for a strut in front of the assembly of thirty or so of those of Tirdevlin who had heard of the fight. He had his own crew with him for back-up of course. Half a dozen Mammoths and a couple of serious looking characters. Lonergan was in command but he was in charge right now. He bounced close to the Irish contingent, some of whom stepped back momentarily. He smiled again.

'Thats the first round done now.'
Peter the Greek was the official timekeeper for this unofficial event.
'You have thirty seconds' and then under his breath: 'and I suggest you make use of it.'

Conan hobbled back to his corner. With his head back he gasped for air while looking at the metal joists above him. He could imagine the bats peeping down from the gloom above, wondering what these humans were doing. Perhaps they could smell the blood and sweat and fear.

The warehouse was crammed with huge cardboard boxes packed with cheap goods that Driscoll sold in his Thrift Shop. They were stacked to form an impromptu arena. No escape.

Lonergan had approached him a few days earlier. He had changed greatly since Conan last saw him. His eyes sunken and face weathered. He looked like he was used to taking a beating himself. His long wollen coat, expensive watch and rings only made him look more like the villain he had become. And now he had Conan in his sights. Time to inflict some pain.

'Two thousand Euro Conan, by tonight'

Conan did not even bother with any pleasantries.

'Dont have it.'

'Well then, how do you propose to settle up. You got anything else you might consider selling..... or letting me have use of?'

The dirty smirk on his face was immediately apparent to Conan. The Mammoths that accompanied him were none the wiser but the two protagonists knew who he was talking about.

Conan quelled the rage inside him.
His heart started thumping.
Instinct.
He bit his lower lip but that was a tell.

'Hah-Ha. Relax Conan.'
Condescending now.
'Only having a little fun with you.'

'What I want is the money, plain and simple. You got that!'

Conan's face was deeply furrowed with anger. He tried to regain control. A heavy deep breath was another tell.

'But I am a sporting gentleman as you know. I have a wee chap with me that I would like you to go a few rounds with.'

The car parked in a nearby laneway opened and the Terrier stepped out.

'Should be easy enough Conan. You last three rounds with this wee chappie here and we will call it quits. But if you dont last the three rounds then you owe me double the cash, and I'll own you until it is paid!'

Conan was not fooled by the smaller man's stature. He looked every inch the street fighter. There was no way he could raise the two thousand today. He knew he had been baited into it but had no choice anyway.

He chose few words and used them carefully.

'All right Dominic, we'll do this your way.'

~~

Luciana was behind Conan now. She grabbed him by both elbows and twisted him like he was a giant Puppet.

'You see? This is the Beto Shuffel, see how the arms move. See? See? And this is how we do the Reggaeton Bounce. Now you try.'

The lithe young woman was pressed closely to him for a moment. This wasn't so bad.

'Yes Luciano I think I have it now.'

Katya gave him a withering look followed by a despairing smile.

'Lets move ladies, Cumbia first. Yes! Yes! Move! Yes!'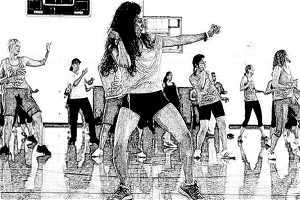 This was the fourth evening in a row that Conan had attended the class. Katya had been amazed. She knew that he was trying to make good on his promise but this was ridiculous. What was going on? It wasn't the women in the class. She knew Conan inside and out. No way that was it. This kind of class must be agony for him. But look at him now.

Conan was moving perfectly to the rhythm.

Left step step, right step step, back step step, forward step step.
Merengue Beto Shuffel, and then Salsa! Beautiful. Yes Ladies. Move. Move. Yes! Yes!

She looked at him again but this time with genuine admiration.

Conan was surprised with the class. This was a real work-out.

At the end of the session he collapsed and lay prostrate on the warm maple floor. His wife towered over him.
With one hand she gestured.
Up. Up.
Flicking her fingers upwards.

He smiled and crawled back to his feet.

~~

Conan was in desperate trouble now.

He just had to make it to the final round.

If he could just get that far then he would have a chance.

The one advantage he had was his height and reach and he used both to good effect in the second round. He continually pushed back his opponent who was getting ever more irritated by this new tactic. He could not keep this up for much longer tough. The Terrier had decided to punish Conan's arms. He pummeled them, hitting the joint of arm and forearm again and again. He thumped Conan's wrists and arms until they turned pinkish red, the blood rushing to the surface.

Conan swung his arms around full circle whenever he got the chance. Trying to get the circulation going again. Just like on Moriarty's farm. Lifting those blocks had surely toughened him up but this was pain of a different calibre. Still, he remained upright, much to the surprise of just about everyone present.

Dominic Lonergan was getting impatient and when Conan pushed back another attack his real countenance was exposed.

'I'm not paying you to pussy foot around you little Journeyman. Knock that bastard to the ground!'

He snarled, his face having contorted with hate, went puce as he spat the words out. The veins on his forehead appeared to be embossed and looked like they could burst at any moment.

The Terrier didn't like being told what to do by anyone.
But he had faced this situation before.
He had had countless fights against all shapes and sizes of men before this day and knew that, even though he might respect some of his opponents for their courage, that he had to put them down.

He formed his mouth to snarl back at his employer but stifled the words. He directed his venom towards Conan.

Sixty seconds of round two to go. This was going to be very painful.

~~~

Katya confronted her husband after their Friday class. That was five Zumba nights in a row. Just what was going on?

As they walked across the small car-park outside the Parish Hall where the class was held Conan stopped short, twisting away to stare down Tirdevlin Main Street before turning back to face his wife.

'It's Dominic Lonergan. The Greek sold him my debt and now he wants to make me pay. No, he wants to make me suffer. I have to scrap against his man tomorrow at Driscoll's Warehouse. No way out.

Katya glared at Conan.
So he knew about this all week but did not tell me.
During the day he works for nothing for Moriarty and then at night he dances with me like everything is normal?
She caught her breath again.
The coldness of the Tirdevlin night was in stark contrast to her warmed limbs. She lifted her hand to her neck as she felt the coldness envelope her.

She waited for him to explain.

'You can help me some more with this.' Conan looked at her pleadingly.

What would this involve? She did not want anything to do with Dominic Lonergan after what he had done a dozen years earlier. She did not even want to be in the same town as him, never mind have to see or talk to him.

Her beautiful eyes locked on Conan. He looked back. Silence. She knew Conan. He has a plan. So what is it? What can I do to rid us of this Lonergan?

Conan paused and averted his gaze from Katya.
He considered the ridiculousness of what he was about to say but said it anyway.

'This is what you can do Katya. You can wear your new black dress with a pair of high boots and walk into Driscoll's warehouse at exactly five and half minutes past seven tomorrow night.'

~~~

This was the darkest moment of Conan's pain.

There were only seconds to go until the end of the second round but he was about to quit.

The Terrier had him in a corner and was pummeling him. His initial tactic of pushing him away with his longer arms was done, the pain was just too much. So he resorted to grabbing at his opponent in the vain hope that he could somehow smother the blows. This made it only worse as the shorter stature of the seasoned fighter he faced made it even easier to land damaging blows to Conan's chest and stomach.

Lonergan was smiling now and caught Conan's eye.

Thank you.
That was all the inspiration Conan needed.

He grabbed the smaller man fiercely in a bear-hug, hugging him tightly, practically lifting up the little Terrier who was amazed at this sudden show of strength.

His experience in this situation had taught him that Conan was near to defeat.

This show of defiance gave lie to that.

Conan hurled the smaller man towards Lonergan.

The crowd let out an almighty roar.
Deafening.
The noise bounced back off the aluminum roof, amplified.
The Terrier stumbled a few steps before standing upright again.

He looked hard into Conan's Face.

'You're game Paddy, I'll give you that.'

Lonergan shouted again.
'FINISH HIM OFF GOD DAMMIT'
Too much this time.

The Terrier rounded on his sponsor and made as if to take a swing.
The Mammoth's stepped forward in unison.

'SHUT IT!' he roared, inches from Lonergan's face.

He turned to face Conan again with rage and fury in his eyes.

'RIGHT PADDY, THIS IS IT!'

Peter the Greek intervened.

'Thats it! End of round two. You have thirty seconds.
BACK TO YOUR CORNER YOU!'

~~~

It was not the first time that Conan had darkened Peter the Greek's small office above the Betting Shop behind the Rail Station in Tirdevlin. The 'Sawdust Saloon' down the nearby back-alley was frequented by Bikers who provided a regular supply of customers to the money-lender's office. None were in attendance today.

Conan climbed the stairs with a definite bounce in his step. A man with a mission.

'I hear Lonergan is taking bets on the fight Peter.'
Conan wondered what his odds of success were.

'He is for sure Conan but not on the outcome. The betting revolves around the exact minute and second you are counted out. Sorry.'

'He's a good fighter then, this Ringer that Lonergan has brought over.'

'He is Conan. He might be small but he is fierce, fourteen straight wins, a real pro at this sort of thing.'

'I thought as much.' Conan knew that Lonergan had calculated that a defeat by a smaller man would only increase the humiliation.

'I wonder if you could get a bet on for me Peter?'

'No way! If I bet on you to drop to the ground after one minute and fifteen seconds and then you miraculously do exactly that then Lonergan will be all over me, as I am sure you know.'

'I do know Peter but I want a bet that I will last the three rounds.'

Peter the Greek resisted the temptation to pour immediate scorn over the idea. It was pointless. Conan was a good guy, a big guy, but he was no fighter.

No chance he could last three rounds against an experienced Ringer from London. He looked at the far wall in his dingy office for a moment as if staring into space.

'I have four hundred in cash.' Conan would not let up.
'Can you get me an extra three hundred for those smartphone cases I bought, as security. Let it be known to Lonergan that it is for me. But quietly. He wont be able to resist the thought of taking all my stock and getting an extra four hundred of mine to boot.'

'But the bet is for me to survive the three rounds. Will you do that Peter?'

~~~

The final round. Nearly time to unleash the secret weapon.
The Greek was fiddling with his mobile phone.

'WHAT ARE YOU DOING? GET ON WITH IT.'
More snarls from Lonergan.

Peter put his phone away quickly, looked at Conan who surprisingly was in a standing position ready to go, and then beckoned the two men to the middle of the ring.

'THERE IS NO NEED FOR ANY OF THAT!'
Lonergan had long since lost control.

Peter planted his right foot on the floor with a thud and leaned his face and neck forward towards Lonergan with a degree of defiance that surprised all present.

'What did that fellah just tell you', pointing at the Terrier.
'SHUT IT!

More roars from the assembly. The Mammoths shifted from one foot to the other uneasily.

The two men touched fists in the centre of the ring before the expected onslaught began.

Conan moved.

He raced around to the left in a circle and then backtracked at high speed to the right.

He remembered clambering down Moriarty's hill, dodging the cows.

He ran in a circle for all he was worth.

This was a dangerous and bizarre tactic. If the little man timed it right he could catch him with a blow that Conan would essentially run in to. That would be that.

The Terrier made his move, catching Conan with a glancing blow to the side of the head.

Down he went.

The dust from the concrete floor stuck to his sweaty face.

Silence.

Lonergan said nothing. Stared at Conan.

'Stay down Paddy, if you know whats good for you.'

Only thirty seconds gone.

Conan sat up partially, resting on one knee.

He shook his head a few times before smiling strangely at Lonergan.

The side door to the warehouse opened up as two huge Bikers from the 'Sawdust Saloon' made their way in.

That door was supposed to be locked thought Lonergan.

The burly leather-clad monsters who had arrived deposited a huge sack on the floor beside Conan's corner before retreating into the crowd. The Mammoths were getting very nervous now but that which should really cause fear rarely presents itself in a predictable form.

Katya strode forward from the shadows of the Bikers while absolute silence descended on the small arena.

Wearing a beautiful black dress and thick black boots she looked every inch a vision of elegance. And power.

She did not smile or utter a word.

The rabble from London managed to raise a mocking cheer.
Katya did not even dignify them with a look.
Not a word from the Irish crowd.
The rabble fell silent.

'How are you Katya? This is a surprise.'

Such was Lonergan's loss of composure that he at this precise moment sounded meek, like a childish boy.

Katya did not look at Lonergan. Instead she turned to face the crowd, walking around in a circle like a Gladiator, facing each man directly before turning to her husband.

She slowly walked to the center of the ring and put her hand in front of her, clicking her finger upwards to Conan.
Up. Up.
Conan stood upright and faced his wife. She looked him up and down before suddenly turning on her heels, departing with the Bikers either side of her.

The door slammed.

Lonergan looked at his expensive watch.

'Oh Hell, there is only sixty seconds to go!'
'GET HIM!'
He pointed at Conan and the Terrier responded.

Time for the secret weapon Conan.

Conan bounced to one side and threw his hands out in a Salsa pose.
Left step step, right step step.
He moved his arms in an Egyptian like movement as he executed the Merengue Beto Shuffel.

Fifty seconds to go.

Next up came the Cumbia followed by more Salsa steps.

The Terrier could not move.
The vision of this bloodied, sweating, lumbering man dancing around rooted him to the ground.

The silence in the room was broken by uproarious laughter.

Forty-five seconds to go.

Conan shuffled to one side.
Left step step, back step step. Now for a big finish.
He threw his arms about him again as he attempted a Salsa Travel and Reggaeton Bounce.
Lets move it Ladies! Yes! Yes! Yes!

Twenty-five seconds to go.

More fantastic peals of laughter from the disbelieving crowd.

Spellbound, the Terrier realized that the clock was about to tick down to zero.

He contemplated one final assault to get his man down.
He turned to look at Lonergan, waited a moment and then spat on the ground in front of him.

'I'm a fighter Paddy, not a dancer!'

'Three. Two. One. Zero. That's it!'

'Time's Up. IT'S OVER!'

Peter the Greek made himself heard above the crowd.

Uproar.

Absolute uproar.

Conan barged past the Mammoths to Lonergan and stood squarely in front of him.

'You owe me twelve hundred Euro for the bet Peter placed for me.'

Lonergan glared angrily at Peter who stood his ground.
'Are you going to pay or not?'

Conan did not mind either way. It would be worth the twelve hundred just to see the back of Dominic Lonergan.

Cornered now, Lonergan tried one last desperate gambit.

'No problem Conan..... except I have not got those goods I was promised as security..... your stock of phone cases..... now have I?'

'There they are in that sack over there.'
He pointed to the huge bag that had been dumped on the floor by the Bikers.

Lonergan's face turned pale despite his fury.

He realized he could walk out and be regarded as a cheapskate, thief and welcher, or he could pay Conan and be done with it.

He looked around. Every eye in the warehouse was upon him.

His shaking hand counted out twenty four crisp fifty Euro notes.

He threw them on the concrete floor in a final childish act of petulance and hastily made his way through the warehouse door with his entourage behind him.

Conan took a long breath, head back, again looking at the rafters, imagining the bats in the ceiling.

The crowd gathered around him again, cheering wildly, grabbing him by the hand, clapping him on the back, causing him to wince in pain, but he didn't care.

~~~

'Here's your cash Conan.'

Peter the Greek had not minded picking up the money from the dusty bloody floor.

Conan took the notes and nodded. Square with Peter the Greek now.

It was a week after the fight that Conan had somehow managed to survive.

His efforts on Moriarty's farm had toughened him up to such an extent that his recovery from the beating he had received was swifter than it might otherwise have been. Square with Moriarty too.

The dance class exercise had helped.

Conan was in the Hotel Bar waiting on Katya. He added a small block of sugar to his coffee. Peter looked surprised.

'No Carlsberg tonight then Conan?'

'Not tonight Peter. Katya and I are off out.'

'Thanks for the cash and for backing my play against Lonergan.'

'No bother at all. I doubt we will see or hear from him again. A man like that. Losing face like that. Would be very surprised.'

Conan gazed out the window over Tirdevlin Main Street.

'You may be right Peter. I hope so.'

Conan suddenly got a sense of unease.

Instinct.

Someone was behind him.

He was right to tense up. It was the Terrier.

'How are YOU tonight then Paddy?'

Conan had one arm on the bar while the other was holding the coffee cup. His right ribs were exposed.

He readied for a sickening punch.

'Easy does it there Paddy, just happened to be passing by. Ours was the first fight in fifteen I didn't win you know. Not too happy about that mate.'

Conan turned to face him directly. Relieved.

'You certainly did win the fight, by any standard.'

He recognized a twinkle in the eye of his former enemy, set deep within his wrinkled and battered face.

'I hear you and Lonergan have parted company.'

'No loss to me mate. No loss at all.'

A vision of elegance approached them.

'Who is this then Paddy, your good lady is it?'

Katya had initially been alarmed when she saw Conan in conversation with this fighting man but smiled genuinely as he shook his hand.

They chatted a while before the Terrier made his goodbyes.

'Very nice to have met you Katya.'

'And you Conan. All the best. Be good now wont you Paddy.'

Conan laughed. 'I'll try my best.'

The Terrier departed.

Peter breathed a sign of relief.

'I wasn't sure what way that was going to go Conan.'

'Me neither Peter, me neither. Well best get off. Got to get to my Zumba class.'

Katya grabbed Conan by the arm as they made their way to the door, flashing her beautiful smile back at Peter.

Peter the Greek looked after the couple in amazement. Conan grinned back at him too before turning his mind to the hour ahead.

Right then Ladies. Lets get moving! Yes, Yes! Move! YES!