=================================================
BRAM STOKER - THE IRISHMAN WHO CREATED DRACULA
=================================================

Until quite recently it was a little know fact that the creator of perhaps the worlds most famous villain was an Irishman from Clontarf in Dublin.

Bram Stoker was born in 1847 to Dubliner Abraham Stoker and Donegal native Charlotte Mathilda Blake Thornley. The third of seven children the young Bram Stoker was bed-ridden for much of his first seven years, a period that gave him much opportunity for reflection and creative thought:

'I was naturally thoughtful, and the leisure of long illness gave opportunity for many thoughts which were fruitful according to their kind in later years.'

He recovered from his ill-health and went on to excel as an athlete at Trinity College from where he graduated with honours in the field of Mathematics in the year 1870. As president of the University Philosophical Society his first paper was on 'Sensationalism in Fiction and Society'. He became the Theatre critic for the Dublin newspaper 'The Evening Mail', which was co-owned by the author of many Gothic tales, Joseph Sheridan Le Fanu, and who was the leading ghost-story writer of the nineteenth century.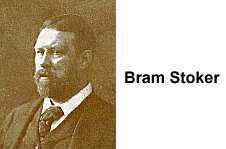 In 1878 he married Dubliner Florence Balcombe who had previously been courted by Oscar Wilde. Stoker knew Oscar Wilde from his College days and even visited Wilde on the continent after his exile. The family moved to London where Stoker became manager of the Lyceum Theatre, a position he held for 27 years. The Theatre was most associated with Henry Irving who was a famed actor of the classical variety. Stoker was very active in the literary and artistic community in London at the time, meeting with the likes of Sir Arthur Conan Doyle, to whom he was distantly related. But it was to Irving that Stoker was devoted and it is thought that it is upon this man that he based his most famous literary creation - that of Count Dracula.

Stoker travelled the world with the now internationally famous acting company and even attended the White House with Irving, meeting Presidents William McKinley and Theodore Roosevelt, such was his employers fame.

His experience as a newspaper writer stood him in good stead when he began his work on Dracula. Stoker was already a published writer when he began researching ancient stories about vampires. The style of the book is very much in keeping with his previous experience as a news reporter with diary entries, newspaper clippings and telegrams all adding to a sense of realism. The fact that there were so many contributors within the story added to the sense of reality. Stoker is also said to have been inspired in part by a visit to St. Michan's Church in Dublin, the vaults of which contain many mummified remains.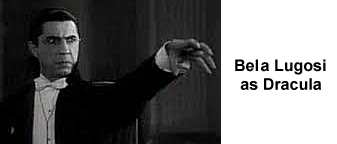 It was thought that the original 541 page Dracula manuscript from 1897 was lost forever but like the subject of the novel it too had to make an epic journey. From Transylvania to Pennsylvania, the US State that is home to many a desperado in hideaways like Allenport, Seneca and Doylestown, the manuscript remained hidden for decades before being amazingly uncovered in a barn there in the early 1980's. The original title of the novel 'The Un-Dead' was clearly marked on it. It was later bought by the co-founder of Microsoft, Paul Allen.

Bram Stoker died in London in 1912. While well regarded as a ghost-writer in the Victorian age it was not until the first cinematic production of a vampire in 1922 that his legacy was set forever. Stoker's widow actually sued the German film-makers who produced Nosferatu, the first vampire movie with 'Count Orlock' being substituted for 'Count Dracula' in an attempt to breach the copyright. She won the case in 1925. The first authorized version of the story was released in 1931 with Bella Lugois as Count Dracula. Newspapers reported that members of the audiences fainted in shock at the horror on screen! The film became a box office sensation and is regarded as the first full length horror movie. It is estimated that there have been at least 200 movies featuring Dracula while a vampire subculture has blossomed among young people in particular, fuelled by countless television and silver screen productions.

It is only in recent years that a fuller appreciation of the work and impact of Bram Stoker has occurred in Ireland and beyond.

Dracula Audio-Book:
http://www.gutenberg.org/ebooks/6534

Dracula Full Text:
https://www.ireland-information.com/irishliterature.htm

Mercury Theatre 1938 Radio Recording of Dracula with Orson Welles:
http://sounds.mercurytheatre.info/mercury/380711.mp3



KEEP THIS NEWSLETTER ALIVE!
Solve your gift problem at: https://www.irishnation.com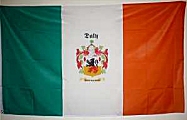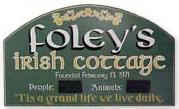 ================================
THE BONFIRE DANCE by Michael Ryan
================================

On one of our trips back to Ireland my wife Kathleen and I found ourselves at the farm just outside Tuam, County Galway. We had a lovely dinner with my cousins and then the clan decided it was time to go out to have a pint. We wound up in a small pub in Corofin.

The front part of the pub had a bar and stools for the men. Then there was a doorway that lead to the back room. The rule is that you are not allowed to go 'trolling' in the back room. If you are male you must be accompanied by a female to go into the back.

So there we were with 4 of my cousins and their spouses having a pint. There was a man named Kenny Ryan (no relation that we knew of) who was playing a guitar and singing for the entertainment of all gathered. There was a window cut into the wall dividing the bar from the back room where one ordered drinks for the back room. There was no waitress - you got your own drinks, thank you very much.

As I was waiting for my order of ten drinks to be completed, I heard Kenny Ryan announce that for the listening enjoyment of those in the pub there would be a guest singer all the way from Maryland in Amerikay. So he called for Mickey Ryan to come up and sing.

I froze and prayed that there was more than one of us in the pub that night with that name. There wasn't! I took the tray of drinks to the table and my cousin Peter Ryan told me 'go on man'. Ye said that ye can sing. 'Go sing'.

It was then that I promised myself to never try to lie to my family in Ireland, for sure they would call you on every statement made. So I walked to the small stage and introduced myself to Kenny (who assured me that we were not related). He asked me if I wanted to sing country western songs or jive songs and I asked if he knew The Fields of Athenry and his eyes got big and he said that he did. I asked if he would play that and that when we got to the chorus if he would sing the melody. So it was done.

After the first verse when we got to the chorus he sang the melody and I sang harmony, and so it went for the 3 verses. It was a good thing that I had a few pints before singing, or I would have never been able to do it! Amazingly there was a fair amount of applause from the crowd. In fact your man with the guitar asked if I would do another song (he just wanted to get paid for me singing!) and I asked that everyone sing along with me and we did Danny Boy with himself singing the harmony on that one also (it was a shock to find that a lot of the gathered did not know the words to the second verse). I

did well enough that I didn't pay for another pint or short one the rest of the night, and there were too many consumed.

There was a silence of all there at about one in the morning and people were getting up and walking out the back door and saying nothing, but taking a drink with them. I looked up and saw the tallest policeman in the world, sporting a full head of thick gray-white hair standing in the doorway between the bar and the back room. He just stood there as the masses exited the pub.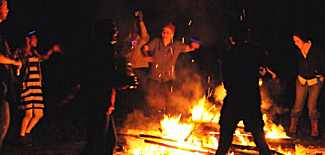 Not one word was said nor was it needed as everyone knew the routine that I was quick to learn. Outside there was a huge bonfire in the field next to the pub (I found out later that it was St. John's feast day that was coincidentally also the beginning of Summer). Since your man had consumed enough of the drink for two of me, I decided this would be a good time to do the bonfire dance that I had learned just a few months before this, our second trip to Ireland.

Kathleen (the sober and sensible one of the two of us) convinced me that it was not a good idea to try to organize a dance around this 10 foot flaming fire, what with the world's largest policeman not far behind us.

Well, I allowed my wife to prevail and we all got back to the farm where I tried to teach the rest of my cousins the dance. But for some reason it just wasn't the same without the bonfire. But I must have been doing a good job, since they were all laughing and having such a grand time!

Michael Ryan,
Baltimore, USA


================================
YOUTUBE VIDEOS OF IRISH INTEREST
================================

You can view our archive of Videos of Irish interest here:
https://www.ireland-information.com/irishvideos.htm




Killarney National Park, County Kerry




Kilkenny Castle




Documentary about Dracula





KEEP THIS NEWSLETTER ALIVE!

Get Great Family Crest Gifts at:





==================
COMPETITION RESULT
==================

The winner was: jimknight@slingshot.co.nz
who will receive the following:
A Single Family Crest Print
(US$19.99 value)





Send us an email to claim your print, and well done!
Remember that all subscribers to this
newsletter are automatically entered into the
competition every time.





I hope that you have enjoyed this issue.





by Michael Green,
Editor,
The Information about Ireland Site.
https://www.ireland-information.com
Click here to contact us

Google+
&nbsp &nbsp PLEASE 'LIKE US' ON FACEBOOK!




KEEP THIS NEWSLETTER ALIVE! Visit https://www.irishnation.com



(C) Copyright - The Information about Ireland Site, 2013
P.O. Box 9142, Blackrock, County Dublin, Ireland Tel: 353 1 2893860