IN THIS ISSUE
News Snaps from Ireland
Cormac Mac Airt - The High King of Irish Mythology
Long Ago - a poem by Neil Noble
'A Cow in my Tent' by Brian DeVon
Gaelic Phrases of the Month
Monthly Free Competition Result

Popular Articles from Recent Newsletters:





FOREWORD


'Welcome back to Ireland!' is a phrase that is being used a whole lot more at Dublin Airport as the visitor numbers from across the sea increases massively (see the news items below). Of course this is a great boon for the economy that is being hailed as 'on the way back'. Or maybe it is just 'spin' as there is an election on the way? The Christmas period will answer a lot of questions in that regard.

This month we continue our series of stories about famous characters from the legends of Ireland with Cormac Mac Airt - the famed High King of Ireland!

If you have a story, poem or anecdote you would like to share please do send it in to us. And please share this newsletter with your friends and family!

Until next time,

Michael



P.S. Please DO FORWARD this Newsletter to a friend or relative. If you have a website or Facebook page or Bldg (or whatever!) then you can help us out by putting a link on it to our website: www.ireland-information.com






NEWS FROM IRELAND


IRELAND RANKS IN TOP TEN ON WORLD PROSPERITY CHART

The results of the annual 2015 Legatum Prosperity Index for 2015 have been announced and it is good news for Ireland.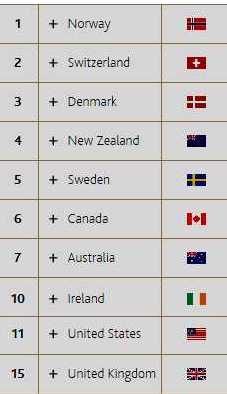 Read this story at the Ireland News Blog

BANKING ENQUIRY MAY DISINTEGRATE INTO ITS POLITICAL PARTS

In what many commentators have suggested is merely a cosmetic exercise designed to boost Fine Gael and the Labour Party in the run up to an impending General Election the release of the final report by the Banking Enquiry in January is now in some doubt.





Read this story at the Ireland News Blog

WEB SUMMIT TO LEAVE DUBLIN FOR LISBON

In what can only be viewed as a shocking slap in the face for Enda Kenny and his Fine Gael Government the well-regarded Web Summit will be relocated to Lisbon in 2016.




Read this story at the Ireland News Blog

US TOURISTS MAKE USE OF FALL IN VALUE OF THE EURO

The continuing fall in value of the Euro currency has proven to be a timely boost for the Irish tourist sector in particular and the Irish economy in general.





Read this story at the Ireland News Blog

STUNNING VICTORY FOR IRISH SOCCER TEAM OVER GERMANY

Ireland will face Bosnia-Herzegovina in two matches, home and away, in a play-off to try to reach the European football championships in France next year.

The Irish team dug deep to defeat the reigning world champions Germany by a single goal, with Shane Long latching on to a long clearance to fire beautifully past a despairing Manuel Neuer in the German goal.

Cue wild scenes of celebration.





The Irish then had a great chance to secure automatic qualification by beating or drawing with Poland in Warsaw but it was not to be. A winning goal from Robert Lewandowski put paid to that hope and it is on to the lottery of the play-offs.

This has been an incredible turnaround for the Irish team that looked all but down and out a few short months ago. The Scottish team led by manager Gordon Strachan looked very well place to gain at least the third place position in the group that Ireland now occupies, but had a disastrous defeat in Georgia that completely wrecked their chances. Coupled with Ireland's unlikely defeat of the world champions the writing was on the wall for the Scots who will look back on this qualifying campaign with a great degree of regret.

As for the Irish it is on to Zenica in Bosnia where they will face a hostile reception from the Bosnians who have had a patchy campaign that included some fine results and some awful ones. Defeats by Cyprus and Israel were followed up by a victory over a much fancied Wales team.

The games on November 10th and 13th will settle the matter. All to play for!


KEEP THIS NEWSLETTER ALIVE!
FIND YOUR NAME IN OUR GALLERY OF IRISH COATS OF ARMS

CORMAC MAC AIRT
THE HIGH KING OF IRISH MYTHOLOGY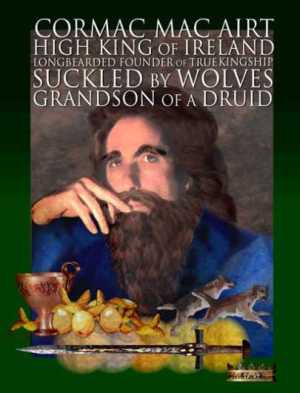 Cormac Mac Airt was one of Ireland's greatest High Kings! His responsible nature made him a wonderful king, while his ability to be thorough and work through to an organized goal made him the king to codify the Brehon Laws. His grounded, matter-of-fact nature allowed Cormac to keep his head when he ventured into the Land of Promise, where he extracted practical wisdom from the extravagant wonders he encountered there.

Cormac Mac Airt was a mythical high king of Ireland and one of the most celebrated kings in Irish tradition. He was sometimes given the epithet Ulfhada (meaning 'longbearded'), which denoted his great wisdom. He was portrayed as an ideal king whose power brought good fortune and prosperity to the whole country.

'In his reign the rivers of Ireland were overflowing with fish, forests were difficult to travel due to the amount of fruit on the trees, and the plains were difficult to travel because of all the honey. Peace reigned supreme, crops grew copiously and cows had a massive milk yield.'

Art was the son of the high king of Ireland. On the night before he was to fight in a battle, Art lay with Achtan. In the battle the following day he was slain, and Lugaidh usurped the throne.

After Cormac was born Achtan feared hostility from Lugaidh and took her son to the North of Ireland to live with his foster-father, Fiachna. On reaching the age of thirty, his grandfather, a druid, advised him to take the kingship as it was rightfully his. So Cormac set out for Tara where he met a woman crying. Her herd of sheep had been confiscated because they had been caught grazing in the queen's field of woad. One shearing for another would have been more just, Cormac wisely surmised. Lugaidh heard of this and recognized the truth of this judgement. He accepted the supremacy of Cormac without incident and handed over the kingship. Cormac elevated Tara to heights of status it had never seen before, and built the great fortress of the kings there.

One day in Tara, Cormac met a stranger who carried a branch bearing three golden apples. These gave out beautiful music when the branch was shaken. Cormac desired the branch and the stranger promised to give it to him in return for the granting of three requests. Cormac agreed.

One year later the stranger turned up and asked for Ailbhe, Cormac's daughter. The next year he asked for Cairbre, his son. The following year he asked for Eithne, his wife.

Cormac agreed but was later so disconsolate without his wife that he set off after the stranger. He arrived in a wondrous land where the stranger showed him a pig on a spit and told him that the pig could not be roasted unless four truths were told in its presence. He told Cormac that Ailbhe, Cairbre and Eithne had been untouched while being in his land and asked Cormac to tell a truth. Cormac told him the story of how he had lost his family and immediately the pig was cooked through.

The stranger revealed that he was Manannan, the sea deity, and that he had brought Cormac to the Land of Promise in order to show him the nature of true wisdom. His family was returned to him and he received the gift of a goblet, which broke into three pieces when a lie was spoken, and which mended when a truth was told.

In Irish mythology Cormac is always portrayed as the Solomon of the country, the maker of wise decisions. His accession to sovereignty at Tara is portrayed in terms which emphasize his wisdom and justice.

He was a hero, not of martial prowess, but of kingship. He commanded huge loyalty from his devoted followers, a king in the true sense of the word.


---
WHICH IRISH MYTHOLOGICAL CHARACTER ARE YOU??
---

Do you dare to take our Irish Mythology Archetype Test to find out?

Are you like the Shaman Fintan or the Goddess Danu?

Or perhaps you are like the beautiful Emer, wife to the mighty Cuchulainn.


Take The Test!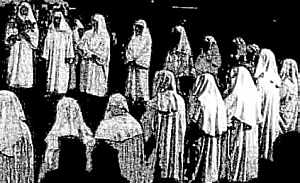 LONG AGO - a poem by Neil Noble

Long ago and far, far away
There lived a people, so they say
Druids by name, feared far and wide
When any passed, kings did confide
This band of Brothers known to all
When one drew near, swords did fall
Love, trust and peace did they bestow
To all creatures on Earth or below
This old Trinity is always found
Where mushrooms grow as a surround
When the ancient text is read aloud
The hush first falls then the clouds
Retreat from the sun that all may see
If only a wise one knew what those words be........




A COW IN MY TENT - by Brian DeVon

I spent as much time as possible in the great outdoors in my youth, that outdoors on this occasion was Glencullen in the Dublin mountains. Summer holidays set me free to explore the mountains of Dublin and north Wicklow and to fish for trout in the many streams in the area. Usually my fishing expeditions were day long affairs setting off at dawn with my satchel full of picnic supplies and my fishing rod tied firmly to the crossbar of my bright red bicycle. The bicycle was particularly bright and red to me because my parents who compensated for their lack of finances with generous effort and had purchased a secondhand bicycle, and , as I found out later, spend secret evenings after I was in bed, refurbishing it to it's shiny bright condition. This trip, however, was a more ambitious journey than usual and was to be spread over two days, camping out at night.

Loaded with essentials such as a loaf of Bewley's brown soda bread, butter wrapped in grease proof paper, a nice brick of Irish cheddar cheese and a bottle of red lemonade (a sweet lemonade peculiar to Ireland) a flashlight and my mother's portable Phillips radio for evening entertainment and an old frying pan. Prepared for any eventuality, I thought, off I set to Glencullen in south County Dublin.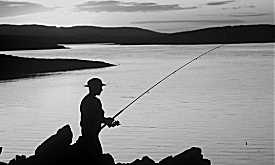 Arriving mid morning I set up my simple canvas tent and created a little fire pit with rocks that were to hand. I hoped to spend the afternoon fishing up and down the little stream that meandered nearby. My fishing gear was simplicity itself. Later in life I graduated to sophisticated and expensive carbon fiber rods and exotic reels, back then I used a simple bamboo pole with 'catgut' line and a hook tied on the end, holding a lively garden worm. I suspect I had more success than with my current high tech rig.

As I worked up the stream I ran into a local farmer and discussed the weather with him, an important Irish tradition. He asked if I had ever tickled a trout from under the bank of the stream. I of course had never heard of such a thing and assumed he was pulling my leg. I agreed, skeptically, to watch him have a go at it. He knelt over the bank and with his sleeve rolled up started feeling along the streamside. I what seemed like seconds he quickly jerked his hand up and lo and behold a nice trout. I was astonished. 'Go give it a try' he said and I couldn't resist. I felt along following this instructions and sure enough after a couple of minutes I felt what seemed to be a fish, I cupped my hand under and lifted it quickly to the grassy bank. A small but miraculous shiny trout. 'You see' he said ' there's more than one way to skin a cat'! He wandered off, whistling, along the streamside his educational duty done.

Happy with my collection of trout for a dinner fry-up I headed back toward camp fishing on an off along the stream and trying my hand at 'tickling'. The fishing spirits had given me my quota of trout for the day and no more were to be forthcoming.

As I approached the camp I thought the tent had taken on an odd shape. When I got closer it seemed most peculiar, pulling back the tent flap I was met by a cow who scared the life out of both me and him. We both started running opposite directions unfortunately the cow wearing my tent. I then started running after him to try and save the tent. With horrible ripping and tearing sounds he managed to get through a briar hedgerow and escape leaving my tattered tent behind. Deflated I gathered the remains and my camping gear and sat on a wall to contemplate my options. A few yards away from where the cow set off in the tent I found my mothers red and silver Phillips radio with a perfect hoof print on the metal front. Amazingly it still worked and lasted many years, a testament to my adventure. Now homeless I thought setting out for home would be a good plan as the evening was gathering.

I'd gone a mile or so when I can across Johnny Fox's pub and stopped outside for a rest and a swig of lemonade. I got talking to one of the girls who worked there and told my tale of woe. She suggested I stay in the hay barn behind the pub since she'd heard on the forecast it was going to rain. I took her up on the offer and set my self up in the hay loft. His kindly girl brought me a bowl of stew later and stored my trout in the cooler.

Later that evening, when the rain had been and gone, and a few pints had been consumed, a couple of musicians came out to the barn and started playing the fiddle. They were joined later by more local musicians and a full fledged barn dance was soon underway. Well after midnight I eventually fell asleep in my sleeping bag in the warm hay, as I drifted off the last of the music fading away carrying me to my to dreams of trout tickling, tent wearing cows and boyhood happiness.

~~~

Brian DeVon is author of the 'Flavour of Ireland' website at: http://www.flavorofireland.com



GAELIC PHRASES OF THE MONTH
| | |
| --- | --- |
| PHRASE: | An bhfuil tu ag lorg duine eigin? |
| PRONOUNCED: | on will two egg lurg dinn-eh aig-ginn |
| MEANING: | Are you looking for someone? |
| PHRASE: | An feidir liom cabhru leat? |
| PRONOUNCED: | on fay-durr lum cow-roo lat? |
| MEANING: | Can I help you? |
| PHRASE: | An gno pearsanta no oifigiuil e? |
| PRONOUNCED: | on gih-no parr-sann-tah no iff-igg-ool ae |
| MEANING: | Is it personal or official? |

View the archive of Irish Phrases here:
https://www.ireland-information.com/irishphrases.htm


COMPETITION RESULT

The winner was: briancomiskey@eircom.net
who will receive the following:
A Single Family Crest Print (US$24.99 value)


Send us an email to claim your print, and well done!
Remember that all subscribers to this newsletter are automatically entered into the competition every time.