===================
HEATWAVE IN IRELAND
by Andrea Lutz
===================

This is not Ireland, it can't be.

I am going back to Germany for a visit in a week, and I feel like the German summer has already travelled towards me. This is the type of summer I always did my best to get away from. Heat is holding me in a tight embrace, not caring that my skin is all sticky and I want to break free.

I moved to a dreamy, misty island whose sky is never without clouds. Excited about the future, I came to a refreshing island with cool air and lots of wind, carrying life in its fullness into my arms, caressing my cheeks, touching me underneath every layer of my clothing.

An island with green fields and incredible, hesitant but gentle light. An island where the sun filters through the clouds, fanning out its beams onto the greenness of the grass, the greyness of the rocks and bathing all the colourful houses in its friendly embrace. An island of frequent rain, and people complaining about the weather every day.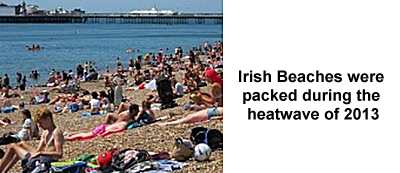 The Ireland I moved to is not the same country that presents itself to me today. There is a heat wave showering the island with relentless sunshine. I might find this weather stifling, but I am in the minority. Suddenly, complaints about the weather are absent from everyday life. People smile and say that they are so happy with the sunshine and the heat.

They don't cry about the grass turning yellow. They enjoy the cool embrace of the sea water, or they lie on the sand, tanning their eager skins. The fair-skinned of the careless kind pay for this with burns, but in the heat of the moment, they don't care. They live for a present moment where all they want is right here.

They teach me that things don't need to be bad just because I think that they are bad.

Perhaps the Ireland I love has not really taken a break. On the contrary, it might be showing me another, rare facet of its multi layered personality. A facet that is just as lovable as the rain and the green fields, if I only change my attitude. And I decide to make the most of this hot summer.

Walking out into the sea, seeing infinity while the sunshine puts an end to the day over Renmore beach, just outside Galway city. Jumping into the cold wetness after much hesitation, swimming my first strokes in the Atlantic Ocean. Cooling down and looking up.

Andrea Lutz,
Summer of 2013

===================
DOLLYMOUNT STRAND
by Barry Monaghan
===================



Oh grounded vessel upon the strand
your wooden planking made so grand
how you must have proudly sailed
across the sea in wind and gale
could you but speak, how many a yarn
protecting souls from mortal harm
until a fateful storm would see
your voyaging ended ore the sea
how grand it is to climb aboard
young pirates armed with dirk and sword
this eddy pool your bow has formed
a crystal pool to swim unharmed
even when the tide has gone
a place to swim and slightly warm
but how you must have felt such pain
to run aground in wind and rain
great vessels now go sailing by
it's enough to make a pirate cry

Barry Monaghan

=================================================
AN ENGLISHMAN'S UNREQUITED LOVE AFFAIR WITH IRELAND
by Jeff Beazley
=================================================

Isn't it a well known joke that, when Englishmen go to Ireland they always claim that they have Irish ancestry some way back along the line? I once heard a character played by Cyril Cusack say as much in an Irish film. I don't make any such claim, although it is entirely possible.

I come from Stoke on Trent, you see, and noticed quite early in life that the Stoke phone directory had a very large number of Kellys in it. I also grew up knowing people with names like McDonal, McNealy and McNicol ­ Pauline McNicol was the prettiest of all my teenage girlfriends and my friend Mickey McDonal looked like one of the Dubliners! My own name at birth was Godwin which can either be the most Anglo-Saxon of names or it can be derived from the Irish O'Goidin.

I learned in my Social and Economic History lessons at school that the first major canal to be built in Britain was the Trent & Mersey which linked the pottery firms in Stoke with the Liverpool docks. I was told the it had been built largely by Irish 'navvies', many of whom had stayed on when the canal was finished as there was plenty of work in the area. I have since realised that there are also some similarities between the Stoke accent and certain Irish ones. Stoke people pronounce 'school' and 'tool' as 'skyoowel' and 'tyoowel', just as they do in Dublin. And 'film' was always pronounced 'fillum' when I was a kid.





Perhaps that was why, as a teenager in sixties England, I spent as much time listening to The Dubliners and The Clancy Brothers as I did to the Beatles and Bob Dylan. Perhaps that was why I developed a certain sympathy with the political ideals of Irish Republicanism, and came to see the British Imperialist attitude as pompous and hypocritical. The 'troubles' in Northern Ireland have always been a cause of concern to me, partly because of the divisive attitudes that became entrenched in the minds of the people, but mostly because of the sickening violence that some saw as the only effective response. How could I support a movement whose outward manifestation saw innocent people have their arms and legs blown off? I couldn't accept the view, and still don't. I hate violence. I could only try to stay philosophical about the principles. But let's not dwell on that one.

Through the years I had an understandable desire to visit The Holy Ground but I never had the money. I've always refused to take part in the rat race so money has always been tight with me. Holidays were a luxury I could rarely afford. I had a particular yen to see Connemara. Don't know why - the name just seemed to strike a chord. And it was a very beautiful chord, full of the promise of some rich beauty and eternal peace. Life's never that simple, of course, but the name still has the power to evoke something deep inside me, even though I can't quite put my finger on exactly what it is. It's like a beautiful voice calling to me from the darkness - a voice I recognise but can't put a face to.

And then, in 1995, my mother died. I had the difficult and emotionally draining job of clearing her house and estate on my own. I felt I'd deserved a treat and she left me some money. And so, finally, off I went in the late spring of '96.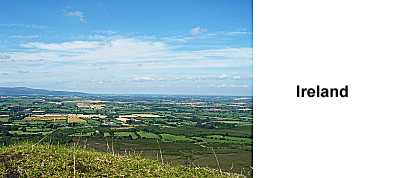 For some reason, I didn't go to Connemara. I spent a few days in Dublin and a week in Donegal. You need a car in Donegal and I didn't have one. Public transport is somewhat limited there and so I didn't get to see that much of it. And I was disappointed. I had built up a romantic image over forty six years and the place itself didn't match up to it. I should have known that it wouldn't. Some Americans have the same problem when they come to England and find that it isn't all thatched cottages, bowler-hatted gentlemen and cricket on the village green. Donegal wasn't so different to home, it seemed to me. I saw no misty mountains, no fairy glens, no mystical maidens with long black hair and beautiful blue eyes ­ and no leprechauns. (Actually, I think I might have seen one personage along those lines, but I can't be certain and the story is far too personal to go into here.)

It wasn't until I came home that I realised I was wrong. Ireland was different. I got off the train at Crewe station and saw it clearly. Everybody looked serious - nobody was speaking to anybody else. They all seemed to be encased in their own worlds, intent exclusively on their own business and oblivious to their fellow travellers. I realised what a divided nation the English have become, separated into a plethora of individual cultures dependant on class, age, race, education and income. The old divides between north and south, rich and poor, well-bred and ill-bred - all pale beside the differences now apparent between the multifarious subcultures existing even within a single inner city area, let alone the country as a whole.

And there was another big difference. In Ireland, music is still the voice of the people. The demarcation line between professional and amateur is not so clearly defined as it is in England, where our tradition of high culture and obsession with commercialism keeps performer and artist essentially separate. I suppose that's why the Irish seem to be natural performers and, as I personally experienced once, can go from being a master fiddler to a master guitarist with a few short weeks of instruction and practice. Music seems to be in the blood.

Irish music became a big part of my life following my visit. It still is. I have an old classical selection on vinyl, but the later stuff is almost wholly Irish folk music. In particular, the voice of Dolores Keane affects me so much that listening to her is almost like taking a drug. And Patrick Street sits head and shoulders above virtually every other combo I've ever heard. I like Irish drama too, rarely missing a visit to my local theatre if there's a Brian Friel play showing. I saw Dancing at Lughnasa again only a couple of weeks ago. And some of my fiction, which now occupies a large part of my time, is set in Ireland. If you want to read a piece, log onto raggededgepublishing.com, click on 'Stories' and take a look at Grace & Favour.

I've often thought of going to live in Ireland. I've wondered whether it would be going home. Is that fanciful - overly romantic? Possibly. Would it be possible? Would I be welcome? How can I know?

Very few days go by when I don't look at the western sky and feel it tugging at me. 'Come west, old man' it seems to say. 'Come home'. One day perhaps. Until then it will have to remain an idea. Or should that be an ideal. I'm not sure that I know. It would be interesting to find out.

Jeff Beazley
jeffreybeazley@hotmail.com




KEEP THIS NEWSLETTER ALIVE!
Solve your gift problem at: https://www.irishnation.com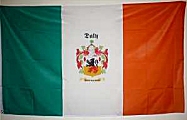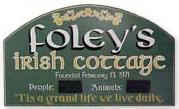 ==============================
YOUTUBE VIDEOS OF IRISH INTEREST
==============================

You can view our archive of Videos of Irish interest here:
https://www.ireland-information.com/irishvideos.htm




Seamus Heaney




Connemara National Park, County Galway




Powerscourt House and Gardens, County Wicklow





KEEP THIS NEWSLETTER ALIVE!

Get Great Family Crest Gifts at:



===========================
GAELIC PHRASES OF THE MONTH
===========================
| | |
| --- | --- |
| PHRASE: | Ta me/Ta Tu/Ta se/Ta si/Taimid |
| PRONOUNCED: | Taw may/Taw two/Taw shay/Taw she/Tom-eed |
| MEANING: | I am/You are/He is/She is/We are |
| PHRASE: | Ta me in a gconai in aice on siopa |
| PRONOUNCED: | Taw may inn ah goin-ee inn ack-ah on shup-ah |
| MEANING: | I am living beside the shop |
| PHRASE: | Ta si ag leamh on paipear |
| PRONOUNCED: | She is reading the paper |
| MEANING: | It is time to get up |


View the archive of phrases here:
https://www.ireland-information.com/irishphrases.htm





==================
COMPETITION RESULT
==================

The winner was: dlmorris@roadrunner.com
who will receive the following:
A Single Family Crest Print
(US$19.99 value)





Send us an email to claim your print, and well done!
Remember that all subscribers to this
newsletter are automatically entered into the
competition every time.





I hope that you have enjoyed this issue.





by Michael Green,
Editor,
The Information about Ireland Site.
https://www.ireland-information.com
Click here to contact us

Google+
&nbsp &nbsp PLEASE 'LIKE US' ON FACEBOOK!




KEEP THIS NEWSLETTER ALIVE! Visit https://www.irishnation.com



(C) Copyright - The Information about Ireland Site, 2013
P.O. Box 9142, Blackrock, County Dublin, Ireland Tel: 353 1 2893860