================================================
GRACE O'MALLEY - GAELIC PIRATE QUEEN OF IRELAND
================================================

Born during the reign of King Henry VIII the exploits of Grace O'Malley have become legendary. The Gaelic 'Queen of the Irish Seas' was known by a number of names including Granuaile, Grainne Ni Mhaille and Graney O'Mally but perhaps the most startling aspect of her life is the impact she made as a woman, in what was a very male-dominated world.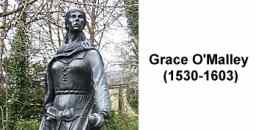 Born in Connaught in the west of Ireland in 1530 Grace inherited a large shipping business from her father and land from her mother, becoming very wealthy by sixteenth century standards. She married and had three children before commencing on her famous career on the high seas when she ran three pirate ships and up to 200 men as she opposed the many English attempts to remove her.

Her husband was an O'Flaherty who was executed by Queen Elizabeth's colonists who were trying to completely subjugate the Irish way of life. In 1556 she married again, this time to Iron Richard Burke and had a son named Tibbot. Captured and jailed for two years she returned to her homeland in Connaught to continue her defiance.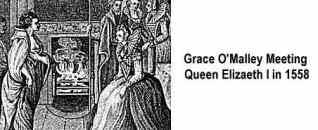 Perhaps it was fate that on the throne of England sat another strong woman. In 1558 she petitioned Queen Elizabeth I for the release of her two sons and half-brother who had been captured by the English governor of Connaught, Sir Richard Bingham. It was famously rumored that she had a concealed weapon on her person when meeting the Queen and that she refused to bow before her, not recognising English rule over Ireland.

Queen Elizabeth I pardoned her in an attempt to bring peace to the region but this attempt failed as the local English administrators continued to goad the woman who had been a thorn in their side for years. Realizing that the meeting had no real long-term effect Grace O'Malley returned to her campaign of harassing the English and supporting the Irish rebels of the time.

Fighting and defiance were her only means of survival and this she did until the Irish defeat at the Battle of Kinsale in 1601 checked her dominance. She died in 1603 although the exact place of her death is uncertain. It is only in recent decades that her full influence on Irish history has been acknowledged.

It is is an indication of her impact though that her name has been used in poetry to represent Ireland - a worthy honour.



KEEP THIS NEWSLETTER ALIVE!
Solve your gift problem at: https://www.irishnation.com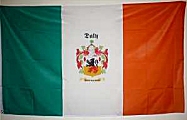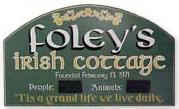 ============================
THE IRISH FOUNDER OF TUCSON
by Chuck Peabody
============================

There is a US city in the old west that was founded by a colorful Irishman by the name of Hugh O'Conor. That city is Tucson in Arizona.

After having his land confiscated by the British in the 17th century, O'Connor gained passage to Spain. He joined his cousin, Field Marshal Alexander O'Reilly, in the Spanish Army.

At the end of a war with Portugal, he was transferred to Cuba. During this time he acquired the nickname 'Captain Colorado' (The Red Captain), because of his bright red hair and the red uniform jacket he wore.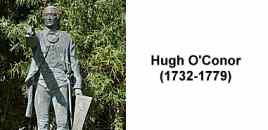 The name 'Hugh O'Conor' was difficult for the Spanish soldiers to pronounce, so it was distorted to 'Yugo Ekkoner'. Later documents referring to him using this exact name!

He rose to the rank of Lieutenant Colonel while serving in Cuba and was charged with the responsibility of shoring up the defenses in the North American Territories. He founded 21 presidios (forts) between California and Texas. One of these was in Tubac Arizona.

On August 20th, 1775, Hugh wrote to Spain for permission to move the presidio 40 miles north, to a site near a Pima Indian village of 'Stook-Zone'. He built it in what is now the center of the town. He named the new presidio, 'San Augustin de Tucson'.

Every March 17th a large four leaf clover is painted in the intersection in the old center of the town. New arrivals are often very confused by the strong Irish influence in the midst of the predominantly Mexican culture, in a town in the old west.

Chuck Peabody

==========================================
TWILIGHT CASTLE: A POEM ABOUT CONNEMARA
by Frances Moore
==========================================

Here is a poem I wrote after a visit to Ireland a few years ago. Of all the places visited, Connemara was my favorite.
Frances Moore
Oakland, CA

TWILIGHT CASTLE

In Connemara, County Galway,
Down a long and winding road,
We set out for Oughterard Castle;
It was evening as we strolled.
The September air was fragrant,
Everywhere we looked was green.
Cows and sheep were grazing happ'ly;
Such a quiet, peaceful scene.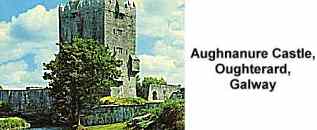 We passed a golf course on the left
And a peat bog on the right.
A thatch-roofed cottage stood alone,
Vacant, weed-grown, a lonely sight.
The thatch was broken through in places,
But through the untrimmed hedge was seen
A window box with myriad flowers
Blooming gaily 'mid leaves of green.

We trudged along for near an hour,
Catching glimpses through the trees
Of the castle, so majestic,
Grey stone, ancient, a sight to please.
We came at last to a cul-de-sac
And were met there by a goat.
A friendly fellow, he nodded and turned,
Leading us across the moat.

He uttered one solemn, parting 'baa',
Then turned and went his way,
As if he were the gate-keeper,
Guiding tourists every day.
There in front of us the castle
Stood in all its beauty stark,
A lonely, melancholy sight,
Haunting in th'encroaching dark.

The memory is with me still;
Its a mem'ry that will last
Of this land so rich in hist'ry -
Ireland's present is its past.



================================
GAELIC PHRASES OF THE MONTH
================================
| | |
| --- | --- |
| PHRASE: | Cad is ainm duit? |
| PRONOUNCED: | coad iss annim dwit |
| MEANING: | What is your name? |
| PHRASE: | An bhfuil tu damhsa liom? |
| PRONOUNCED: | On will two dowsa lum |
| MEANING: | Would you like to dance with me? |
| PHRASE: | Iocfaidh mise don gach rud! |
| PRONOUNCED: | uck-igg misha dun gock rud |
| MEANING: | I will pay for everything! |


View the archive of phrases here:
https://www.ireland-information.com/irishphrases.htm





KEEP THIS NEWSLETTER ALIVE!

Get Great Family Crest Gifts at:





===================
COMPETITION RESULT
===================

The winner was: dick@lobsterpoundmaine.com
who will receive the following:
A Single Family Crest Print
(US$19.99 value)





Send us an email to claim your print, and well done!
Remember that all subscribers to this
newsletter are automatically entered into the
competition every time.





I hope that you have enjoyed this issue.





by Michael Green,
Editor,
The Information about Ireland Site.
https://www.ireland-information.com
Click here to contact us

Google+
&nbsp &nbsp PLEASE 'LIKE US' ON FACEBOOK!




KEEP THIS NEWSLETTER ALIVE! Visit https://www.irishnation.com



(C) Copyright - The Information about Ireland Site, 2013
P.O. Box 9142, Blackrock, County Dublin, Ireland Tel: 353 1 2893860