CONAN AND HIS SENSE OF CIVIC PRIDE
From 'The Adventures of Conan From Tirdevlin'


Peggy Devlin was of such a vintage that it had become impolite to even ask. Her surname suggested that her family connections had ancient roots in the townland and although she never supported any such claims she never denied them either.

She was reserved. Quiet even.
Except when it came to the subject of the Castle.

Tirdevlin Castle was a magnificent Norman Tower that had been added to over the centuries but which had now fallen into disrepair. Peggy had formed the 'Protect Tirdevlin Heritage' Group and they protested weekly but to no avail. There was little public interest and even less media appetite for the story of the Castle, but she fought on regardless.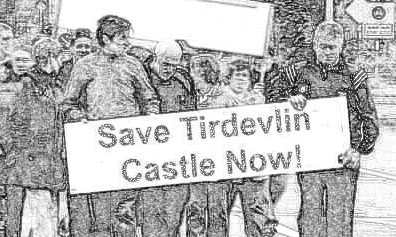 'Will you be joining the protest Sunday Conan?'

She had cornered Conan outside Tirdevlin Post Office just as the skies were about to open. That sudden darkness that envelopes all of humanity as the Sun is covered by heavy clouds seemed to wrap around Conan in an instant.

'We are expecting a big crowd! Something has to be done to preserve our heritage Conan - for our children's sake!'

Conan eyed her carefully. This sounded like a well rehearsed gambit - and delivered with such enthusiasm.

'Playing the 'save the children' card a bit early aren't you Peggy? I would have thought you'd appeal to my sense of civic pride first.'

'What sense of civic pride would that be Conan?'

Dispirited now. Many times she had tried to coax the citizenry of Tirdevlin into action only to be met with this kind of apathy.

Conan noticed her frustration.

'Easy does it Peggy. You know I support you in principle but on Sunday I have to visit my wifes' mother in Beltubbet. You know - it is one of those unintended consequences that you read about. In my case this is an unintended consequence of being married.'

'I see Conan. But the only unintended consequence of our not doing something now is that the Castle site will be over-run by Builders and Developers. Centuries of history could be lost forever!'

A few seconds of silence followed.

'Gotta go Peggy - all the best.'

'Yes you go Conan.'

Peggy didn't usually give people such a hard time. And she wasn't pleased that she had done so now.

Conan glanced back briefly at her long face before he disappeared into the rainy mist.

~~~

Conan didn't like doing business with 'The Dancer' Driscoll. The Dancer was the local Thrift Store owner who bought and sold everything. He was also the big-shot on the local Town Council which put him in a very good position to fend off attacks from his many enemies who accused him of dealing in stolen goods, or goods whose providence was, at the very least, suspect.

Driscoll was an operator for sure. His warehouse-like premises just off the Tirdevlin Main Street at times resembled both a Methadone Clinic and a Parish Centre, such was the wide variety of clientele who visited the shop. It was here that the local Priest would pick up a second hand lap-top for use by the Sacristant while in the next moment a biker from the 'Sawdust Saloon' down the back-alley might offer a pair of boots off his feet for sale.

There was no beating the prices though. Driscoll was notorious for striking a hard bargain and even more well-known for padding his profit. Still though. The shop had everything. Everything except wallpaper and class.

Conan got there early so as to avoid the local yokels observing him at his business. He had been aware that a Music Festival had been planned for some time in the grounds of Tirdevlin Castle and when he heard that it was only for the Council to rubber-stamp the grant of a licence in order for the project to proceed he decided to act. He spent a day and a half scouring the Internet for camper tents. Cheap tents, but not too cheap. Good quality, but not too good quality. The sort of affair that would get a drunken raver through the night dry but not the sort to drop behind enemy lines with.

And what a deal he got! Two hundred and fifty of the most pristine and compact mini-tents you could imagine and for only five Pounds a pop. It was Pounds and not Euros because Conan had sourced them from a liquidation store near Luton in the UK. Even with the extra fifty Pounds for shipping Conan reckoned he could sell the lot for at least fifteen to twenty Euro each, pocketing a tidy sum.

Nice. Very Nice.

All was well in Conan's universe until his new purchase arrived at his door in the still darkness of a Tuesday morning. Two hundred and fifty tents takes up a lot of room. Conan had not envisaged carting the Container-load of heavy-enough tents into the garden shed in the freezing cold with the balance stored in the living room. His wife was not pleased. One glare from her bleary eyes had convinced him to move them off-site and sharpish. He called in a favour from Tommo Morgan who stashed the lot in his barn. Under a pile of loose hay for safety.

Reflecting further on his position Conan decided to try to cash out by offering the lot to 'The Dancer'. Sure it would be a shoe-in. Driscoll would take the tents knowing that the Music Festival was going to go ahead and Conan would offload them to him for a tenner a piece, leaving scope for a mark-up for Driscoll. Easy money.

~~~

'Cant do it Conan'.

Conan fixed his gaze on the man behind the counter. Driscoll had a reputation for meanness but his position on the Council meant that he had to preserve at least an air of decorum, especially with voters in the vicinity and an election in the near future.

'I cant do it Conan - the Festival wont be going ahead.'

What do you mean the gig is cancelled? What happened? I have all my spare cash invested in these tents.'

Desperation never sounded good to anyone and Conan recognized the instant he had uttered the words that he had just weakened his own position.

'Bryant O'Donovan has put in an objection to the Festival and I am agreeing with him. The Council will go along with me and that is all there is to it.'

'What is O'Donovan's problem then?'

'He wants to renovate his farmhouse that is adjacent to the Castle grounds and is worried that the grant of a licence will put the spotlight on the possibility of any ancient remains being found in the area. As if there is anything under that cow-field anyway!'

The issue of the Castle grounds had been rumbling on for years. O'Donovan wanted to develop his land while Peggy Devlin and her band of protesters had lobbied the Council and had even blocked the roadways in and out of Tirdevlin to highlight their concerns. If the Festival went ahead then the Central Heritage Authority would demand assurances that no historical part of the site would be disturbed. It would require a site survey by a team of archaeologists and possibly mean the end of O'Donovans ambitions for his own land.

'But the gig is being held at the far end of the Castle grounds, away from where there are supposed to be unearthed treasures!' Conan sounded even more desperate.

'Makes no difference. O'Donovan has objected and I agree. In fact I had a wee chat with him only last night about it.....'

The penny dropped. Elections in October. Candidates need cash to run a campaign. O'Donovan was minted.

Conan looked down forlornly at the tent encased in tight cellophane wrapping.

'What am I to do with two hundred and fifty of these then?'

The Dancer smirked briefly and then offered his insult.

'You could try the 'Buy and Sell'?'

~~~

Peggy Devlin was joined at the weekly protest outside the Council building by as ragtag a bunch as could ever be imagined. A local architect, the post-mistress, several senior schoolgirls, the manager of the local football team, some housewives and a Garda Reservist assembled outside the impressive Council offices.

Peggy grimaced as she faced the building. Plenty of money for double-glazing and eco-insulation here. Nothing left for saving our history up the road. A dull background sound from the other side of town caught her attention briefly. The local GAA football team must be have a game this morning.

The small group of protesters wiped the rain off their battered placards and prepared for the march that would take them up around the town square, across to the shopping mall, back down by the rail station and finishing where they started, outside the Council building. It was a well-worn journey. Peggy and the architect had completed every single circuit, every week for three years.

'Do you know Dermot, this week marks our third anniversary!' she offered with a twinkle in her eye.

Dermot Delaney was old enough to remember Peggy when she was in her prime, and well able to recognize the brightness in her face that the wrinkles of the years could not yet disguise.

He smiled back at her.
'So it is Peggy! I hope we dont have to walk this route for another three years!'

'Hah! she barked loudly - lets see if we can shake them up today then!'

The dwindling troops were well used to her rallying calls but had clearly lost heart. Attendance at the marches had never topped thirty souls and today there was just nine. Peggy could already envision a future when it would be just her and Dermot trudging along. Just two old fools carrying placards in the Tirdevlin rain.

They set off.

Now, Peggy had been around long enough not to expect miracles but she also knew that it was often when you least expected it that unusual events occurred.

Today was to be such a day.

The background noise in the distance had suddenly become louder, decibel by decibel, until it could no longer be ignored. Suddenly it was so close as to seem surreal at just the moment before its authors came into view.

Peggy stared in utter amazement.

It was Conan marching towards them with at least fifty more behind, chanting slogans loudly, berating the Council, supporting the campaign!

'What do we want?
To Save the Castle
When do we want it?
Now!'

The twenty junior members of the local GAA club were particularly loud, belting out the slogans in the way that only twelve-year-olds can. People who Peggy had tried again and again to recruit to the cause followed in their wake, blocking the side-roads, dodging cars, causing mayhem.

'How are you today Peggy? Are we marching or what?'

Off they set but not along the usual route. Conan steered them to the Office of the Tirdevlin Chronicle where they invaded the reception area and all but dragged a Photographer out with them. The held an impromptu sit-down in the Town Square.

'Forget Occupy Wall Street - Occupy Tirdevlin.' Tremendous cheers followed.

They attracted a large crowd of teenagers who took delight in recording the antics on their Smart-Phones, emailing their friends. Conan made sure they passed by the Driscoll Thrift Store and, as it happened, at just the exact moment that the Proprietor was taking delivery of a truckload of merchandise, causing traffic chaos.

Conan managed not to smile as he marched by.

Peggy caught up with Conan.

'How on earth did this happen Conan? Is this your 'civic pride' coming to the fore?'

'Dont know what you mean Peggy. This is just an unintended consequence of the Satellite Dish not working in the Hotel Bar. The local football team were attending a birthday party in the function room next door and the lights went out. So I suggested to all and sundry that we go for a quick march around the town with you desperadoes while we waited for the TV link to come back.'

Peggy Beamed. The years falling from her face.

'Marvellous Conan! Marvellous!'

~~~

The 'Occupy Tirdevlin' march, as it had become known, was all over the County Newspapers and Radio the following week. Peggy had even been interviewed by RTE and had attracted media attention from abroad.

A campaign that has been going on for years!
The march held every single week!

Such was the interest now that the event was packed out every week.

Conan left her to it. Peggy caught up with him a few weeks later. He was in his usual position in the Hotel Bar, sipping a pint of Carlsberg while the world passed him by.

'Well Conan how are things with you?'

Conan looked up to find Peggy staring at him intently.

'Fine Peggy. I see the campaign has really taken off.'

'It sure has and thanks is due to you I hear?'

Conan paused a moment while he composed his reply.

'Not me Peggy. All I did was encourage a few of the lads to go for a walk on a Sunday afternoon. It was more exercise than some of them have had in years. And anyway, the TV was broken.'

'Now then Conan, I heard that you offered every man, woman and child a free drink if they would join you in the march - must have cost you a pretty penny?'

'That's not the way I remember it Peggy. I may have bought a few of the guys a beer after the walk but no harm in that is there?'

'And the TV was broken that day?'

'It was.'

'I hear you are a wizard with all things electrical - could you not fix it, so to speak.'

Conan darted his eyes to Peggy's quickly and then resumed his gaze at the sports page.

'Yes Peggy - I did fix it in the end.'

Peggy let the reply linger before changing the subject.

'I hear that Driscoll wont be running for the Council again. Some of the teenage girls who were following the march posted video on YouTube of some iffy goods being delivered to his shop. I hear the An Garda Siochana are looking into it.'

'Ah thats a shame for him, I guess. But that sort of thing will happen if you deal in dodgy merchandise.'
A long sup of the Carlsberg.

Peggy grinned at him and turned to go but paused as she passed the cork noticeboard beside the front door, spinning around to face Conan again.

'Hey Conan, I see the Music Festival is back on and that it is being held in the local show-grounds instead of the Castle.'

'I heard that too Peggy. The Government Heritage Authority are going to do a full archeological survey of the Castle grounds and all the surrounding fields thanks to your campaign.'

'More trouble for 'The Dancer' then?'

'Just another unintended consequence Peggy!'

'And with the Festival back on those tents I heard you bought should sell like hot-cakes now Conan.'

Conan turned, looked directly into her sparkling eyes, and smiled mildly.

'I guess you're right Peggy. I hadn't thought of that'