=============================================
CELLACHAN OF CASHEL - THE FIRST O'CALLAGHAN
by Seamus O'Donoghue
=============================================

As the humidity over Áth Cliath thickened and the heat of the day gave rise to threatening cumulonimbus clouds, the vastly outnumbered Berserkers along the banks of the Dothra fell like fragile dominoes under the Eóganacht cyclone.

They were first savaged by the war-hounds of Mumu and beaten down by the vanguard of mounted chiefs and nobles, then gored to death by the swords and spears of the rampaging phalanxes which followed through.

As expected, not one of the fearless Lochlannach elite cast his weapons to the ground in capitulation, or fled from certain destruction, but the few that did manage to survive the Mumu onslaught were given an honourable death and had their heads swiftly severed from their necks by the Gaels. With all the river outposts crushed, and the entire settlement south of the Ruirthech surrounded, Cellachan's Army closed ranks and pushed towards the protective palisades that straddled the suburbs of Áth Cliath.

However, as it approached the high embankments upon which the palisades and gates stood, it came under sustained attack from the thousands of Lochlannach archers within and was forced to temporarily withdraw from their shooting range. Cellachan's warriors then responded by sending forth cascades of flaming arrows - not to kill their foreign enemy, but to set the lengths of combustible fencing alight and to place a screen of smoke and fire between both sides.

The moderate breeze of the day was also in their favour and as it fanned the orange flames, burning embers rose from the crackling and hissing wood and floated inwards and down onto the populated streets.

Before long, the intense heat caused the wattled houses nearest the palisades to burst into flames and not even the pails of water, which the inhabitants so desperately threw over them, could quench the raging infernos.

Soon, men, women, and children, were fleeing for their lives and not even the mighty Berserkers defending the edges of the town could withstand the heat and the suffocating smoke. They were forced to retreat with the others and left the Gaelic enemy to scale the crumbling ramparts and barge through the undefended gates.

The magnitude of the noise and the chaos that greeted the intruding Mumu warriors was like none they'd ever experienced before. So loud was it, that it almost drowned out their own war-cries.

Women were shrieking and running, and dragging bawling children along with them towards the centre of the town; domesticated goats and woolly sheep, along with pigs and cows and all types of foul, were screeching with terror in their pens, while other beasts leapt in blind panic through the crowded streets, barging through anything and anyone that got in their way; and Lochlannach warriors, both on foot and on horseback, yelling and screaming orders at each other, as they desperately sought to reorganise themselves during the disorder.

By the time the Mumu warriors took their first steps inside the cindering palisades, the Lochlannachs had managed to regroup and were now between the scampering population and the enemy.

The remaining battalions of Berserkers had split into tightly knit detachments and had taken up positions on the foremost streets, in an east-west pattern, while the rest of the infantry had swarmed behind into long and thick phalanxes around the houses that were still intact.

With weapons at the ready, they all stood firm and hoped that king Olaf Cuaran would return in time to give the word that would see them part ranks and allow their mounted comrades at the rear to rush out and wreak havoc among the Gaels, before they themselves were instructed to battle. But Cellachan's warriors inadvertently obliged the poised Lochlannachs and didn't charge forward the instant they entered. They'd been ordered not to engage until he'd made the offer of safe passage for the women and children.

So there they stood, only a furlong or so apart; both sides staring odiously at each other, spouting insults and jeers, until the Lochlannachs began hurling whatever sticks and stones they could lay their hands on.

The Gaels, with their hounds straining on their leashes, chanted Gaelic curses and some even showed their utter disgust for the foreigners by spitting and urinating on the poor souls that hadn't escaped their fiery arrows.

As much as the furious Lochlannach chiefs wanted to countermand their king's order and go get revenge, they somehow forced themselves to bite their tongues, and watched as their warriors retaliated with their own curious hexes, followed by lumps of human shit which they'd retrieved from the local buckets, and more sticks and stones.

The ferocity of the Lochlannach barrages became so bad, that those at the front of the Gaelic lines were forced to stoop and take shelter under their shields, and as Ribordan and Suilleban bravely rode forward in an attempt to address the enemy, they both took the brunt of the punishment and were eventually forced to retreat to the base of the rampart where Cellachan waited.

"Damn those feckin' heathens!" Suilleban angrily bawled, as he tried to dislodge the spatterings of foul smelling excrement that had exploded onto his arms and face.
"Animals! That's all they are! Bloody animals! Just give the word, Cellachan, so I can get in there and rip their flippin' heads off."
"All in good time, Suilleban," Cellachan replied, as he steadied his fidgety mount and tried hard not to smirk at the chief's fetid misfortune.
"Blood and guts I can stand, but a man's dirt...that's a different matter altogether."
"Especially Lochlannach dirt," Ribordan commented, with revulsion.
"I told ya they wouldn't listen," Cellachan said. "It has to be me."
"I'd rather take another battering of muck, Cellachan, than risk having ya cut down by one of their eagle-eyed bowmen while ya speak," Suilleban stringently replied.

"'Tis time ya stopped worrying about me," Cellachan graciously remarked. "I'll be grand. I'll have my shield to protect me, from dirt and arrow. Donnacha will be back soon. He has gone to organise the rest of the units, so ye lads should get ready to lead these brave battalions here straight into battle, if Olaf Cuaran declines my proposition. Remind your men, however, that the Lochlannach women and children, and those that wish to surrender, aren't to be harmed in any way. They're to be treated with dignity."
"Of course," Ribordan replied, with a little hint of sarcasm. "Shur aren't we gettin' well used to taking those foreign brats under our wings. The men and women can be tamed, but their wildcat offspring can be extremely troublesome."
"Hah! I often hear tales about a mighty Mumu chief that was exactly the same in his youthful days," Cellachan quipped, as he squeezed his legs to get his horse walking. "I think they called him...Ribordan."

He then made his way up the rampart through the mass of warriors and crossed over a grey carpet of hot ash that marked where a section of the palisade had once stood. His snorting, haughty mare, never once shied from the odd simmering ember that her hooves kicked up, nor did she fret over the horrendous dissonance that both sides still created. She did, however, seem to take offence at being hit by the small sticks and stones that were being thrown and, of course, the human dirt.

"Easy girl," Cellachan soothed from beneath his shield, as she pawed the ground with her front right hoof and tugged on the reigns with sturdy nods of her head. She side-stepped from left to right, eager to charge into the Lochlannach offenders, but he managed to hold her at bay, even as his lower body was being bombarded by the flying objects and getting peppered with the muck.

"I'm Cellachan of Cashel, king of Mumu!" he yelled, as he held his ground regardless of the onslaught. "I'm here to speak with yer king!"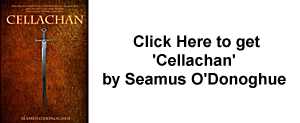 KEEP THIS NEWSLETTER ALIVE!
Solve your gift problem at: https://www.irishnation.com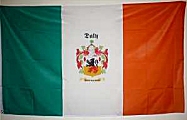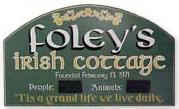 =====================
ON LEAVING DRUMRUSH
by Mark Reilly
=====================

Earlier this year, my sister and I traveled to County Cavan hoping to find the farm where my grandfather and his family worked before emigrating to the US in 1893. Thanks to our gracious B&B host, we were able to locate the farm and had a great afternoon visiting with the dairy farmer who now owns it. My grandfather left Ireland at age 15 - he didn't say a lot about why his family left but family lore says that his father, my great-grandfather, was executed on the farm by British soldiers due to suspected Irish Brotherhood activity. After returning from our visit, I was inspired to composed the attached poem trying to capture the thoughts of my grandfather as they left their hometown.

Mark

On Leaving Drumrush – 1893
(for Louis Teevan Reilly)

No, there is not a drop of honey
To be tasted in this vale of blossoms
Without first smelling how reason has rotted
And feeling the sting of the invading bee
Fresh from the buttercups' false promise
That herald only flowers on a grave

Yes, we held our ground, held it dear to life
We were in league with the land,
in league with the righteous
Da saw the sense of it
He knew the need, knew the risk
Aye, that I could take the steps he took
To walk proudly in his boots
To affront oppression and spit in its face
Now his oppressors walk with shame,
through black and endless guilt




No, he did not leave us without great legacy
Because he was feared and his actions were right
His brotherhood caused the powers to quake
With their ancient machines rusting in the road
They knew that land that is worked is land that lives
And those who work it are its breath and blood
So they marched out to spill that blood
and drown this green townland

Yes, justice was killed, and a brotherhood wounded
And my family today has no head, no heart, no healing
Here all my tomorrows are dead and gone
They are with my father in the grave

No, I will not catch brown trout from the river Erne again
No more will I cross Kilconny bridge or kneel silently in Staghall
I've heard the last of music on Belturbet market day
Now Ma says the times are calling, we must make for Amerikay

Yes, 'tis strange but I'll admit I'll miss the flax beds' stench
And washing myself in the Erne, as we did, clothes and all
I'll hunger for the sowens and for warm brown bread
Ma at the oven and Da in the shed
The lane in the spring and the road to the town

No, Ma's sorrow will not abide, though a new life calls,
Still she cries. Times so hard they rob the heart
Gray clouds drape our door
and the hills appear as shadows
Drumrush is soaked in madness and mud
To stray away the time is ripe, to Amerikay we'll sail

Yes, my brothers say this is no country for young men
So we will rise and go now to the banks of the Ohio
And we will find some peace there,
though peace comes dropping slow
Farewell sweet Drumrush, 'tis to the Ethiopia we roll
With my world on my back and seeds for harvest under my hat
The northern road we'll take
And see all things strange and new

Mark S. Reilly



================================
GAELIC PHRASES OF THE MONTH
================================
| | |
| --- | --- |
| PHRASE: | Tá cúpla focail Gaeilge agam |
| PRONOUNCED: | taw koo-pluh fuk-ill gale-geh ah/gum |
| MEANING: | I have a couple of words of Irish |
| PHRASE: | An miste leat labhairt níos moille? |
| PRONOUNCED: | on mishteh lat low-art neice mwille |
| MEANING: | Can you speak a little slower |
| PHRASE: | Ní thuigim |
| PRONOUNCED: | knee higimm |
| MEANING: | I dont understand |


View the archive of phrases here:
https://www.ireland-information.com/irishphrases.htm





KEEP THIS NEWSLETTER ALIVE!

Get Great Family Crest Gifts at:





====================
COMPETITION RESULT
====================

The winner was: guerin83@verizon.com
who will receive the following:
A Single Family Crest Print
(US$19.99 value)





Send us an email to claim your print, and well done!
Remember that all subscribers to this
newsletter are automatically entered into the
competition every time.





I hope that you have enjoyed this issue.





by Michael Green,
Editor,
The Information about Ireland Site.
https://www.ireland-information.com
Click here to contact us

Google+
&nbsp &nbsp PLEASE 'LIKE US' ON FACEBOOK!




KEEP THIS NEWSLETTER ALIVE! Visit https://www.irishnation.com



(C) Copyright - The Information about Ireland Site, 2013
P.O. Box 9142, Blackrock, County Dublin, Ireland Tel: 353 1 2893860