IN THIS ISSUE
News Snaps from Ireland
Saint Patrick's Day Traditions in Ireland
'The Miracle of Fishing Ireland's Pristine Waters' by Brian DeVon
Gaelic Phrases of the Month
Monthly Free Competition Result

Popular Articles from Recent Newsletters:





FOREWORD


Hello again from Ireland where the results of the latest General Election have been a sensation.

The current Government has been battered with Fianna Fail making a remarkable comeback (see the news article below). The country now awaits the formation of a new Government, if indeed that is possible, as it is also very likely that a second General Election may have to be held and we go through it all again!.

This month we share another fine reminisce from Bran DeVon and explore the many Saint Patrick's Day traditions, with the big day fast approaching.

Until next time,

Michael



P.S. Please DO FORWARD this Newsletter to a friend or relative. If you have a website or Facebook page or Blog (or whatever!) then you can help us out by putting a link on it to our website: www.ireland-information.com






NEWS FROM IRELAND


HUGE SHOCK IN IRISH GENERAL ELECTION

There were some major surprises in the Irish General Election with big gains for Fianna Fail, Sinn Fein and the independents.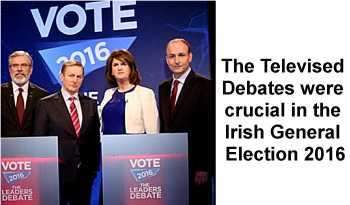 Fine Gael 49 (lost 27 seats)
Labour Party 6 (lost 31 seats)
Fianna Fail 44 (gained 24 seats)
Sinn Fein 23 (gained 9 seats
Independents 18
Other Parties 16

The outgoing Government of Fine Gael and Labour have been issued a severe rebuke by th Irish electorate who have punished both Parties for failing to live up to the massive mandate they were given in 2011. Indeed, such was the level of support that the Government had in 2011 and 2012 that it can be argued that the last five years have been the greatest missed opportunity in the history of the Irish State, to fundamentally change the way Ireland works.

Fine Gael were pummeled. They lost a massive 27 seats with several high profile figures within the Party being turfed out of office. The Party leadership had been portrayed as being arrogant and out of touch by the opposition Parties and sections of the media. This message clearly resonated with voters.

Fine Gael had a disastrous campaign that was compounded by a feeble performance by their Party leader and Taoiseach Enda Kenny, which led to a collapse of their vote countrywide. Indeed it could have been even worse were it not for the reluctance of many voters to embrace Sinn Fein because of that Party's history and leadership.

As predicted, the Labour Party have been all but destroyed, losing a massive 31 seats, and now face the prospect of being a fringe Party in Irish politics. It is difficult to see how that organization can compete with more left wing Parties such as the Anti-Austerity Alliance, while also battling with an ever-improving Sinn Fein. The by now infamous 'Gilmore for Taoiseach' posters and the 'Burn the Bondholders' slogan of 2011 are but a distant memory. The Labour Party spectacularly failed to keep their election promises and have paid the price. Extinction beckons.

For Fianna Fail this General Election marks an amazing comeback. The Party was on its knees after the 2011 Election with only 20 seats in Dail Eireann (the Irish Parliament) and facing the prospect of perhaps decades on the opposition benches. But their good showing in the local and European mid-term elections gave the first indication that some level of forgiveness for their past misdeeds was in the offing. The fine performance by their Party leader Michael Martin in the televised debates was in stark contrast to the performance of the other Party leaders. Although the Party is still only the second biggest in terms of seats won, this election represents a remarkable turnaround in fortunes for the 'Soldiers of Destiny' and presents them with an unlikely opportunity of hatching together some sort of coalition Government. Truly incredible.

If Fianna Fail were partly forgiven by the electorate then it is fair to say that Sinn Fein were only party rewarded. It is a continuing conundrum for the Party that they rank so well in opinion polls prior to elections, but then the votes often fail to materialize. On this occasion it is pretty obvious that their Party leader Gerry Adams did his Colleagues few favors with both his debate performances and his description of recently convicted criminal Thomas 'Slab' Murphy as a 'good Republican'.

It is difficult to see how Sinn Fein can make the major leap forward it so craves and that which the opinion polls suggest is possible, while the Party maintains its links to its paramilitary past.

PROPERTY PRICERS STAGNATE, FALL IN IRELAND

The lending controls introduced by the Irish Central Bank in 2015 are continuing to have a depressing effect on the Irish property market. Data from the Central Statistics Office shows that overall property prices are up by 7.6% over the last year. But house prices actually fell by 0.5% in January of 2016 alone, with the falls in Dublin being even greater than this number. Construction of new housing units has also started to decline, having risen sharply in the early part of 2015.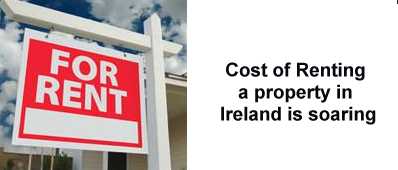 The Irish property market is in a unique position of having a scarcity of properties to buy, within certain markets, and also having a shortage of buyers who can beat the Central Bank restrictions. 1067 'first-time buyers' were able to get mortages in January 2016 but this paltry number represents a sharp fall of 23% from the previous January. A sure indication that the financial regulations are biting and that the cost of renting will continue to rise, with the knock-on effect of hopelessness increasing.

5000 EURO FILM SCOOPS OSCAR FOR IRELAND

Rathmines resident Benjamin Cleary spent 5000 Euro writing, producing and directing his first short film, called 'Stutterer'.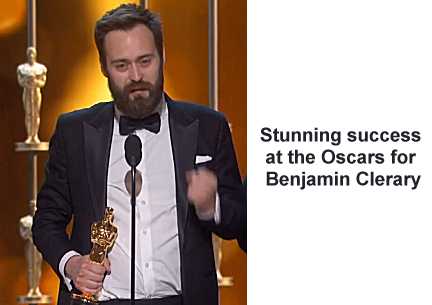 The result was a story about a man with a speech impediment that was to be honored by the elite of the Hollywood movie industry, winning an Oscar in a manner that can only be described as spectacular.

The Dubliner gleefully accepted the Oscar:
'Every day is a proud day to be Irish but today more so than usual. So everyone for all the support back home, thank you so much'

DONALD TRUMP DEMANDS THAT A WALL BE BUILT.... IN COUNTY CLARE

US Presidential hopeful and controversial reality TV host Donald Trump has demanded that a 10 Million Euro 2.8km wall be built around his Doonbeg Golf resort in County Clare.

Lawyers for the Billionaire have suggested that the resort could close unless the wall is built, fearing as they do that erosion could result in large swathes of the coastline disappearing into the Atlantic forever. In 2014 the severe storms in County Clare eroded the sand-dunes at the resort by as much as 8 meters.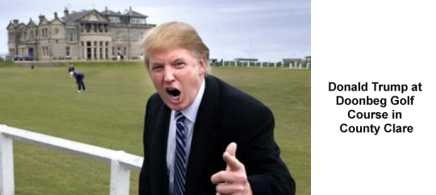 The proposed new barrier wall is to be 13 feet high, considerably shorter than that proposed by Donald Trump for the US-Mexico border.

KEEP THIS NEWSLETTER ALIVE!
FIND YOUR NAME IN OUR GALLERY OF IRISH COATS OF ARMS




SAINT PATRICK'S DAY TRADITIONS

THE 'WEARING OF THE GREEN'

The tradition of wearing Shamrock to celebrate Saint Patrick seems to date from the seventeenth or eighteenth century. This was a very turbulent time in Irish history. The suppression of the Gaelic way of life by the ruling British invaders resulted in many aspects of the Catholic religion in Ireland being forced underground. Strict laws were enforced which prevented the Catholic population from attending schools so 'hedge-schools' were operated in secret.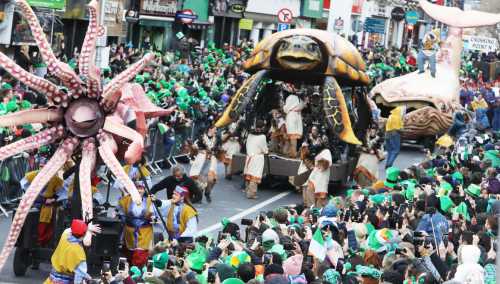 These were schools run outdoors in secluded places (sometimes literally 'under a hedge!). The teaching of religion was also forbidden so it is only to be expected that teachers would use naturally available resources to inform their pupils. Thus the Shamrock plant was used to illustrate the message of the Christian Holy Trinity.

Saint Patrick was credited with using the Shamrock in such a manner so the wearing of the Shamrock by the oppressed Catholic population became a means of demonstrating their defiance to the ruling British class. It also imbued a sense of kinship among the native Gaelic people, differentiating them from their oppressors.

Wearing a clump of Shamrock is now a firmly established tradition throughout the world to celebrate not just Saint Patrick but Ireland itself. The Shamrock symbol is widely used by businesses seeking to associate with Ireland and, along with the Harp, is perhaps the single most recognizable symbol of Ireland. It is a shame though that the Shamrock is not a blue plant as the color originally associated with Saint Patrick was blue!

SAINT PATRICK'S DAY PARADE

Saint Patrick's Day is unique in that it is celebrated worldwide. It is most unusual that a country has such an international celebration and is really evidence of the generational effects of emigration that has afflicted Ireland for centuries. After the 1845 to 1849 Irish Famine emigration soared with as many as a million native Irish leaving their homes in the decades after the famine to settle in places like Boston, New York, Newfoundland, Perth, Sydney and beyond. The US Census Bureau now reports that 34 Million US Citizens claim Irish descent. Most emigrants like to commemorate their heritage and thus the Saint Patrick's Day Parade came into being.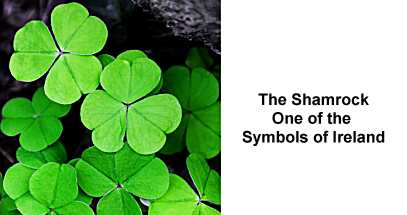 The earliest record of a Saint Patrick's Day Parade was in the year 1762 when Irish soldiers serving in the British Army held a Parade in New York City. Earlier records suggest that the day was celebrated by the Irish in Ireland as early as the ninth and tenth centuries.

Again, this was a very difficult time in Irish history with Viking raiders terrorizing the native Gaelic population. It is thus no surprise then that in times of strife the local population would turn to religion and to a commemoration of their own heritage and individuality - a practice that has been repeated by populations of troubled places since the dawn of time. The New York Parade is now the longest running civilian Parade in the world with as many as three Million spectators watching the Parade of over 150,000 participants.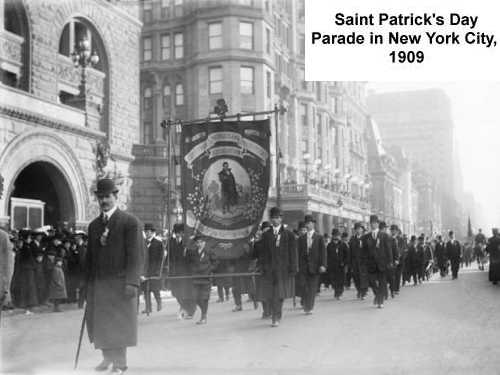 The first official Parade in Ireland was in 1931. The 1901 law that copper-fastened March 17th as an Irish national holiday was later amended to insist that public houses close down on the day. This restriction was later lifted in the 1970's. In the mid 1990's the Irish Government really started to promote the event when it changed from a single day's Parade into a 5-day festival attracting as many as a million visitors into the country. Parades are now held in just about every major city in the world with the biggest in several US cities reaching epic proportions.

A PINT OF PLAIN IS YOUR ONLY MAN

The Irish association with drinking is well known and not always positive. Fortunately there are plenty of examples of the appropriate use of alcohol and Saint Patrick's Day is one of them. It is a widely held tradition in Ireland that beer or whiskey can be taken on Saint Patrick's Day although native Irish pub-goers can only look on aghast as visitors top the heads of their creamy pint of Guinness with a green Shamrock. Sacrilege! It is estimated that as many as 13 Million pints of Guinness are consumed on Saint Patrick's Day, up from the usual 5.5 Million per day!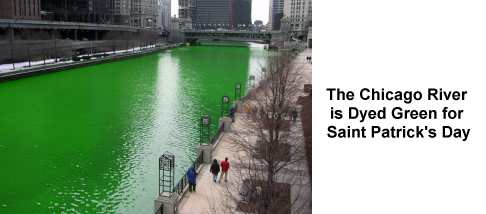 GREENING OF BUILDINGS AND RIVERS

The use of the color green reached new heights (or plunged new depths!) when in 1962 the city of Chicago decided to dye part of the Chicago River green. Since then the campaign to have just about every possible landmark turned green for the day has taken off in earnest and in recent years has included the Irish Parliament building, the Sydney Opera House, the Empire State Building, Niagara Falls and even the Pyramids of Giza in Egypt!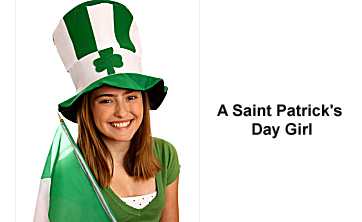 DRESSING UP LIKE A LEPRECHAUN

The tradition of dressing up in Irish outfits is not just confined to participants in Parades. Jovial creatures of Irish origin the world over use the opportunity of Saint Patrick's Day to dress up as Leprechaun or even as Saint Patrick himself. Kids love to wear the big green, white and orange hats and receive sweets thrown to them by similarly clad operators of the various Parade floats.

SAINT PATRICK'S DAY DINNER

Corned beef and cabbage is as traditional and Irish meal as you will ever find and it is often hauled out for Saint Patrick's Day. Traditional Irish music in the background and a family gathering are other Irish Saint Patrick's Day traditions that have been going on for centuries.





THE MIRACLE OF FISHING IRELAND'S PRISTINE WATERS
by Brian DeVon

Holidays were a crucial part of my young life. In fact I was convinced that everyone should be on holiday all the time. It was far better than the alternative, where everyone was away from home doing something called work. Work I understood early on, was a distasteful business, if it was not, why did everyone complain about it bitterly and worry about it and talk incessantly about such and such a person at work who, to me, appeared to be the cause of all ills.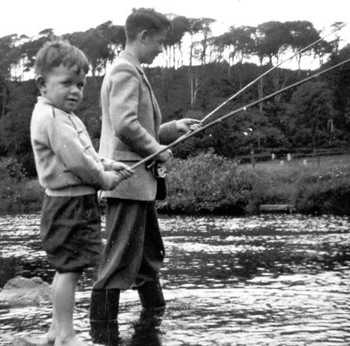 Work kept my father out of the house all day when I would have much preferred to have him home, work seemed an unnecessary affair that interrupted our otherwise pleasant life.

All this unpleasantness ended when holidays were declared to be imminent. Evenings were spent discussing far away places where fishing took place and swimming, whatever that was, was much anticipated. It was almost as exciting as Christmas. Christmas was a known event in our lives. Holidays however were a complete unknown.

I heard names like Stradbally and Killarney mentioned. Where were these exotic places and how would we get there and where would we live when there, it was all very worrying and exciting.

Higher parental powers decided the where's and why-fores of things and I was left to make sure important things like my fishing rod, catapult and Swiss army knife were packed. Any one of those items forgotten would have spelled catastrophe at the least. My fishing rod, I now see from the photo that you can view here, was a bamboo pole with no reel. But it was mine and held the key to untold adventures that lay ahead.

On the day holidays started we were up at the crack of dawn ready to pack the car, an old Austin Somerset, that I felt was a brand new and an exceptional motor car. We loaded up for the journey, packed lunch, drinks and vast heaps of luggage and set of on our journey. From my four year old perspective we were heading for an assault on the Himalayas, and would obviously be gone for six months, or perhaps a year.

After endless hours, many stops for toilet breaks, we arrived tired and relieved to be at our destination. I immediately wanted to commence fishing, since to me that was the reason for the trip, and according to the books on fishing I'd seen, the only reason to live. Bernard Venables was a famed British fishing writer, whose book 'Mr. Crabtree goes fishing' had been given to me by Santa, and was my bible. It was read to me frequently by my ever patient older sister, Breda. Many, many years later I still have it an enjoy it just as much as I did in those innocent days.

I was persuaded that the next morning would be the best chance for fishing and reluctantly went to bed with Mr. Crabtree under my pillow and in my dreams.

The next morning I was waiting patiently when the first bleary eyed member of the household stumbled into the kitchen. They're minds may have been set on tea and coffee but mine was fixed on fishing.

After endless nagging I was brought to the secret fishing place and clumsily cast my first line. I was immediately surprised not to catch a fish. Mr. Crabtree and his son Peter always caught a fish!

I persevered and eventually felt the electric shock of my first strike. I'd memorized every word of Mr. Crabtree's wisdom and knew how to land my wiggly monster trout.

The excitement was almost to much to bear. It was even more exciting than the anticipation and was the most thrilling moment of my young life.

I needed to share the news and excitement and rushed off to tell my parents and brothers and sister and even strangers I met on the way. What a moment, I'm still excited today, all these years later.

The next day I fished again but without much luck, I did begin to understand that the pleasure was as much the fishing as the catching of fish.

Next day was Sunday so all was put on hold to put on 'the Sunday best' and make tracks for church. This was apparently more important than fishing. At least the parents thought so! I was not so sure.

I dutifully accompanied my well dressed family to the church and shuffled into an open pew with them. Holy ceremonies began, hymns, sermons, communion, etc., went on seemingly for hours.

My mother, the religious anchor of the family was disturbed by something throughout the affair and eventually turned to me in an accusatory manner and said 'whats that smell?!' 'What smell I offered'
'a horrible smell' she said, 'smells like it's coming from you.'
Innocent that I was I asked 'is it this?' and pulled the two day old trout from the pocket of my Sunday best.

Mothers face took on a familiar expression, she straightened her shoulders against another of one of life's challenges, took firm hold of my ear and marched me out of the church.

I was proud of that trout, my first catch, I think of it every time I hook a fish and I think of my mother, the dignity she tried to protect, the battles she fought on behalf of her family and the pride she held for all of us.

~~~

Brian DeVon is author of the 'Flavour of Ireland' website at: http://www.flavorofireland.com



GAELIC PHRASES OF THE MONTH
| | |
| --- | --- |
| PHRASE: | Scileann fíon fírinne. |
| PRONOUNCED: | Skill/awn fyun fir/in/eh |
| MEANING: | Wine lets out the truth |
| PHRASE: | Gura slán an scéalai |
| PRONOUNCED: | gur ah slawn on skale e |
| MEANING: | the person bearing the news be safe |
| PHRASE: | Is fear rith maith ná drochsheasamh |
| PRONOUNCED: | is far rit mot nah druck/shass/ubh |
| MEANING: | A good run is better than a bad stand |

View the archive of Irish Phrases here:
https://www.ireland-information.com/irishphrases.htm


COMPETITION RESULT

The winner was: febergin@yahoo.com
who will receive the following:
A Single Family Crest Print (US$24.99 value)


Send us an email to claim your print, and well done!
Remember that all subscribers to this newsletter are automatically entered into the competition every time.







IT'S NEARLY
SAINT PATRICK'S DAY!
MARVELOUS GIFTS FOR GATHERINGS, WEDDINGS & BIRTHDAYS
FREE DELIVERY TO YOUR DOOR






---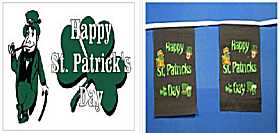 Saint Patrick's Day Bunting and Flags
From US$19 Delivered


---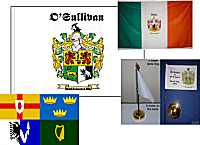 Family Crest Flags, Ireland Flags, Wedding Flags, Four-Province Flags, Erin Go n Flags. Great Selection.
From US$19 Delivered


---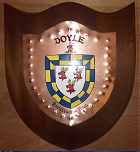 Incredible Family Crest Plaques Made in Ireland

---

Erin Go Bragh Flag


St. Patrick's Day Flag


Connaught Province Flag


Leinster Province Flag


Fields of Athenry Flag


Soldiers Song Flag

---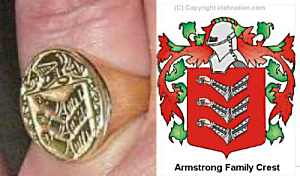 BIG REDUCTIONS!
Stunning Family Crest
Signet and Seal Rings

---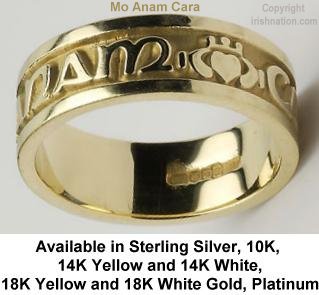 From US$69 Delivered

BIG REDUCTIONS!
Stunning Engraved Rings from Ireland with Irish Language Phrases.
Mo Anam Cara:
My Soul Mate
Gra Dilseacht Cairdeas:
Love, Loyalty, Friendship
Gra Go Deo:
Love Forever
Gra Geal Mo Chroi:
Bright Love of my Heart

---

DISCOUNTED FOR A LIMITED TIME
Elegant Cufflinks

---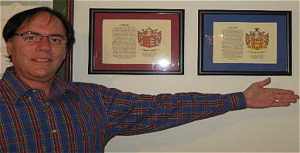 Superior Framed
Family Crest Parchments

---
Ireland Family Crest Flags

More Info
US$49.99 - Free Delivery



OUR VERY BEST-SELLER!
Get Your-Name on a Heavy-Grade Polyester Flag. Marvelous for Outdoor Display and Indoor Occasions.

---
White-Background
Family Crest Flags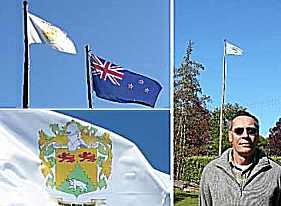 More Info
From US$19.99 - Free Delivery

---
'Your-Name' Old Irish Sign
NEW DESIGNS!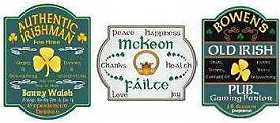 From US$34.99 - Free Delivery

---

MADE IN THE WEST OF IRELAND!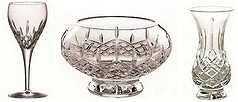 BIG REDUCTIONS!
Gorgeous Glistening Galway Crystal delivered to your door from the historic West of Ireland.

---
Incredible Irish Coin Jewellery
Wonderful Thoughtful Gifts. Hand-made, polished and plated designs cut from genuine Irish coins.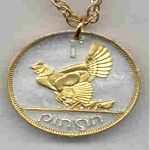 ---

New Designs available
on our Coffee Mugs

---

Personalized Licence Plate

---


Personalized First Name Plaque. Great for Kids!


---

New Designs available
on our Coffee Mugs

---

'Your-Name'
Polo & Tee Shirts

---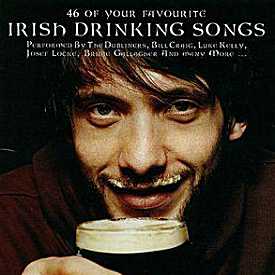 BEST-SELLER! 46 Irish Drinking Songs by Various Artists - including Molly Malone, Mary from Dungloe, The Wild Rover


---


BEST-SELLER!
32 Great Songs of Ireland (2-CD Set) - The Mountains of Mourne, Galway Bay, Danny Boy and dozens more.


---

50 Irish Drinking Songs - Packed with Irish Favourites: Do You Want Your Oul' Lobby Washed Down?, Spancil Hill, The Spinning Wheel and many more



SEE MORE GREAT OFFERS AND DISCOUNTS AT:

IRISHNATION.COM

FREE DELIVERY FOR A LIMITED TIME!