==================================================================
KEVIN BARRY - 18-YEAR-OLD MARTYR OF THE IRISH WAR OF INDEPENDENCE
==================================================================

There are few deaths associated with the Irish fight for independence as poignant or as tragic as that of Kevin Barry who was hanged when just 18 years old.

Born in 1902 in Dublin he grew up both in the capital city and in County Carlow. He enrolled in Belvedere College in the very heart of Dublin in 1916 and joined the Irish Volunteers, a nationalist organisation. In 1919 he enrolled in Dublin University to study medicine. The Michael Collins led War of Independence was developing and Barry, as Section Commander, played his part in various raids around Dublin city.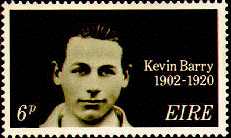 On September 20th 1920 he took part in one such raid that was to have the gravest of personal consequences. The raid developed into a full-blown gun-battle on the streets during which three British soldiers were killed. This was of huge significance as the dead soldiers were the first British military deaths in Ireland since the 1916 Easter Rising that had changed Irish history forever. Barry hid under a truck as the British searched for him but was discovered when a passer-by, concerned for his safety underneath the huge vehicle, inadvertently warned the soldiers of his whereabouts.

Reports of his torture in Mountjoy Jail soon circulated but Barry refused to name his comrades and was given a death sentence that was widely believed would be commuted to a prison term. It was believed that the British authorities would not dare to execute an eighteen year-old.

As the deadline for his execution approached the situation became more and more desperate. A planned rescue by Michael Collins came to nothing when reinforcements from Dublin Castle were ordered to the prison because of the large crowds that had gathered outside. It was reported that Barry had requested to be shot by firing squad rather than be hanged, which he viewed as a death not befitting a soldier. The hangman, Ellis, had to be brought into the country from England, as no-one in Ireland could be found for the job. The calmness and bravery the young Barry showed in the hours leading up to his execution has become the stuff of legends. Despite protestations from clerics and politicians alike he was hanged in Mountjoy Jail on November 1st, 1920.

Some lessons are never learned. After the 1916 Easter Rising the British authorities had badly misjudged the situation, executing the leaders, Pearse and Connolly among them, creating instant martyrs, turning public opinion in favour of the rebels. Had they simply imprisoned the leaders of 1916 it is possible that the huge upsurge in support for Irish nationalism would not have taken place, and certainly not as quickly as it did.

By executing a man of such tender years, a teenager as Kevin Barry was in 1920, the British again handed the Irish Republican Army a huge propaganda victory, albeit at a terrible cost. Young recruits flocked to join the IRA in the War of Independence, which in turn led to the Treaty, the Partition of Ireland, the Civil War, Independence and all that has occurred since.

It was reported that Michael Collins bitterly regretted not being able to save the young volunteer.

~~

The famous song 'Kevin Barry' was penned shortly after his death and is still revived in ballad sessions in Ireland to this very day:

1. In Mountjoy jail one Monday morning
High upon the gallows tree,
Kevin Barry gave his young life
For the cause of liberty.
But a lad of eighteen summers,
Still there's no one can deny,
As he walked to death that morning,
He proudly held his head on high.

2. Just before he faced the hangman,
In his dreary prison cell,
The Black and Tans tortured Barry,
Just because he wouldn't tell.
The names of his brave comrades,
And other things they wished to know.
'Turn informer and we'll free you'
Kevin Barry answered, 'No'.

3. 'Shoot me like a soldier.
Do not hang me like a dog,
For I fought to free old Ireland
On that still September morn.
'All around the little bakery
Where we fought them hand to hand,
Shoot me like a brave soldier,
For I fought for Ireland.'

4. 'Kevin Barry, do not leave us,
On the scaffold you must die!'
Cried his broken-hearted mother
As she bade her son good-bye.
Kevin turned to her in silence
Saying, 'Mother, do not weep,
For it's all for dear old Ireland
And it's all for freedom's sake.'

5. Calmly standing to attention
While he bade his last farewell
To his broken hearted mother
Whose grief no one can tell.
For the cause he proudly cherished
This sad parting had to be
Then to death walked softly smiling
That old Ireland might be free.

6. Another martyr for old Ireland,
Another murder for the crown,
Whose brutal laws to crush the Irish,
Could not keep their spirit down.
Lads like Barry are no cowards.
From the foe they will not fly.
Lads like Barry will free Ireland,
For her sake they'll live and die.




KEEP THIS NEWSLETTER ALIVE!
Solve your gift problem at: https://www.irishnation.com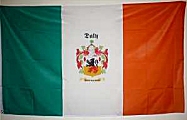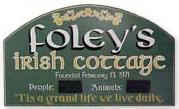 ========================
THE BLOOD OF THE NAILER
by Michael Ryan
========================

In 1995 my wife Kathleen and I, along with her Aunt Mary McNeal and Kathleen's cousin Denise McNeal visited my family in Tuam, Co. Galway.

While there we found out that my cousin (and head of the clan) John Joe Ryan passed. It was reported that 8 months after his wife, Bridie passed, he walked out to the fields and lay down and died. His son Gerald found him and brought him back to the farm house and the doctor responded and stated that it was not his heart since he had his tablets (nitro) in his pocket and the flap of the pocket was still on the outside, so he wasn't going for the tablets. He also said that there was no pain because there was no dirt under his fingernails from clutching at the earth if he were in pain and didn't there appear to be a slight smile on your man's face.

He missed his wife of so many years that he just went out to the fields he worked his entire life and lay down and went to his wife. So the doctor said that he died of a broken heart. He was laid out at the farm for the first 24 hours so that the neighboring farmers and family could pay their respects. Then he was moved to the funeral home in Tuam and was there for just 24 hours before being driven by the farm and then to the church where he laid in the center aisle overnight. Across from the church was the pub. So after praying and having benediction everyone walked across the street to the pub to celebrate the deceased life.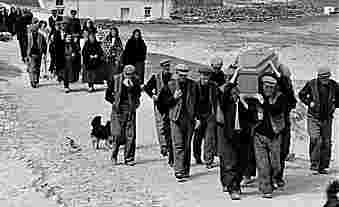 It was there that an elderly gentleman asked my name and I told him that it was Michael Ryan. He said no, what is ye name? I repeated Michael Ryan, a little slower and a little louder. The same elderly man again repeated his question and I again gave the same answer only again slower and louder. Then he said, I am Michael Patrick Ryan, this is Michael James Ryan, this is Michael Thomas Ryan. Now what is ye name? Then I said Michael Francis Ryan and that was the answer he was seeking. He asked if I was a Yank and I said yes. So, says the man, what is ye relationship to the deceased, May God Rest His Soul. I told him that the deceased father was a brother to my grandfather who left for America in 1908. He asked what his name was and I told him that his name was the same as the deceased, John Joseph Ryan and that the deceased was named after him. The elderly man turned to Michael James and asked, didn't they all have the nickname back then? Aye was the answer.

So to me again Michael Patrick asked, do ye happen to know your grandfather John Joe Ryan's nickname when he left for Amerikay? I told him that I had recently found that my grandfather was known as The Nailer. The elderly gentleman yelled out, dear God in Heaven give the Yank a pint in each hand. He is the blood of the Nailer! And almost immediately I had a pint of porter in each hand! It seems that my grandfather was known far and wide and that if anyone came into the county and started trouble they would send for my grandfather 'and you were nailed just one time and you would wake up in hospital or another county altogether!'

The Requiem Mass was the following morning and the body was interred in the family plot in Tuam. They still used shovels and rope to lower John Joe to his final resting spot. Then there was a celebration of his life at the hotel in Tuam. There were sandwiches and drinks for the family and friends in attendance. The travelers (I think that there was a standard of having traveled at least 200 miles) were then told to go to the upper room where an entire hot meal was laid out along with drinks. It was established that Kathleen, her Aunt, cousin and I were the ones who had traveled more miles than the rest and it appeared that title was a bit of honor.

We returned to the lower level and many drinks were consumed by all in attendance. Then after a while we returned to the farm with the immediate family of cousins and the wake continued for many more hours, involving singing and story telling of the many accomplishments of the deceased, John Joseph Ryan. My father, Michael F. Ryan, never told me about my Irish roots. I found out from my Aunt Rita, my Dad's sister, that their parents (my grandparents) did not talk of Ireland. They were American citizens and that was the important part of their new life.

All of the male children, my Dad and his male siblings, volunteered for military service during WWII. My Dad never went to Ireland, he never talked about it and I now feel so sorry for him to have missed that connection in his life. I had met John Joe for the first time in 1984 when we went to Ireland for our honeymoon. We visited again in 1986 and again in 1995 when he passed. But we had made a great connection and I met and visited with all my cousins (his children) every trip over.

We have been fortunate enough to make the trip several more times, the last being 2005; and my singing group, Amhrania Na Gaeilge, sang our way across Ireland in 2002. We are saving our pennies again to try to get over at least one more time while I am on the top of the grass. I have been so blessed with a wonderful, beautiful wife who understands the need to connect with our family in Ireland. And God has allowed us to meet these fantastic relatives and get to know them. So, I suggest that if you know that your family came from Ireland, do yourself a great favor and get over there and find them. You can do research before leaving and you can write or call in advance. But just do it !

You will never regret the fabulous time in Ireland.

Michael Ryan
Baltimore, Maryland, USA



================================
GAELIC PHRASES OF THE MONTH
================================
| | |
| --- | --- |
| PHRASE: | Gabh isteach sa seomra folctha agus nigh tú féin |
| PRONOUNCED: | govhh ihh-stochk suh showm-rih fulk-cheh ogg-us knee two fayn |
| MEANING: | Go into the bathroom and wash yourself |
| PHRASE: | Gheobhaidh mé bosca nua sópa |
| PRONOUNCED: | yeo-igg may buska new-ah suppa |
| MEANING: | I will get a new box of soap |
| PHRASE: | Faigh tuáille úr ghlan |
| PRONOUNCED: | fie-igg tool-ah ur glann |
| MEANING: | Get a clean fresh towel |


View the archive of phrases here:
https://www.ireland-information.com/irishphrases.htm





KEEP THIS NEWSLETTER ALIVE!

Get Great Family Crest Gifts at:





===================
COMPETITION RESULT
===================

The winner was: seymour-sykes@t-online.de
who will receive the following:
A Single Family Crest Print
(US$19.99 value)





Send us an email to claim your print, and well done!
Remember that all subscribers to this
newsletter are automatically entered into the
competition every time.





I hope that you have enjoyed this issue.





by Michael Green,
Editor,
The Information about Ireland Site.
https://www.ireland-information.com
Click here to contact us

Google+
&nbsp &nbsp PLEASE 'LIKE US' ON FACEBOOK!




KEEP THIS NEWSLETTER ALIVE! Visit https://www.irishnation.com



(C) Copyright - The Information about Ireland Site, 2014
P.O. Box 9142, Blackrock, County Dublin, Ireland Tel: 353 1 2893860