'Hurry today love, there's a lot that needs to get done. We have to catch the early bus into Bray to pick up the turkey!'
My mother spoke fast and very excitedly as she handed me the empty milk pail. It was early in the morning on Christmas Eve. I put on my wool coat and hat, grabbed the milk pail and ran out the door. I was about twelve years old. Running across the fields to the Massey Farm, I could see the small footprints I made in the frosty morning grass, and I could feel the hard ground beneath my feet. My breath felt bitter cold in the thick veil of foggy dew that was rising slowly from the ground all around me. Not a sound could be heard from the robins or the sparrows this morning – the air was far too cold for any birdsong. The handle from the metal pail left red marks on my bare hands and I ran as fast as I could to stay warm until I reached the old milk parlor. I dropped off the empty pail, picked up the full one, and walked carefully back home across the fields making sure I did not spill any milk along the way. I knew my mother would know, somehow she always knew if I had spilled any of the milk.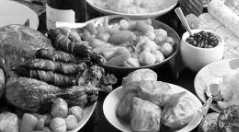 She had her purse out and her list ready. At the top of the list were the turkey and the ham, then the brussels sprouts and the carrots and parsnips. The turkey had been on order at the butcher's shop for weeks, but she liked to have it in her hands early on Christmas Eve as she had to make sure there was enough stuffing prepared to feed our large family of thirteen and Aunt Peggy. After we had picked up the turkey and the ham and the vegetables and a big box of Christmas crackers we headed back down the busy street towards the bus stop, both of us with our arms full of shopping bags. On the journey home as I chomped on a bar of Dairy Milk Chocolate, she chatted away to me in nervous anticipation of the big day ahead, It was like she was running through in her mind all the preparations that needed to be done.
'I'll make the stuffing once I get in, and you and Pauline can peel all the potatoes and vegetables and put them in pots of water on the stove top. The cake and the pudding are ready and Dad has the whiskey and the Guinness. Angela will whip up the cream tomorrow so it will be nice and fresh and then we'll be all set' she went on, sometimes repeating herself. 'Do you think it will snow for Christmas Day, Ma?' I asked her again. 'Well, it sure feels like it love, it's certainly cold enough but we'll have to wait and see' she replied matter of factly. The Christmas tree was already up and decorated. My brothers had collected plenty of holly and firewood from the local forest and the fireplace mantle had been decorated festively with lots of red berried holly and red candles. The holly was also placed on top of all the picture frames throughout the house.
I remember walking to Midnight Mass with my family. Over the road we all went and up the hill to St. Killians as the familiar church bells rang out across the dark, cold village. It was the one night of the year I was never afraid to be out in the dark. My five sisters and I were dressed in new red wool tights and matching red ribbons in our hair. Even though our coats and shoes were old and worn, on that night all we saw were the new red tights and the new ribbons in our hair. My father, a very proud ex-military man from the Irish Army, insisted on all of us having clean shoes for Mass and every Saturday night his job was to clean and polish all the shoes. He laid out thirteen pairs of shining, polished shoes on the back doorstep ready for us all for Sunday morning's Mass.
I remember the priest placing baby Jesus in the manger and lighting the red candle in the hanging lantern by the straw. The choir sang out the familiar carols to the sound of the beautiful old church organ, and it was like the whole world had lit up. Our family filled the whole pew, my mother smiled over at me and my father smiled and nodded his head back at my mother. All seemed well with the world that night.
After Mass, my mother placed a large candle in the front window as was the custom back then, to symbolize a warm welcome in our home to the baby Jesus, and to any strangers or neighbors that would be out on that holy night. The lighted candle in the window and the handmade holly wreath on the green front door will forever remain etched in my memory.
My father, who was a very good cook, put the turkey in the oven and sat by the fire with a glass of whiskey. He basted the big plump turkey throughout the night with a large metal spoon. He had just the lights of the Christmas tree and the blazing fire glowing in the room as he nodded off and on in his armchair. Back then cooking a turkey was an all night affair, and I remember him saying that it had to be cooked 'easy and slow'. There was never a complaint from him even though he knew he had a long days work ahead in the kitchen the next day.
With great wonderment and delight I awoke very early in the morning to a small doll with black hair and a frilly blue bonnet at the end of my bed. There was a big pop-out book called 'Pinky and Perky' and some chocolates and crayons wrapped up in red Santa paper. Santa had come! My sisters and I immediately began to eat the chocolates. Mid-morning, our elderly neighbors Joe and Molly, who had no children of their own, came over for their Christmas glass of whiskey and a slice of mothers Christmas cake. As they all sat on the sofa by the fire they raised their glasses.

'To your good health Jim and Carmel' they toasted. 'And to you too! May we all be around this time next year! Please God!' replied my father as he raised his glass and smiled. To this day the smell of Jameson's whiskey reminds me of Christmas morning.
Since we only had the one room for entertaining and dining we had to wait for Joe and Molly to leave before we six girls got very busy setting the table with all kinds of good things: slices of ham and turkey, roast potatoes and colorful vegetables, and a big jug of gravy. There was an extra wooden section of the table inserted to accommodate fourteen people, our family of thirteen and my Aunt Peggy who lived with us. A Christmas cracker was placed on each plate. With red and green paper hats on our heads and a full glass of lemonade or wine in our hands we all shouted 'Happy Christmas!' and toasted one another.
'Sure this is great,' my father always said as he carved the big turkey. 'What more could we ask for? I mean it, what more could any of us ask for?' He discreetly kissed my mother on the cheek. This was the one day of the year when there was food and drink aplenty and you could eat away to your heart's content. Amidst great chatter and joke telling we sat around and ate our fill by the big blazing fire. We paused after dinner to hand out our presents to each other that we had bought with our saved money. They were small gifts: candy or chocolates, mittens, scarves, or my sister Eileen's handmade handkerchiefs and tea cozies.
With record speed the girls cleared off the table and washed all the dishes to get ready for dessert. My mother and father heated up the slices of plum pudding and prepared the whipped cream and custard – a great ending to our Christmas dinner.
Neighbors and friends dropped in and out to say hello in the afternoon and to have a drink by the fire and to tell a joke or two. We would often break into song as we played with our toys and board games and the boy's played cards and read books that they had received from Santa.
Later in the evening my mother made a big pot of tea and we all had a slice of Christmas cake and a warm mince pie. Christmas day was winding down now, soon to be over for another year.
Now that I am older I often reflect on my simpler, childhood Christmas's and I believe my father was so right. 'What more could we have asked for?' We did indeed have it all! We had each other, a big loving family living in a three bed roomed cottage; not rich by any standards, but we had lots of food and a big glowing warm fire. The sights and sounds of Christmas past will always remain with me in my heart.
I hope you all have a joyful Christmas with the one's you love, wherever you may be and I wish you all a very happy and peaceful New Year, full of goodness and blessings.
Marie O'Byrne. Kingsburg, California.
www.marieobyrne.com