A megalithic tomb on the Dingle Peninsula in Kerry known as 'The Giant's Grave' has been connected with the equinox.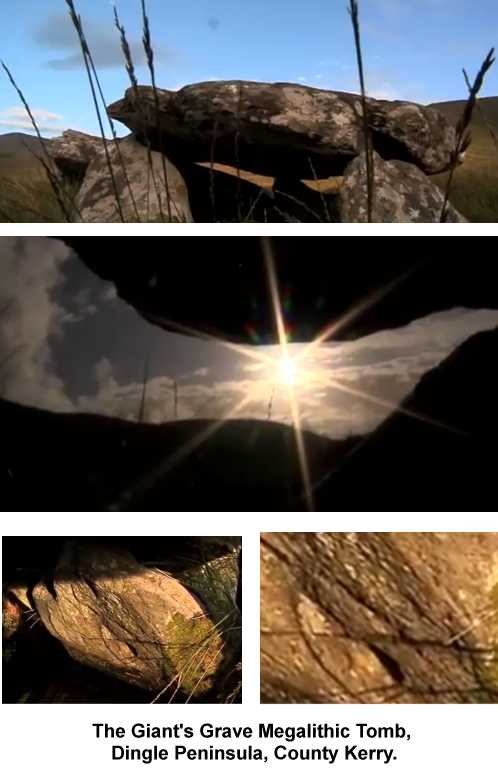 Or rather, more correctly, it has been connecting with the equinox for more than four millenia. The Equinox occurs twice a year when the plane of the earth's equator is aligned perfectly with the centre of the sun. The event marks the moment at which days and nights are equal and were thus ancient indicators of the impending change in the seasons.

A discovery by former schoolteacher Daithí Ó'Conaill has caused amazement as he has discovered that the tomb is perfectly aligned to the setting sun at the equinox. The tomb therefore marks the very end of the Summer season with the days shortening upon the arrival of Winter and is testament to the incredible creativity and engineering skills of our ancient Irish ancestors.

A carving within the tomb known as the 'cup and circle' marks the point within where the setting sun finally, and perfectly, lands.

Archaeologist Míchéal ÓCoiléain has extensively surveyed the site:
'Daithí's discovery is wonderful and it goes to show that people living 4000 years ago are aware of movements of the sun. They are agricultural communities, so to know when the longest days of the year, the shortest, and when the equinoxes fall is so important. To construct such a perfectly positioned monument required remarkable expertise and knowledge.'

In October of 2016 a passage tomb was discovered at the infamous 'Hellfire Club' in the Dublin mountains, so these are proving to be excellent moments in the exploration of Ireland's ancient past.