ARE YA STARTIN?

Universally accepted as an invitation to fight.

'Did you rob my beer?'
'No, you starting are ya?'
'You did dint ya?'
'Ya startin!!!'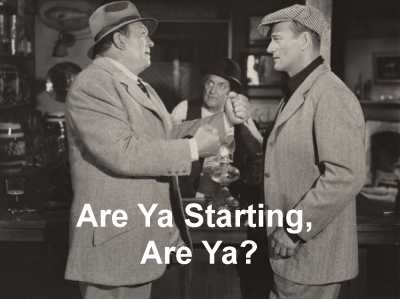 GO AWAY OUT OF THAT
Often used as a stalling tactic while a suitable response is formulated within the recipients mind.
'Did you rob my beer?'
'Will you go way out of that?'
'You did didn't ya?'
'Go on will yah, go way!'
SOME NECK ON YA

Having a 'brass neck' or 'some neck' is generally regarded as being a characteristic of a chancer, a person who takes a few liberties.
'So you were out until all hours last night, show up late for work, took two hours for lunch and now you're leaving early! You have some neck on ya.'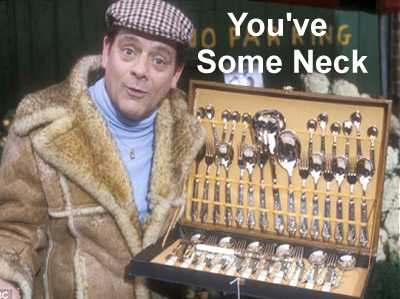 SKINNY MALINK

Very Dublin phrase to describe a person of slender features.
'Will you look at the state of her over there, theres more meat on a hamster, the skinny malink.'
Also used in an old Childrens rhyme/song: (a melodeon is a type of accordion)
Skinny malink
Melodeon legs,
Big banana feet,
Went to the doctors
And couldn't get a seat.
When he got a seat,
He fell fast asleep
Skinny malink
Melodeon legs,
Big banana feet.
A RIGHT SHOWER

Not a commentary on the Irish weather where it can rain at any time or place, indoors or out, but rather a remark aimed at a particular group of miscreants.

'See that crowd over there? They've been lifting beer all night. They look like they could start at any moment. A right shower of clowns.'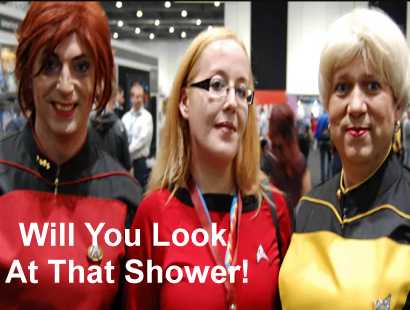 A CLOWN

Often used as a low-grade term of endearment it can also be used to convey mild disdain or contempt upon an individual or group of people.
A QUARE HAWK

Weird, strange people who do weird strange things are often referred to as 'quare hawks'. This is in a different class to 'a clown', and is more sinister.
A FACE LIKE A BAG OF HAMMERS

The word hammers in this context can be substituted for any other item that might be, let us say, of a less than attractive nature.
'He had a face like a bag of crabs! And his missus had a face like a bag of hammers!'
SNARED RAPID

To be snared is, unsurprisingly, to be caught, so the addition of the word 'rapid' implies that the perpetrator was caught in the act or caught red-handed.
'That quare-hawk was eyeing up me missus. Snared him rapid I did.'
SAID NOTHING

'I said nothing to no-one about nothing, and keep sayin it.'
Translation: I said nothing.
UPSTAIRS FOR THINKING, DOWNSTAIRS FOR DANCING

Often used as an adornment to a compliment to a person.

'So you managed to skive off work the moment the boss left for a meeting – would you not be snared rapid?'
No chance! I got me mate to clock me out.
Good man! Upstairs for thinking, downstairs for dancing.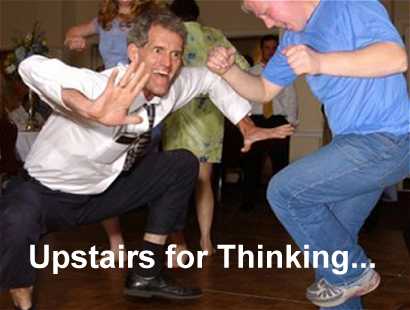 SKIVE OFF

To skive off is to disappear from a place of employment but also applies to someone only half-heartedly engaged in an activity.
'The lads were giving me a dig out, except for that spanner, he was skiving off'
A SPANNER

1. a useful tool frequently used by plumbers.
2. a clown or eejit from Ireland.
WOULD YOU TAKE ME GRAVE AS QUICK?

Frequently used in a pub situation where the offerers seat or chair has been seconded by a usurper.
A serious enough offence!
Read More:

5 Insults You Will Only Hear in Ireland

5 Words You Will Only Hear in Ireland