The 'Save No 16 Moore Street' Committee has called on the Irish Government to provide funding for the restoration of a building in Dublin City Centre that is central to the story of the Easter 1916 Rising.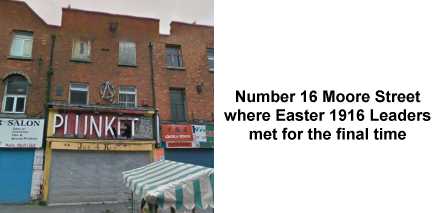 The unassuming building that is just yards from Henry Street and the GPO was the location where the leaders of the Easter 1916 Rebellion decided to surrender their arms to the overwhelming British forces that were stacked against them. The Committee hopes that the building will be restored and turned into a museum in time for the 1916 centenary commemoration in three years time.
The new museum would display the famous 'Proclamation of Independence' and the original letter of surrender. Plans to demolish the building were uncovered by the Committee in 1999 who launched their successful campaign to have the demolition plans scrapped.
"We have saved a lot of what's left of the 1916 Rising" a spokesperson said.
The Easter 1916 Rising was a pivotal moment in Irish history. Although a military disaster for the rebels the execution of the leaders including Padraig Pearse and James Connolly radically swept public opinion against the British. The remaining rebels then instigated a War of Independence under the guidance of Michael Collins and Eamon deValera. The Anglo-Irish Treaty, the resulting Civil War and the Declaration of Independence in 1948 all trace their origin to the Easter RIsing.
You can find our more about the plans for the museum in this video:
Click Here to get a Free History Report about the Easter Rising