A new Public Health Bill is to introduce minimum pricing for alcohol products based on the alcohol content of the drink.





The new laws are an effort to reduce the consumption of cheaper high-alcohol beers, wines and spirits. For the first time products will be targeted based on the actual amount of alcohol they contain.

Other new measures include:
* From 2016 alcohol advertising on TV and Radio is to be confined to evening time.
* Advertising of alcohol in Cinemas will be confined to over-18 movies only.
* Outdoor advertising of alcohol will also be restricted.
* Supermarkets and other outlets will have to relocate alcohol products to their own separate location within a premises.
* All alcohol products will in future carry health warnings (but significantly not with the kind of graphic pictures used on cigarette packets).
The President of the Irish Medical Organisation, Dr Matthew Sadlier, welcomed the new regulations:

"In Ireland, despite high excise duties alcohol has become increasingly more affordable. Under a minimum pricing structure, the price per unit becomes more expensive particularly affecting demand by younger binge drinkers and excessive harmful drinkers. Thus minimum pricing can reduce alcohol-related harm without necessarily penalising moderate drinkers."
The new laws have been criticized for not going far enough and especially for not banning the sponsorship of sporting events by alcohol companies. In a surprising 'pact with the devil' the Irish sports lobby successfully persuaded Government that the withdrawal of sponsorship by the alcohol companies would severely impact on funding for sporting activities.
Pat Hickey, the President of the Olympic Council of Ireland, clearly disagreed with some of his colleagues in the Irish sporting community and responded by launching a scathing attack on the drinks industry in Ireland and particularly on the veiled threats by Diageo to reduce its investment in Ireland should a ban on drinks-industry sponsorship of sporting events be implemented:

I thought it was an absolute disgrace to read a report of an international company, Diageo, making an attack on the Irish Government and the Irish State about how they should conduct their business and investment. This is a multinational that has no interest whatsoever in Ireland except they happen to have a product beginning with 'G' and they promote that in Irish pubs just to get bigger profits around the world.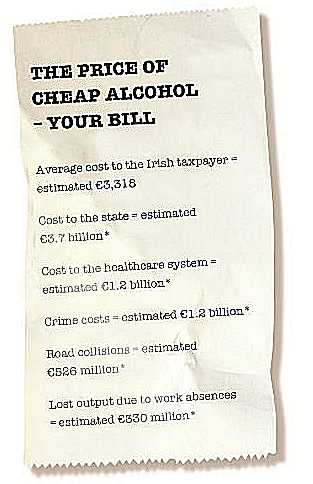 A report that was recently published by the Health Research Board revealed that 58% of Irish people think the Government is not doing enough to reduce alcohol consumption. 85% of those surveyed believe that the current level of consumption of alcohol in Ireland is far too high. Average consumption in the year 2010 was 145% higher than the average amount consumed in the year 1960, a huge increase by any standard.
While the drinks industry in Ireland may be concerned at the new regulations they will surely be celebrating their most recent success at being able to continue their sponsorship of Irish sporting events.
Where they can recruit new and young devotees.
And all aided and abetted by the Irish sports lobby!