It is a sign of the economic times that social welfare is again being targeted by a broke Irish government. Years of austerity, cutbacks and tax hikes have not yet been enough to balance the books in Ireland so the next target is those people who have already lost their jobs.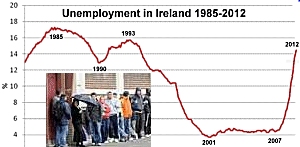 The 'Jobseekers Allowance' is usually paid for 12 months after unemployment begins but it is likely this will be cut to 9 months after which time the allowance will become subject to a 'means test'. Such an individual examination of a persons income is likely to result in the amount paid being reduced. There are also a percentage of people who would be more encouraged to seek out work rather than endure a means test and a likely welfare cut.
This so called 'labour activation measure' could affect as many as 40,000 people in Ireland and is certain to be greeted with hostility by sections of the Labour Party who are currently in coalition with Fine Gael. The measure is likely to be yet another wedge to be driven between the two government parties in what is becoming a regular occurrence. The chances of Labour actually leaving Government though are pretty remote. Their public support has plummeted in recent months if the opinion polls are to be believed and any short-term election would see the party severely punished.
More likely Labour will try to water-down or even prevent the new measures from being implemented. With other big issues such as the abortion legislation and the 'Croke Park Agreement' also on the horizon it looks like the differences between Fine Gael and Labour are once again about to be brought into stark relief. Much to the delight of the opposition parties.