A report commissioned by media group UPC has revealed that as much as 6 Billion Euro could be contributed to the Irish economy by 2016, thanks to an increase in ecommerce activity. 2012 is expected to see spending of 3.7 Billion Euro, rising to 5.7 Billion Euro by 2016. This figure would constitute 7% of all consumer spending in Ireland. The report found that Irish adults who shop online spend an average of 116 Euro monthly. 80% of Irish adults now use the internet regularly, up from 50% in 2007. 45% of Irish consumers have made on online purchase in the last year, up from 36% in 2010 and matching the EU average.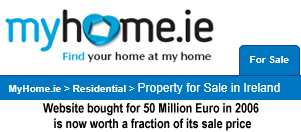 This number compares poorly though with the UK where 71% of consumers made purchases in the previous year. A significant difference between the two markets is that as many as 1 in 5 UK consumers buy their groceries online while in Ireland the figure is 1 in 20. The UK is now the worlds second biggest internet market in terms of sales value and is surely a market that Irish export businesses should be focusing on.
The 'State of the Net' publication by the Irish Internet Association has mirrored these findings detailing that there has been an increase of 20% in business marketing budgets being spent on promoting online businesses in Ireland. This compares with an overall 4% decline across other marketing media with newspapers suffering badly. 70% of Irish businesses now have a Facebook presence, 61% are on Twitter while 44% have their own Youtube channel.
It has not all been good news for Irish internet businesses though. The Irish Times newspaper recently sold its ireland.com domain name to Tourism Ireland for 495,000 Euro – quite a return on the 3000 Irish punts they reportedly paid for it in the 1990's. Sounds great except that the same Irish Times paid 50 Million euro for myhome.ie at the very height of the property hysteria in Ireland, only to see its value plummet when the property market crashed. The Irish Times was one of the first sites in Ireland to offer paid content with subscribers paying an annual fee to access content not available to unregistered users.
As a result of the deal the 15,000 ireland.com customers and email account holders have been unceremoniously ditched. Lets hope they backed up their email.