A survey released by the Economist Intelligence Unit (EIU) has revealed the best countries in the world to be born in during 2013.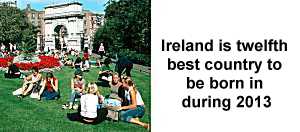 The results mirror a recent OECD 'Better Life Index' which listed Ireland as the fifteenth happiest country in which to live. That survey placed Ireland behind Denmark, Norway, Switzerland, The Netherlands, Austria, Finland, Australia, Canada and Sweden while the US placed twelfth and the UK fourteenth.
It is no great surprise that the Scandinavian countries once again dominate the EIU list but it is Switzerland that tops the list on this occasion. Canada and Australia also placed highly in both surveys.
The EIU survey examined peoples attitudes to their lives, crime rates, employment rates and earnings as well as health and quality of family life. It has been noted that the top ten countries were for the most part smaller economies and were not part of any monetary union (such as the Eurozone).
The EIU best countries to be born in during 2013:
1 Switzerland
2 Australia
3 Norway
4 Sweden
5 Denmark
6 Singapore
7 New Zealand
8 Netherlands
9 Canada
10 Hong Kong
11 Finland
12 Ireland
16 USA