Irish Government Finally Gets Tough on Public Service Pay
The 'Croke Park Agreement' is a deal between Public Service Unions and the Irish Government. It broadly states that there the Government will not implement any further cuts in pay for Public Servants in exchange for an increase in productivity and greater flexibility in respect of work practices.



The rates of pay and conditions enjoyed by Irish public servants have been the subject of severe criticism in Ireland in the last few years, especially given the appalling state of the public finances.
A successor to the Cork Park Agreement is being negotiated between the Government and Union officials with both sides taking pot-shots at each other using the media as their weapon. The latest example of such public negotiating was by the Irish Taoiseach (leader, Prime Minister) Enda Kenny. His Fine Gael Party has been criticized for allowing the continuation of the Croke Park Agreement despite the fact that the country is effectively bankrupt. Fine Gael are to a certain extent hamstrung by the fact that they are in coalition with the Labour Party who are adamantly opposed to their core membership enduring any further pay cuts.
Enda Kenny has made it clear that if no agreement is forthcoming then the Irish Government will introduce legislation to enable it to reduce wages and automatic annual increments (pay rises), and to introduce a compulsory redundancy program.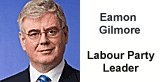 Such a unilateral action would cause difficulties for the Labour Party leader Eamon Gilmore who is already reeling from the criticism his Party has endured after the introduction of the annual Property Tax. He will be hoping that his Trade Union colleagues can strike a deal with his Government that will prevent such a necessity.
Both Fine Gael and Labour have suffered badly in recent Irish opinion polls and it is vital that they are seen to strike a deal that is good for the country.