Speculation is mounting that a new left-wing political Party may be formed in Ireland.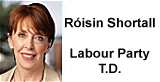 The Labour Party are currently in a Coalition Government with Fine Gael that has effectively continued the policies of the Fianna Fail Party that it ousted at the last election. It is this position that has seen support for the Labour Party plummet in recent opinion polls.
Labour is supposed to be the Party representative of the working classes and yet has supported the imposition of a property tax as well as the never-ending austerity measures. Against this backdrop the possibility of a new Party with a socialist backbone is very much alive.
Roisin Shortall was a Junior Minister in the Government but resigned her position after further cuts to the Irish Health Service were implemented. She is very much a thorn in the side of the Labour Party leadership at the moment and could align with similar left-of-centre independent T.D.'s to form a new Party that would directly challenge her former colleagues.