It is becoming apparent that not all politicians are taking the upcoming elections in Ireland seriously. A launderette-owner from Duleek in County Meath named Dave Keaveney cant have guessed how popular his campaign would become after he placed a poster in the window of his local business: 'Vote Dave no 1 for a cleaner Duleek'.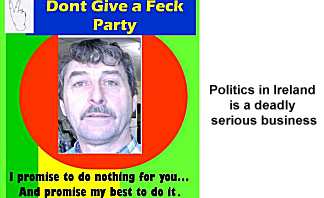 It started off as a joke. I made up the poster because I'm fed up listening to the same bull from politicians and the same electioneering promises that aren't kept.
He now intends to run for election as a non-party candidate in the Laytown-Bettystown Area. His campaign promotes a number of positions including the provision of Viagra to the Over-90s and to:
'Give Ireland back to England and apologise for the state it's in. It's fecked!'
If I get elected, I'll shake up the whole Council Chamber.