The amount of genuine 'Euro-skepticism' that really exists in the United Kingdom is about to be put to the test.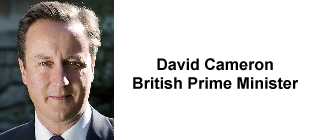 The UK has always had a vocal faction who are very unhappy with the EU. This skepticism ranges from those who want to have their London parliament retain more of its power rather than ceding ever-more to Brussels, to those who want the UK out of the European Union altogether.
British Prime Minister David Cameron has announced that, should his Conservative party be re-elected, a referendum will be held in the UK by 2017. The vote will likely include a number of options and will include an option for the country to completely leave the Union. Britain previously decided to remain outside the Eurozone and retain its own Sterling currency. This proved to be a very wise decision in retrospect, given the financial devastation that the single currency has left in its wake.
Had Ireland retained its own 'Irish Punt' currency and thus control of its own Central Bank then there is no way the property bubble that has wrecked the Irish economy would ever have been allowed to grow to the proportions it did. Since interest rates were set by the European Central Bank Ireland was lumbered with low interest rates, cheap loans and a voracious appetite for buying property at precisely the moment it needed it least. Ireland had 1 and 2% interest rates when it should have had 5, 6, and 7% to cool the property market.





While these events are history now, it is with a sense of foreboding that the Irish public and politicians view the vista of our nearest neighbour and largest trading partner actually leaving the European Union completely.
The effects of such a move for Ireland would be wide-reaching. Britain is the export economy upon which Ireland relies most. If trade becomes more difficult or is taxed at a higher rate then the effect on the Irish economy would be severe.
It remains to be seen what the overall response will be from the British public. As David Cameron himself put it:
"The biggest danger to the European Union comes not from those who advocate change, but from those who denounce new thinking as heresy. In its long history Europe has experience of heretics who turned out to have a point."
Ireland is certainly feeling the pain for having ignored its own heretics who predicted doom when the country joined the Euro currency.