The number of visitors from Britain has fallen by as many as a Million visits since 2007 when 3.7 Million trips from Britain to Ireland were recorded.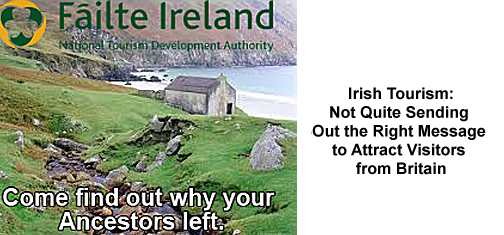 Six short years ago Ireland was a very different place. The 'Celtic Tiger' still stalked the land although his days were numbered. A property market collapse and financial ruin were just around the corner. Britain suffered its own recession too but was spared the carnage caused by the banks that Ireland suffered. Against this backdrop it is perhaps no surprise that visitors from our closest neighbour have decided to opt for sunnier climes.
The Irish Hotels Federation (IHF) are doing everything they can to reverse the trend but are not helped by the high costs they face in running their businesses. Commercial Rates are effectively an extra big tax on their income. Many Hotels are also suffering negative equity in respect of the development of their Hotel property after the market collapsed in 2008. Consequently Hotel rates in 2012 were at their highest level since 2008 according to a Hotels.com survey.
Killarney at 101 euro per night was listed as the most expensive destination for Hotel rooms where the country averaged 90 euro per night. Irish Hoteliers are not at all happy with the survey though, claiming that the cost of rooms has been greatly reduced in recent years despite persistently high costs and that Ireland compares favourably to most other popular European destinations.
Tourism is vitally important to the Irish economy accounting for 5.3 Billion Euro in revenue and employing 11% of the entire workforce of the country.