Ireland has ranked very well in the latest Global Peace Index
The index is compiled by the nonprofit Institute for Economics and Peace and releases an annual report on the peacefulness of 162 of the world's countries. 23 factors such as violent crime, weapons importation, prison population, political instability and internal conflict are all considered in the compilation of what has become an eagerly awaited 'peace league table'.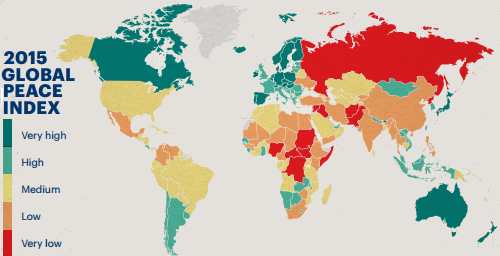 European countries claimed six of the top ten places reflecting the relative stability of the region. Ireland placed in twelfth position among the worlds most peaceful nations with the list headed by Iceland, then Denmark, with Sweden in thirteenth place, its Scandinavian neighbors all managing to finish in the top twenty yet again.

1 Iceland
2 Denmark
3 Austria
4 New Zealand
5 Switzerland
6 Finland
7 Canada
8 Japan
9 Australia
10 Czech Republic
11 Portugal
12 Ireland
13 Sweden
14 Belgium
15 Slovenia
16 Germany
17 Norway
18 Bhutan
19 Poland
20 Netherlands
The US ranked in 94th place with the UK in 39th position. Iraq and Syria propped up the bottom of the list which is unsurprising given the ongoing terrible conflicts in those countries.