The Irish country village pub made famous by the film ' The Quiet Man' starring John Wayne and Maureen O'Hara has been sold to an English fan of the film.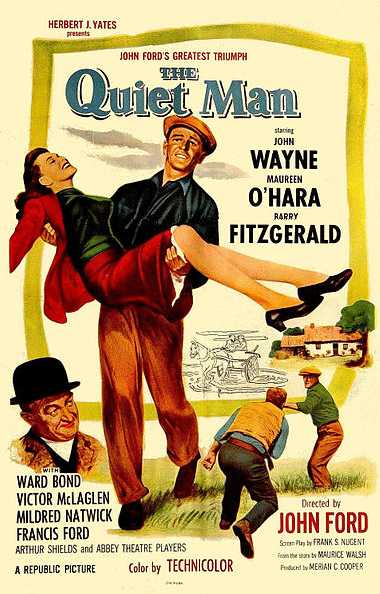 The bar is located in Cong in County Mayo, deep in the heart of Connemara and is reported to have sold for close to the asking price of 300,000 euro (US$385,000). The bar is central to the famous fight scenes between Sean Thornton (John Wayne) and Squire 'Red' Will Danaher (Victor McLaghlen). The fight meandered its way through the local fields, into the town and back out into the streets again with the protagonists eventually succumbing to the drink they had take in the bar before falling home to be served their tea by Mary Kate Danaher (Maureen O'Hara).
Sean Thornton: (loudly)
Woman of the house! I brought the brother home to supper!
Mary-Kate: (gently)
He's kindly welcome.
Will Danaher: (meekly)
God bless all in this house.
Mary-Kate: (scolding)
WIPE YOUR FEET!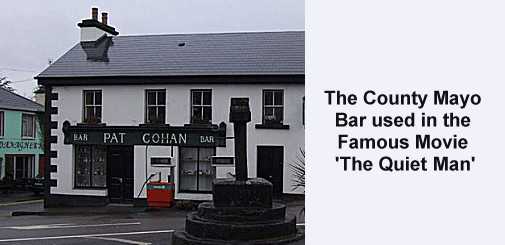 The film revolves around Sean Thornton who has returned to his homeland from America. His arrival causes quite a stir among the locals. He courts and eventually marries Mary-Kate Danaher but their marriage gets off to a rocky start when Thornton refuses to extract a dowry from his wife's brother, entitled as she knew she was to it. Eventually a brawl erupts between Thornton and Danaher with a satisfactory outcome for all concerned.
The film has been criticized for parodying Irish country people and especially for its portrayal of stereo-typical Irish characters who seem to embody just about every cliche possible.
But it is precisely this characteristic that gives the film its charm and humour. Barry Fitzgerald as the local matchmaker is a constant source of amusement as he plots and schemes his way through the various village dramas.
Interest in the film has never abated. Guided tours of the Cong area are available to eager tourists who are shown the original locations where many of the movie scenes were shot. There is even a 'Quiet Man Cottage Museum' for those who really want to get into the experience.
At the time of John Ford's film in 1952 the pub building was actually used as a shop but was re-opened as a pub in 2008. Now it has been sold again to another 'outsider' – hopefully he will have less trouble in the village than Sean Thornton did!