Ok, he was not really Irish but in the true Irish tradition of claiming association to just about anything that is good we Irish are claiming the Saint as our own.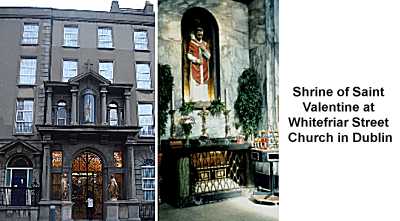 We do have some grounds for this assertion – bear with me.
Whitefriar Street Church in Dublin is the unlikely resting place for the relics of Saint Valentine. That's right! While desperate men the world over rush to their nearest Garage fore-court to buy half-battered bunches of red roses in the hope that it will get them out of jail, the knowledge that there is an Irish connection to Saint Valentine still escapes the masses.
Pope Gregory XVI presented the remains of Saint Valentine to an Irish Carmelite named John Spratt in the year 1835. He had been visiting Rome and preaching at the famous Jesuit Church there to much acclaim. In 1836 the remains were received by Archbishop Murray of Dublin and have remained in Whitefriar Street Church ever since. An Altar and Shrine were installed in the 1950's depicting the Saint as a martyr. An inscription on the Altar reads:
This shrine contains the sacred body of Saint Valentinus the Martyr, together with a small vessel tinged with his blood.
The annual mass on February 14th includes a ceremony to bless wedding rings of those betrothed, in the hope that such a blessing will help secure a successful union.
There may have even been two Saints named Valentine. Valentine of Rome died about the year 269 during the persecution of Claudius the Goth. The other Valentine was allegedly Bishop of Terni. It is possible that the two memories are in fact of the same person.
There are several legends regarding his martyrdom. The first suggests that he was beheaded for illegally marrying young Christians in opposition to Roman rules. Another suggests that Valentine was imprisoned for helping a young blind girl named Julia, again contrary to Roman law. Knowing he was about to die he wrote a final note to the young girl and signed it 'From Your Valentine'. The note contained a crocus flower and upon opening it for the first time the young girl's sight was restored. In the year 496 Pope Gelasius I named February 14th as Saint Valentine's Day and ever since that day has been associated with flowers, note-giving and all things romantic.
So there you have it – Saint Valentine was Irish. Ok, it is not an open and shut case but we do posses his relics and that is good enough for us. Did you know that Saint Nicholas (Santa!) is buried in Kilkenny? More about that in December.