The fallout from the participation of the Irish Olympic squad at the Rio Olympics continues with the news that the Olympic Council of Ireland President Pat Hickey will likely face the evidence that has been assembled by Brazilian police soon. He had previously been remanded in Rio's notorious Bangu prison before being released and placed under house arrest.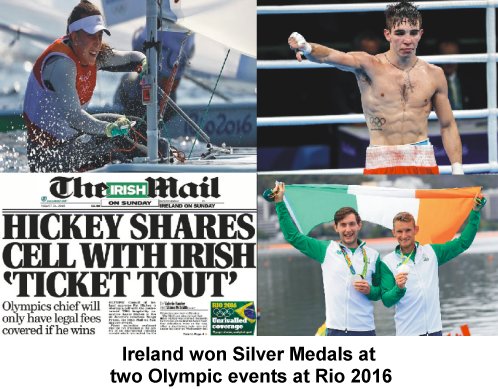 The scandal involves allegations of corruption surrounding the allocation of Olympic games ticket. ticket touting is illegal in Brazil where fines or imprisonment can accrue for individuals who sell tickets at above face-value.
Ireland emerged with 3 medals for he games with the O'Riordan brothers from Skibberreen achieving Silver in the rowing while Dubliner Annalise Murphy claimed silver in the sailing. Murphy had previously finished fourth at the London Olympic Games despite having been in a medal position for the majority of the racing. Her dedication and determination have proved inspirational to many and promoted the sport of sailing to new heights in Ireland
There were fine performances too from Aileen Reid who finished 21st in the Pentathlon, while Thomas Barr finished fourth in the 110M hurdles. Oliver Dingley finsihed in eight place in the 3M springboard diving. Rob Heffernan finished sixth in the 50Km walk having received news earlier that he had been awarded a Bronze medal retrospectively for his fourth-place finish at the London Games. The race-winner, the Russian Sergey Kirdyapkin, was disqualified for doping offences meaning the Cork-based athlete was upgraded to a medal.
Perhaps the greatest disappointment for the Irish team was with the boxing. Katie Taylor slumped to a shock defeat to Mira Potkonen of Finland while bizarre judging decisions robbed Michael Conlon of progress. He later vowed to never again box at an amateur level in a bitter rant against the AIBA boxing authority and their failure to adequately govern the sport.