By Anthony Lynott
Daniel O'Connell, affectionately known as The Liberator or The Emancipator was an Irish political activist. His activism and many accomplishments spanned a period of almost 50 years beginning in the latter part of the 18th century. He would be mostly known for his campaign for, and achievement of, Catholic Emancipation, followed by his unsuccessful campaign for the repeal of the Act of Union that formed the Union of Great Britain and Ireland.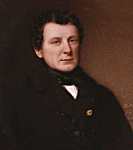 O'Connell was born August 6, 1775 at Carhen near Cahirciveen, County Kerry to Morgan and Catherine O'Connell of Derrynane. At one time a wealthy landed family, the O'Connell's could trace their chieftain roots back to the 14th century. Named after his Uncle Daniel he came into the world of the Protestant Ascendancy where the political, economic, and social domination of Ireland was held by a minority of large landowners, Protestant clergy and professionals that were mostly members of the State Churches of Ireland and England. Growing up, O'Connell as a Catholic would not enjoy the political and social privileges of the Ascendancy, which excluded Roman Catholics as well as other non-conforming religions. Instead he was raised amongst the Irish peasantry, learning the Irish language and seeing first-hand the hardships under which most of the peasantry laboured. His ability to speak Irish, along with his interest in the traditional Kerry culture of Irish song and story, as well as his understanding of how the rural mind worked would shape his personality and core beliefs going forward.



At the time of Daniel's birth his Uncle Maurice, thirteen years older than his brother Morgan, had authority over his siblings as was custom at the time. This was to have a significant impact on the development of young Daniel, starting off with Maurice's position, along with Morgan's, that Daniel should be fostered out in accordance with Gaelic tradition. The notion of fosterage was to ensure that Daniel would gain a solid understanding of the peasantry, both with their language and their way of life. So, young Daniel was fostered out in infancy to the Cahill family, the family of Morgan's head Cowman, returning to his birth parents and his four siblings (eventually growing to nine) at the age of five. The Cahill's lived only five miles from the O'Connell's, and during this period Daniel spoke only Irish and, by all accounts, formed a strong bond with his foster parents while retaining a strong attachment to his birth parents.
While still in his childhood Daniel was adopted, along with his brother, by his childless uncle Maurice, who lived at Derrynane House in nearby Caherdaniel, County Kerry. This arrangement would bode well for Daniel given Maurice's established wealth that would provide Daniel with considerable opportunities that otherwise would not be available. He would spend much of his early life with Maurice, starting on the road of matriculation at a small boarding school near Cork. He would later attend Saint-Omer (1791–1792) and Douai (1792–1793), reportedly two of the best Catholic schools in France. During this period O'Connell was exposed to the French Revolution and its violent radical social and political upheaval, which left him with a revulsion of violence for political pursuits. In 1794 O'Connell enrolled in Lincoln's Inn, London to study law (Irishmen who wished to practice as barristers were required to attend the Inns of Court in London).
Initially, his studies were concentrated on the legal and political history of Ireland, expanding to the philosophers of Voltaire and Rousseau, and the works of Godwin, Smith, and Bentham; he became painfully aware of the prevailing repression of the populace by the government and its goal to maintain the Ascendancy of a privileged and, oftentimes, corrupt minority, all shaping O'Connell's own radical (for the times) philosophy as a Nationalist. Continuing his studies two years later, he transferred to the King's Inns, Dublin, the institution which controls the entry of barristers-at-law into the justice system of Ireland; he was subsequently called to the bar in 1798.
O'Connell accomplished much in his relatively short lifetime. However, the first ten years or so of his career were fairly uneventful where he focused on his private law practice; it was also during this period that he secretly married his cousin Mary, by all accounts a good marriage that produced twelve children. His career started to expand into politics with his public opposition to the Act of Union in 1800. Nevertheless, his primary activities were focused on Catholic Emancipation, advancing the movement to repeal the legislation disenfranchising most Catholics. He would regularly attend the meetings of the Catholic Board that he established, applying and infusing his famous energy into its proceedings, and by 1810 he would become the most trusted and powerful of the Catholic leaders. And it was during his time on the Board that one noted event happened that endeared him further with the people of Ireland: The Dublin Corporation (city council), supporter of the Protestant ascendancy, was memorably described by O'Connell in a public speech in 1815 as a "beggarly corporation". The aldermen and councillors were enraged and, finding that O'Connell would not apologize, a member of the Corporation, John D'Esterre, challenged O'Connell to a duel. D'Esterre was an accomplished duellist, and the hope was that if O'Connell attempted to fight there would be an end to his career. To the surprise of all O'Connell won the duel, but to his final days he never missed an opportunity of assisting the D'Esterre family.
Dublin Castle, the seat of British power in Ireland, afraid of the growing profile of the Catholic Board, and under the auspices of the Convention act of 1793, arrested and brought to trial some of the Catholic Board's leaders. O'Connell successfully defended the accused and obtained an acquittal. In time the Board was dissolved, replaced by the Catholic Association co-founded by O'Connell in 1823. The mission of the Association was to achieve Catholic Emancipation, and by 1825 it had organized itself throughout most of the island as a formidable political movement. In most districts there was a branch of the Catholic Association, where local grievances were addressed, and subscriptions (aka rents) collected and sent to the Dublin headquarters. The subscriptions facilitated the growth of a significant treasury that would finance the Association's many activities. Growing alarmed at the increasing power of the Association, in 1825 the Government passed a bill suppressing it. But O'Connell simply reconstituted the Association and the work continued. In 1826 the Association successfully fielded a Westminster candidate (a Protestant Emancipationist) for Waterford who defeated a powerful member of the Ascendancy (a significant electoral test). The Association would go on to achieve similar victories in Counties Monaghan, Westmeath, Cavan and Louth.


Similarly, in 1828 a by-election was called in Co. Clare…….O'Connell contested the seat himself (the first Catholic to seek office in Westminster) and achieved a decisive victory for the Catholic cause. However, going on to Westminster to take his seat, and obliged as a Catholic to refuse to take the required Oath of Supremacy, he was refused entry. Fearing a serious backlash though, the British Government passed the Roman Catholic Relief Act (1829) which granted Catholic Emancipation. Catholics were now to be admitted to parliament and to public offices, but the Ascendancy still controlled Dublin castle, and Catholics were still kept out of most public positions. The Act, in fact, meant very little to the ordinary peasantry but it was still a major step forward in Irish history as Catholic candidates could be elected to represent their own constituents. This enabled O'Connell to take his seat as representative for Kerry in 1830.
O'Connell quickly established himself as Ireland's unequalled political leader in the House of Commons, becoming leader of the Irish Members of Parliament. Noting that historian Roy Foster has termed his energy as protean, O'Connell pursued his goals with a ferocious tenacity. He was active in the campaigns for parliamentary, legal, and prison reform, electoral reform and the secret ballot, free trade, the abolition of slavery and Jewish emancipation. But his prime objective was now the Repeal of the Act of Union. This was to be facilitated through The National Association of Ireland, known as the Repeal Association. The Association included many Young Irelanders, a parallel political movement who, unlike O'Connell, believed that independence could be won only by use of force. O'Connell now began to organise "monster meetings" throughout the country. The first was at Trim, Co. Meath which attracted a crowd of over 100,000, later increasing to crowds of more than 750,000 when people gathered on the hill of Tara to hear his eloquent oratory. The government became alarmed at the strength of the Repeal Movement and a monster meeting which O'Connell had planned for 8 October 1843 in Clontarf, Dublin was banned. Huge crowds were already on their way when O'Connell called off the meeting to avoid the risk of violence and bloodshed. Nevertheless, he was charged with conspiracy, arrested and sentenced to a year in jail and a fine of £2,000.
O'Connell was released after serving three months in prison, much weakened physically by his ordeal. While he continued with his campaign for repeal it was clear that the tactics that had won emancipation had failed with his Repeal movement. O'Connell, now seventy and in ill health, no longer had a viable plan for future action. Moreover, morale was waning in the Repeal Association and the Young Irelanders withdrew. Concluding that he had failed with his goal, O'Connell gave up his fight for repeal. In 1847 he made his last speech in Parliament, pleading in his most passionate manner for aid so that his people would not perish from the great famine that was now in its second year. i
It is the case that O'Connell established the template of agitation and the pursuit of political goals through constitutional means as opposed to violent means, keeping strictly within the law. This is an accomplishment in itself given his singular ability to mobilize monster meetings of huge crowds that would undoubtedly have followed O'Connell on a violent path if asked to do so. Future major world political leaders would follow his example.
Still in his seventieth year O'Connell was advised to move to a warmer climate to repair his ailing health. Planning on a pilgrimage to Rome he stopped off in Paris where he was greeted by a large crowd of radicals who regarded him as the "most successful champion of liberty and democracy in Europe". He did not complete his journey to Rome though; he died in Genoa on 15 May 1847. As he had requested, O'Connell's heart was buried in the Irish College in Rome and his body was interred in Glasnevin cemetery in Dublin on 5 August 1847.
MAJOR LIFE EVENTS:
6 August 1775: Born in Cahirciveen, County Kerry
19 May 1798: Called to the Irish Bar
13 January 1800: Speech delivered opposing Act of Union
1811: Catholic Board established
1814: Catholic Board dissolved
1 February 1815: Duel with D'Esterre
1821: Makes emancipation presentation to George IV
13 May 1823: Establishes the Catholic Association
February 1823: Inherits Derrynane House
5 July 1828: Wins Clare seat for MP
13 April 1829: Catholic Emancipation Act passes
1 November 1841: Becomes first Catholic Lord Mayor of Dublin
15 August 1843: Tara 'Monster' meeting
7 October 1843: Clontarf 'Monster' meeting banned
30 May 1844: Imprisoned
5 September 1844: Released from prison
8 February 1847: Last speech in the House of Commons
15 May 1847: Dies in Genoa, Italy
Bibliography
Christine Kineady. UCC: Multitext Project in Irish History / Emancipation, Famine & Religion: Ireland under the Union
Clare County Library. 'Clare People: Daniel O'Connell (1775- 1847).' Clare County Library (n.d.): 1 – 3.
Foster, R. F. Modern Ireland 1600 – 1972. London: Penguin, 1988.
Jackson, Alvin. Ireland 1798 – 1998. West Sussex – UK: John Wiley & Sons Ltd., 1999.
Robert Dunlap, M.A. Daniel O'Connell. New York: Fred DeFau & Company, 1899. Electronic Book.
The Warrington Project / The Institute of Irish Studies, The University of Liverpool. 'Catholic Emancipation & the role of Daniel O'Connell.' Understanding Anglo-Irish relations (n.d.): 18.