Listen to the Song: Danny Boy


Click Here To Download This Music


(in MIDI format)
Lyrics
Danny Boy
Oh Danny boy, the pipes, the pipes are calling From glen to glen, and down the mountain side The summer's gone, and all the flowers are dying 'Tis you, 'tis you must go and I must bide. But come ye back when summer's in the meadow Or when the valley's hushed and white with snow 'Tis I'll be here in sunshine or in shadow Oh Danny boy, oh Danny boy, I love you so. And if you come, when all the flowers are dying And I am dead, as dead I well may be You'll come and find the place where I am lying And kneel and say an "Ave" there for me. And I shall hear, tho' soft you tread above me And all my dreams will warm and sweeter be If you'll not fail to tell me that you love me I'll simply sleep in peace until you come to me. I'll simply sleep in peace until you come to me.
Origin of the Song Danny Boy
It often comes as a surprise to many people that the famous song 'Dannny Boy' is one of over 100 songs composed to the same tune with the famous lyrics penned by an English Lawyer!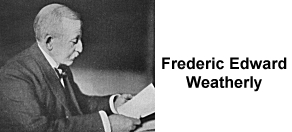 Frederic Edward Weatherly (1848-1929), lawyer, songwriter and entertainer wrote the lyrics to Danny Boy in the year 1910 but only used the now familiar traditional tune when he was sent the 'Londonderry Air' by his sister-in-law in 1912. The song was republished in 1913. Weatherly had collaborated with Alfred Perceval Graves who was a friend, but the two fell out when Graves claimed that his companion had stolen some of the lyrics that Graves himself had written for the song. The tune was also known as the 'Air from County Derry'. The earliest recorded appearance of the music in print was in the year 1855 in 'Ancient Music of Ireland' by George Petrie (1789-1866), when it was given to Petrie by Jane Ross of Limavady in County Derry, who claimed to have copied the tune from an itinerant piper. This is perhaps the most famous of all Irish songs and became very popular in America where it was recorded by Bing Crosby, Mario Lanza and many others. Danny Boy has been used by many Irish folk, traditional and even rock musicians ever since. The famous Irish rock band, Thin Lizzy, re-imagined the music to great effect on their 1979 album, 'Black Rose'. Danny Boy remains as one of the most popular and well known Irish love songs of all time.