NATIVE SIMPLICITY
The Connaught Journal, Galway, October 9, 1823.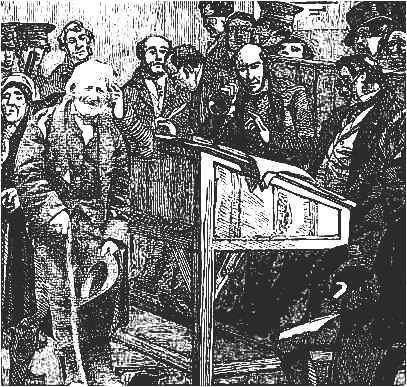 On Saturday last, one of those wretched beings whose squalid face, emaciated form, and almost naked person bespoke him as an
Irish Peasant
, waited upon Mr. Charles, in consequence of having heard that he (Mr. C.) could, at command, transfer any article from the possession of its owner to wherever it should be desired.
And having that day got a letter written to his wife, at Ballinaderrig, County Sligo, acquainting her of his arrival in Dublin, from a reaping excursion in England, with four pounds five shillings, and a new shawl for her. He hoped his honor (Mr. Charles) would:
'make the letter go to Biddy, without any postage, which would be a great saving to a poor man like him.'
To this reasonable request Mr. Charles replied by endeavouring to assure the poor fellow, that he (Mr. C.) never exercised the wonder of Azmodeus to any greater extent than within one mile from the place of performance.
To this information honest Timothy O'Loughlin required an explanation, for he said:
'that one Flanagan, a carman's factor, in Thomas-street, told him that his Honor, Mr. C., did one night that week borrow a handkerchief from a Lady, and that upon desiring it to be left in her room at Portobello, where her brother went for it, he found it there, and if his Honor could do that, sure he might be after sending the letter to Biddy, to save a poor man the postage.'
Facts are stubborn things; and as there was no denying the circumstance of the handkerchief alluded to by Timothy, and after some enquiry respecting his family, Mr. Charles satisfied the faithful husband's affectionate anxiety, by taking the letter, and assuring him it should reach its destination without any cost to him or his Biddy, and dismissed him with an addition to the four pounds five shillings.