GETTING CONNECTED
by John B. McCabe
Dear Michael, Enclosed find new article for your newsletter. In America the Electricity has been around for a long time. We owe it to the great inventor Thomas Alva Edison. In Ireland we have harnessed the waterways and have caught up with the rest of the world.

However in the 1950's many parts of the country had no electricity. The 'Rural Electrification Scheme' was initiated in the late nineteen fifties. Our home was connected in 1959. The enclosed article recounts the excitement of that event.

Hope this article evokes many memories for your Irish readers.

Regards,
John B.

---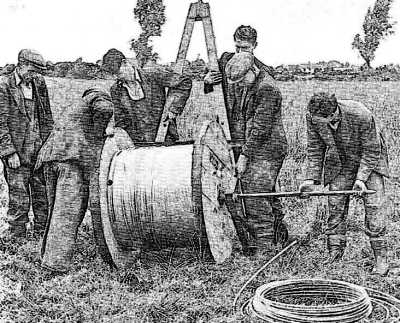 Some moments are burned into the soul and remain as permanent reference points for a life time.

They are as great watersheds between distinct periods of evolution where nothing will ever be the same again. Such was the summer of nineteen fifty nine which saw the arrival of the rural electrification scheme to south Monaghan.

Great debates were held about the advantages and costs involved in being connected up and many an argument raged among the townlands about whether or not to 'take the electricity'. My father who lived with a terrible fear of penury, a nervous disposition which left him indecisive and prone to forebodings of imminent disasters, advised against it. The expense was too much and he firmly believed that once people were lured into acceptance by the initial low cost attraction the price would soar and 'drive us out of house and home'.

Mammy was more optimistic and her determination and pride which would not allow us to be 'behind the times' won the day. She took the matter into her own hands and rode her bicycle all the way to Ballybay where she engaged an electrician to wire the house and be ready for connection when the power lines were switched on.

It was a scorching summer and longer than any I had ever remembered. Meteorological records can easily prove otherwise but for me it was the first summer of real awareness, of excitement, of new beginnings and so much was happening that year that it seemed like I had never been alive before or else had stepped over an unseen border into a more vibrant world.

Men came and put down marking pegs along the roadside verges and at intervals across the fields to indicate where holes were to be dug for the poles. Soon the countryside was littered with mounds of clay as if enormous rabbits had scooped out giant burrows in the night.

All was not throbbing with the pulse of progress. The rabbits had bred like wildfire in the previous months and populated the area in plague proportions, destroying crops, cratering the fields and fouling the pastures with millions of droppings.

Myxomatosis was introduced to eradicate the rabbit population with devastating consequences. The disease caused horrible swelling in the head and eyes of these animals and they wandered stupidly to their death, sometimes killed in their hundreds on the road way. We watched these pitiable creatures with their gigantic death laden eyes huddled in their dying thousands in every field and country laneway.

The electricity board had delivered supplies of pylons, stacked in groups of five or six at strategic intervals along the road. The scorching sun raised blisters of oozing tar from their pores. Nineteen fifty nine forever in my mind recalls the smell of melting tar and the feted stench of decomposing rabbits on the road.

A new craze took hold of every boy in our area that year. The magic of digging holes, erecting pylons, coupled with the giddy adventure of being an overhead linesman caught the imagination. Everywhere on farms holes were dug, strings strung from tree to tree and old lids and polish boxes improvised as switches.

My mother was none too pleased when my brother and I paused from our exertions of digging yet another great hole and tore our vests so we could more accurately mimic the sweating workers with their manly chests exposed to the sun.

When at last the power was switched on we were high with excitement and my father warned us of the dangers of electrocution. 'It's no toy to be tampered with', he said, as we argued which of us should switch on the light. Eventually we took it in turns to do so, night about, until it had lost its novelty.

I have always been amazed at how important changes within ourselves happen so unconsciously that we are never aware of the small day to day developments. Growing up, growing old, growing tall or growing fat - these are not observed in the gradual daily progress which is too small to measure but in relation to other objects, people or environments. The phenomenological reference for my growing up pertains to that simple exercise of putting on the light. Initially I had to stand on a chair, later on tip-toes and later again it was but a hand stretch away. I have much cause to wonder at the many other changes which have happened to me as imperceptibly but equally dramatically as the process of growing up.

The following year the Shankill power lines were begun. This was a new development linking two generating stations and brought new drama to my world.

Huge steel giants strode across the hills, towering over the tallest trees, marching through swamps and straddling ditches. They carried heavy power lines that hissed and sizzled in the frost. I had broken my wrist that year and I remember standing outside the back of our house watching these pylons being erected. They were planted in a concrete base and built piece by piece until the two great arms branched out to carry the top section. The one in our field was nearly eighty feet tall and it stood there begging to be climbed. And climbed it was! My brother did it - I only went up as far as the arms. He had a better head for heights than me and up he went until he was a small dark speck - ten years old and dangling his feet from the triangular corner with nothing beneath him but the certainty of death. He got down safely and I have nightmares to this day to prove it happened.

One Sunday we conquered a smaller pylon on Trainor's Hill and my uncle bellowed from half a mile away to 'come down ou'are that before yiz get kilt'. His grammar was off but his concern was genuine!

The giants are still standing and hissing at the sky - ugly and un-magical, monuments to a blind progress which so disfigures the beauty of the country's face.

John B. McCabe